Toy Story 4: Spoiler-Free Thoughts and Tips Before You See the Movie
My kids are O B S E S S E D with Toy Story right now. OBSESSED. Like, it's literally the only thing playing on our TV at the moment. And when it's not on, my daughter is BUZZing around making Forky's out of random art supplies, and asking if she can go shopping for a cowboy hat and boots—and that's just my oldest kid. My two younger two run around saying "To infinity, and beyond," when they're not watching "Woody and Buzz." Needless to say: we're all pretty excited about Toy Story 4.
Last week I had the awesome opportunity to check out a screening of Toy Story 4 with one guest, so I swore my oldest (six years old) to secrecy, took her out of school early, and we played hooky to see our old pals on the big screen.
Since we got a sneak peek, here's everything you need to know about the film before you see it:
Watch the Trilogy First
We watched Toy Story 1 and 2 (on repeat) before seeing Toy Story 4, but since we didn't have the third one on hand at the time, I just hoped that we wouldn't need to see it before the new one came out. I was slightly wrong.
Since the first and second films were so fresh in my daughter's mind, she had hard time figuring out who was who, and what was going on when the movie started.
Bonnie is in this one, and so is Andy for a hot minute, so she was all confused, and I spent a decent amount of time whispering in her ear, trying to help catch her up.
My insider's tip: Plan a movie night/day and watch Toy Story 3 before you see Toy Story 4, especially if you have young kids.
Be Prepared to Giggle
I definitely laughed a lot during Toy Story 4.
Most jokes are for the adults (Julia kept asking what was so funny), but she giggled several times, too. Disney did a good job of balancing the humor. Thank goodness, because…
Bring Some Tissues (or at least grab some napkins for the tears you'll inevitably shed)
Y'all, I started crying before the movie officially started. Once the lights dimmed and the Disney castle appeared, it took me back to 1995 when I saw Toy Story for the first time.
These friends, Woody, Buzz, Slinky Dog, Hamm, etc.; they've been part of not just my childhood, but my life.
Whew…the nostalgia got to me big time.
Also, pack your tissues and get ready to explain to your kids why you're crying when you leave the theater. My six-year-old just thought it was a good movie while I was still trying to stop the tears from falling. Thanks a lot, Disney.
It's a Little Bit on the Dark Side
Perhaps I was more scared than my daughter was for parts of this movie, but—to be totally honest—the new doll characters personally freak me out. I've never been a van of ventriloquists, so to have several of them in the movie gave me the heebie jeebies.
I actually pointed them out on the movie poster before the movie started so that Julia could be prepared when she saw them. I was honest and told her they made me a little scared, and that if I didn't want to see it I'd cover my eyes.
Go figure that she didn't bat an eye with them, but I'm already prepping for a big distraction when my 4 year old sees them.
When to go on a Potty Break
Here's the thing: put your kids in diapers or cut off all liquids a good half hour before Toy Story 4 starts, because there's no good time to use the bathroom during this one. The movie is less than two hours, so tell them to suck it up, buttercup.
Just kidding (kinda).
This movie is about an adventure, and it moves pretty quickly since there's a lot to pack into the hour forty minute movie, so there weren't any big lulls to take a five minute (or longer) potty break.
With that said, if you have kids who may be a little young for the movie, or get scared easily, the first couple antique store scenes are when I'd recommend high-tailing it to the nearest bathroom.
Girls Rule! (And boys still rock, too)
There's so much girl power in this one, which I LOVE since the first three Toy Story movies focused on two really strong male heroes.
Well, step aside boys, because there are some new heroins in town! I love, love, love that my two girls get to see a movie they can relate to with some fun ladies taking charge.
Stay for the Very End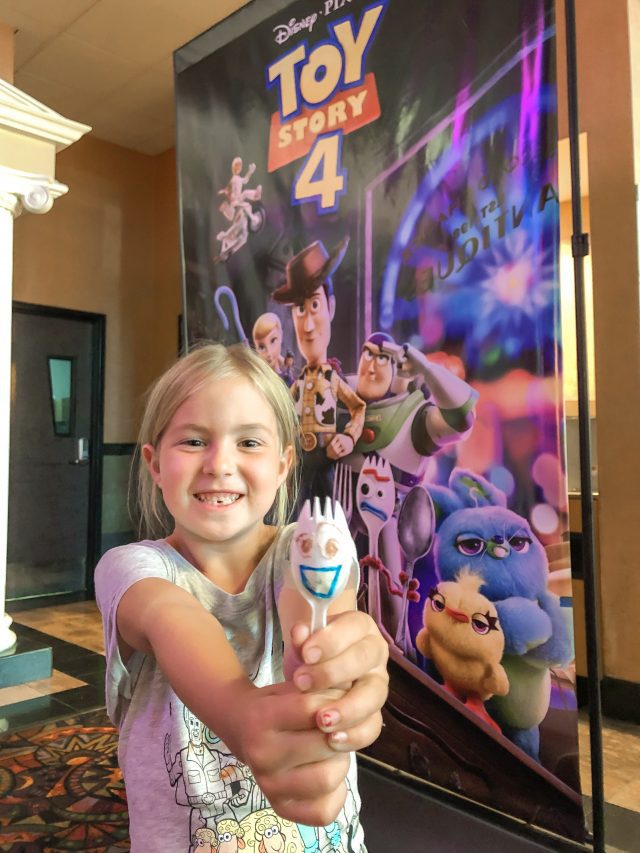 This obviously isn't a Marvel movie, so there aren't any full end-credit scenes, but there are some fun parts sprinkled into the credits that are worth sticking around for.
Keep the Adventure Alive at Home
Just because you've left the theater doesn't mean the fun has to end!
Bring all of your new friends home with you, and take breakfast (or breakfast for dinner) to infinity and beyond with the Pampered Chef Disney•Pixar Toy Story 4 Collection!
Seriously, you can Hamm it up with fun pancakes that kids and grown ups will forkin' flip for. Everyone will be BUZZing, since these are so out of this world. (See what I did there? Yeah you did; I just couldn't figure out how to squeeze a Woody pun in there.)
In all seriousness, this collection is super fun, and my kids truly are loving them. Check out my Facebook group to see more!
What are YOU Most Excited for with Toy Story 4?
Are you pumped for the new characters or excited to see your old classic friends again? Maybe you're just ready to see a fun movie with your kids, or see what happens in this new adventure. If you've already seen the movie, I'd love to hear your thoughts on it!