Cheap and Easy Valentine Gifts for Kids
You guys, I got sucked into the vortex that is the dollar store. I walked in there, only needing one thing, and I walked out with valentine gifts for the kids.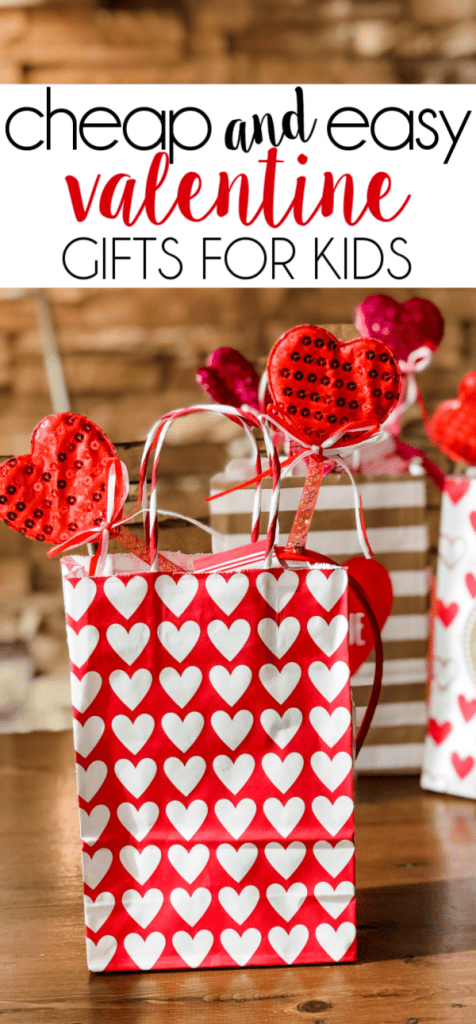 Since everything was cheap, I got a smattering of fun things that didn't cost a ton, and if they only use it once, I'm okay with that.
For the record, I kinda feel like I've cheated on Target for this, but to be fair, their "one spot" is more like $3 and $5 spot, so all this stuff easily would've cost at least twice what I paid. Sorry, Target.
We don't typically give things for Valentine's Day, and much to my husband's dismay, I couldn't resist the aisles lined with all the pink and red stuff.
Actually, this is the first time I've put anything together for my kiddos. Mostly this is due to procrastination, but also because I didn't want to spend a ton of money on the holiday.
So this is my tip for you: if you're getting valentine gifts for your kids, RUN to you nearest dollar store and get stuff ASAP before the secret's out.
Their Goodie Bag Loot
I picked up a smattering of things that would (hopefully) get used, because I truly don't want a ton of junk around the house.
fun headband
let it be known that this was my "splurge" item. I was going to get the pack of three funky sunglasses, but I think they'll wear these more.
cute notebooks (pen included!)
Thought about getting a more "boy" kind for my son, but whatever; boys can like red.
bubbles
Truth time: I hate bubbles. But the kids love them, and for $1 they can have fun for thirty seconds before they spill all over the place.
bath bombs
no, these aren't homemade, and I'm sure someone will comment with how horrible these are for my kids, but whatever. They love them, and it means they'll take a bat more often…winning.
heart necklaces
I love that they still love these, especially my son.
one piece of candy.
I'm going to be the cool mom for once and let them have this chocolate peanut butter heart in the morning before school; sorry teachers.
All this stuff, including the bags, set me back $16, so five bucks per kid.
Do they need this stuff? Nope. Could I have bought more? Of course! But I think this will be a fun little treat on Valentine's Day morning, and I like finding different ways to make the kids smile these days.
Do you give Valentine Gifts to your Kids?
Not in the mood to put together an actual bag of goodies? I feel ya. Make some heart-shaped brownies or heart pancakes and call it a (lovely) day.
So what's your plan for Valentine's Day? Going all in, keeping it simple, or skipping it for the little ones all together?