Home for the Holidays: Our Deployment R&R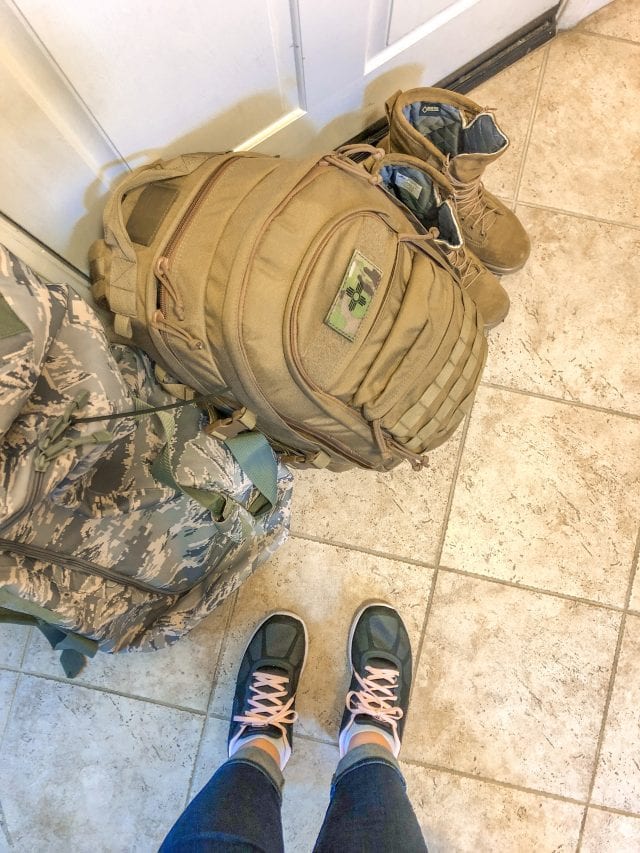 One of the most common question a military spouse gets when their husband or wife deploys is, "Will they get to come home for _______?" And honestly, the answer 99% of the time is a (laughable and) resounding, "No."
Period. Dot. End of story.
However…
When someone is deployed for a year, there is a regulation* stating that they must get a full two weeks of leave (time off) for rest and recuperation. They can go anywhere they want in the world, and the military will pay for them to get there and back.
* I don't know the official regulation, and this is as of December 2019, so please know that if your husband didn't get two weeks off for one reason or another, I'm extremely sorry!
Planning our Deployment R&R Time
Originally, we were planning on my husband's deployment R&R happening sometime in January or February, and he and I were going to go on a cruise for a week, and then we'd spend the other week of his leave at home with the kids.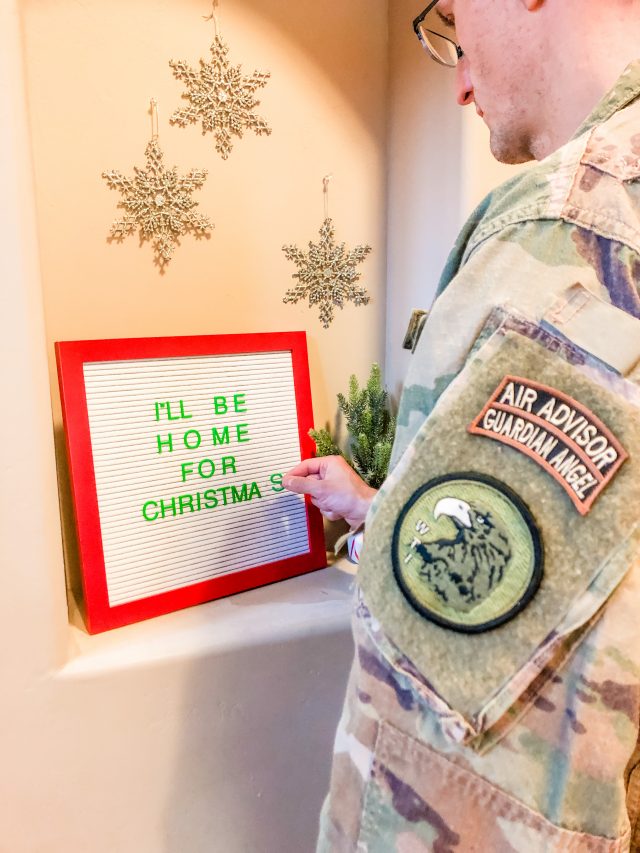 But then a Christmas miracle happened, and they asked if he'd like to go home for Christmas instead.
(Side note: my husband missed Christmas seven years ago while he was deployed, because he let a pregnant airwoman go home to her family. I was devastated at the time—of course— but this was almost like karma came back to us.)
I wish I could tell you that I jumped on the idea for him coming home for Christmas right away, but I didn't. I was selfish and wanted our time as a couple and family away from the hustle and bustle of the holidays. And honestly, I just really wanted a vacation. (We had the cruise itinerary picked out and everything, and goodness it going to be fantastic!)
But I ultimately let him decide when he came home (he's the one deployed, after all), and he picked Christmas. So the minute he made that decision, I got on board with it, too.
Why We Told The Kids
Once we knew when he was coming home, we decided to tell the kids—kind of. We wanted them to know that he was coming home…but that he was also going back, and that this was just a short vacation for him. Our middle kid called it his "field trip."
I didn't want them to think that he was coming home for good, so we gave them a date to look forward to (only we slightly fibbed and told them a day AFTER he was slated to arrive).
Surprising the Kids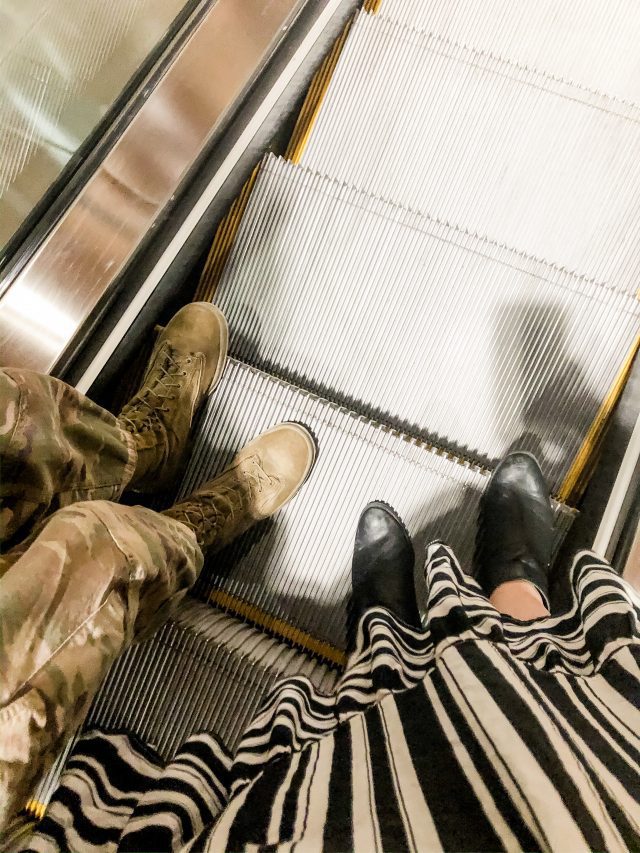 The night he arrived (remember, they thought he was getting in a day later) I told the kids I had a Pampered Chef party to attend, and my mom came over to watch them that night.
I picked him up at the airport, and then he and I had a night together at a hotel near our house before we saw them the next morning. The next morning my kids wondered where I was, and my mom told them I was at the doctor for my back (I hurt it a couple days earlier, so it was a believable excuse).
We toyed with some ideas on how to surprise them, and ultimately went with the giant present idea—I mean, it was Christmastime after all!
We wrapped up a giant wardrobe moving box in wrapping paper at the hotel, and then hauled it over to our house.
Then we surprised them….and it was awesome.
A Magical Deployment R&R
Having him home during his deployment R&R was nothing short of absolutely amazing. He was away for 7.5 months, and I was worried about what the dynamic would be like when he returned. Thankfully, it was like he never left.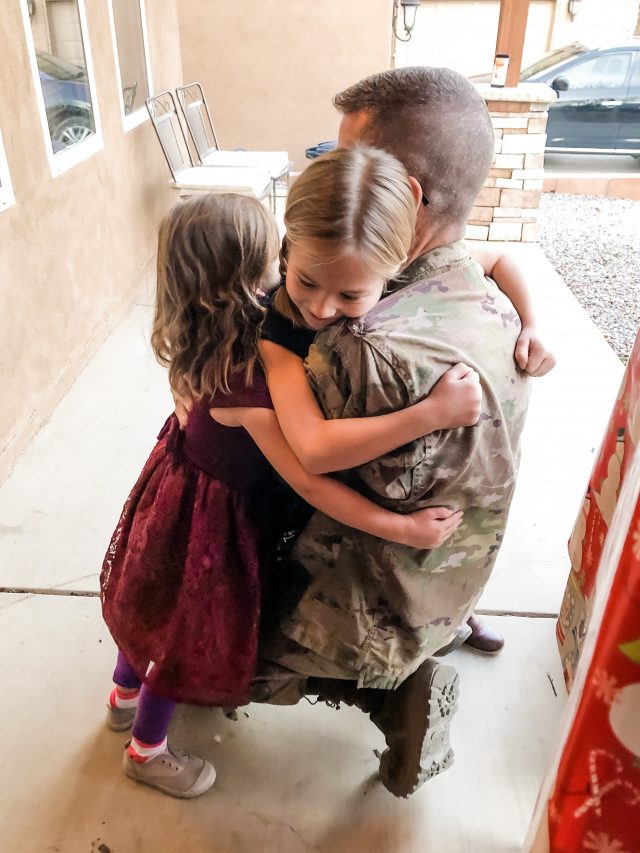 It helped that the kids were also on winter break, so he didn't get all up in our normal schedule and routine; it was like we were all on a staycation.
I was worried that we'd fight or have arguments, and with the exception of him trying to rearrange where I put things in the kitchen, we got along fabulously, and the kids stuck to him like glue.
Only a Temporary Stay
The kids knew from the beginning that he wasn't staying for good, and that he still had to go back to work.
Of course, the day he left was gut wrenching, but we made it a little easier by telling them he'd be back sooner than later. Instead of 8 more months we only have 3-4ish more months to go.
We also distracted them by making a new deployment countdown for when he returns. (Post coming with the two countdown's we've done so far!)
Military Kids are the Real MVPs
I've done this before. I've said my see-ya-laters to him, and for lack of a better phrase: I married into this lifestyle. But my kids didn't get a choice. This is their life, and to see them have to send their dad off to a war zone (not once, but twice within a year) is absolutely heartbreaking.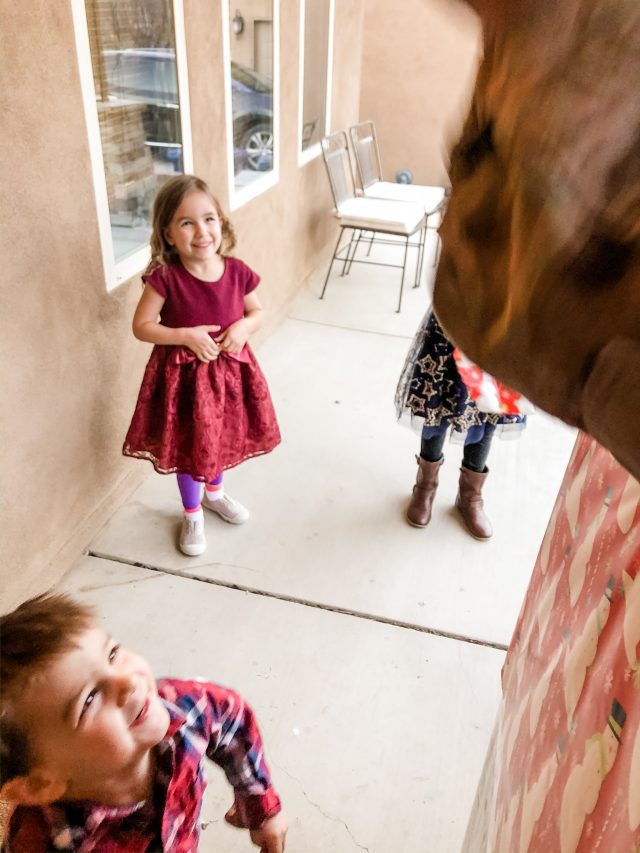 They're resilient, strong, and so unbelievably brave, and I know now that a deployment R&R time isn't just for the deployed service member; it's for the family, too.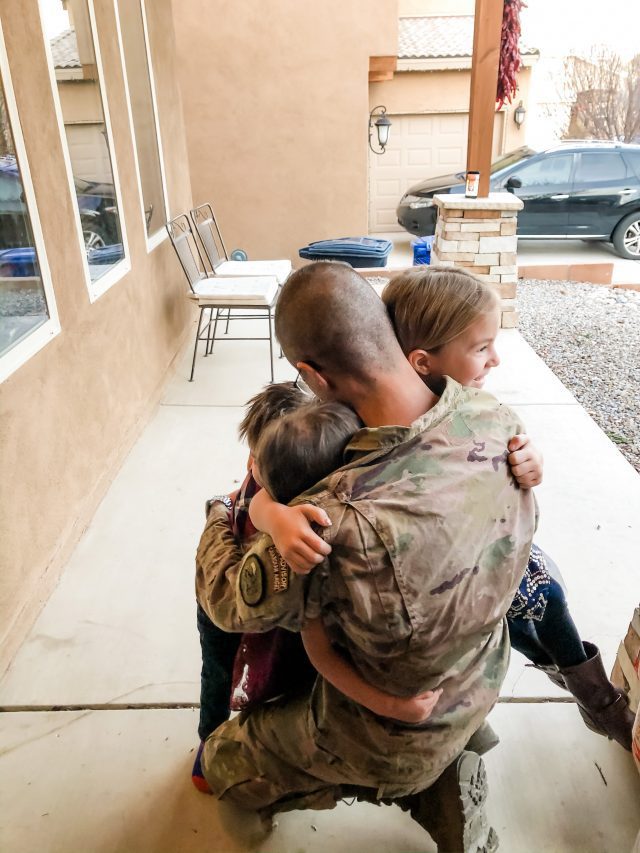 We needed to physically hug him just as much as he needed to hug us.