What to do on Oahu: Take an Easy Hike
My prerequisites during our trip to Hawaii were pretty simple: One, relaxation; and two, go on an easy hike on Oahu to see a real waterfall.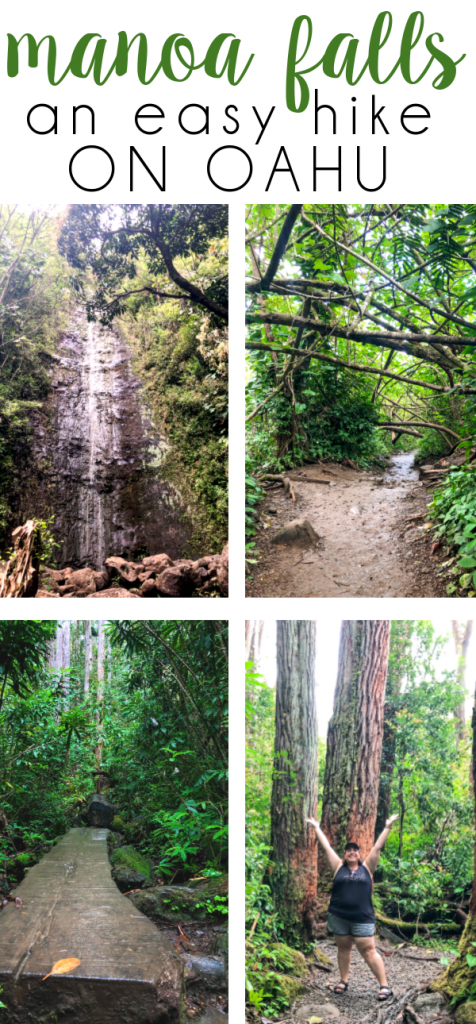 The relaxation party was a piece of pineapple cake, but finding an easy hike on Oahu was slightly harder. Friends recommended a few different hikes, but I wanted something that wasn't going to take all day, and wasn't too far…because I wanted to have a drink and relax at the beach later that day. #priorities
Manoa or Moana?
Manoa Falls fit the bill perfectly.
Before I dive into this hike, can we take a moment to compare how similar Manoa and Moana are in spelling? Every time I saw a sign, or even thought about Manoa Falls I started singing any and every song from Moana in my head.
Actually, I probably had Moana on my mind since we saw Hei Hei moments after we arrived.
Now that that's out of the way, this hike was everything I wanted.
It was so close (less than five miles from Waikiki Beach; a 20-minute scooter/drive away), it didn't take us all day, and I saw my Hawaiian waterfall.
Manoa Falls: A Pretty (Easy) Hike on Oahu
As far as the "easy" part, well…yes and no. The only reason I'm hesitant to say it was easy is because, there was a decent amount of mud and steps, which were slippery.
Granted, we're in a tropical forest where it rains all the time; I should've expected that.
But when I think of "easy" I'd like to think I wouldn't have to worry about people slipping and falling, and every time I saw someone on the older side of life doing the hike I said a little prayer that they wouldn't slip and fall.
With that aside, I can totally see how this is an easy hike on Oahu, and totally gorgeous, too.
We got there fairly early and there was already a crowd, but it didn't deter the beauty or ambiance. Everyone was respectful. As we were leaving, however; crowds were lining the path.
I'm probably the odd ball out, but I didn't wear traditional hiking/tennis shoes.
I have some trusty "walking" sandals that I felt more comfortable in, and I'm glad I wore them; they were so much easier to clean than regular shoes.
I'm also super happy we slathered on our bug repellant; I'm happy to report nobody was bit during this hike.
One more thing: I know a lot of the tour books suggest ponchos if it starts raining, and granted, we were only there for that one hike, but I can't imagine how hot you'd get hiking in that climate with a poncho. I'd probably pass out from being so hot! But you do you; if a little rain won't make you melt, maybe keep it on hand.
A Hawaiian Waterfall
When we made it to the falls I let out a laugh.
It wasn't exactly what I pictured—the waterfall was more of a trickle—but it was still awesome to be there.
The only downside was the guy with his drone who was also there.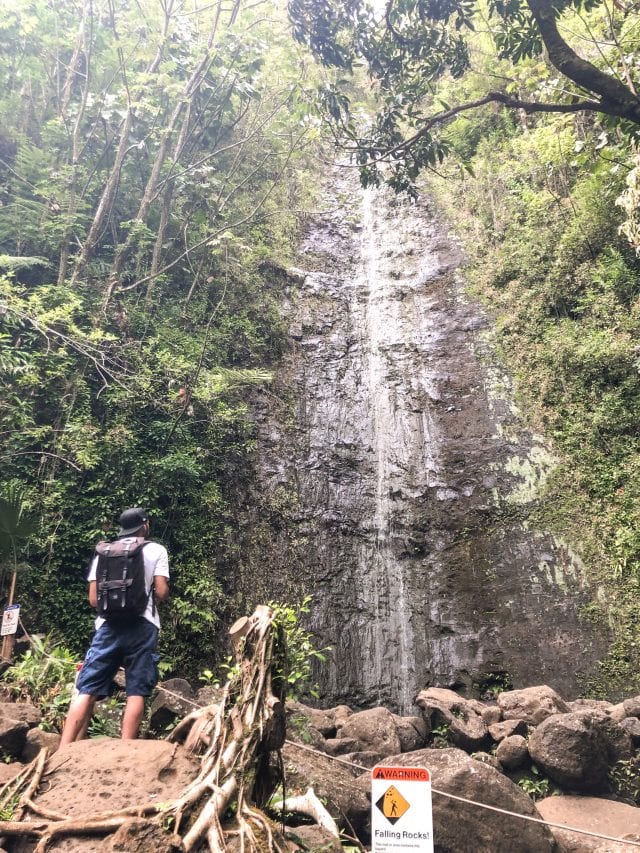 Everyone around gave him and his buzzing drone the stink eye, but that didn't stop him from flying it right along the waterfall. Don't be this guy.
Shades of Green
My favorite part was the ride up to the falls, and the initial walk into the hike; I felt like we were in Jurassic Park or Jumanji.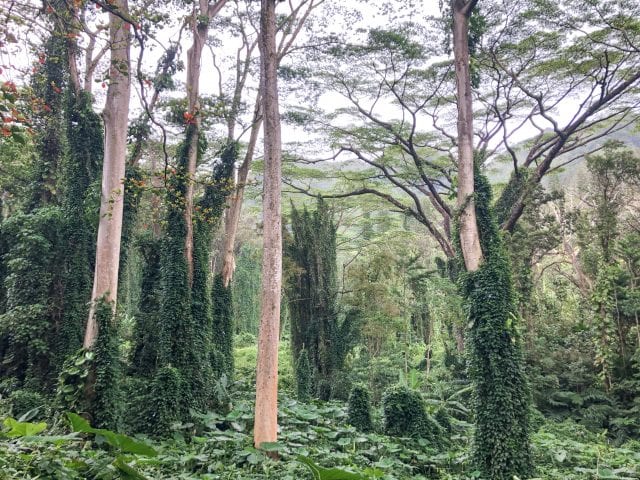 It was exactly how I pictured it, only I couldn't imagine how it rejuvenated all five senses—that was something you had to experience to believe.
It was almost hard to follow the path and keep moving, because I just wanted to stop every three minutes and stare at the gorgeous landscape.
Shades green surrounded us around every turn, and the way the tree roots intertwined with each other, was like they were tangled in a secret Hawaiian dance, and I loved it.
Manoa Falls: a Lovely, Easy Hike on Oahu
Are there other hikes in Hawaii? Absolutely. Are there easier, and prettier hikes with actual huge waterfalls (or even a pool) along the route? Probably. But we were happy with this one, and if we ever when we go back to Hawaii we'll pick another one to experience.
Have you hiked Manoa Falls? What other hikes on Oahu do you recommend?