DIY Bless You Tissue Box Cover
So there I was, scrolling through Facebook one night after the kids went to bed, and I stumbled on this adorable "bless you" tissue box cover. I mean, seriously, though; how cute is this?
I burst out into giggles the second I saw it pop up, but I kept scrolling. The only problem was that I couldn't stop thinking about it.
I needed this for our house.
The problem was that it was sold out on Jane.com, and instead of waiting for it, I decided to take matters into my own hands and see if I could make one myself, and for less money.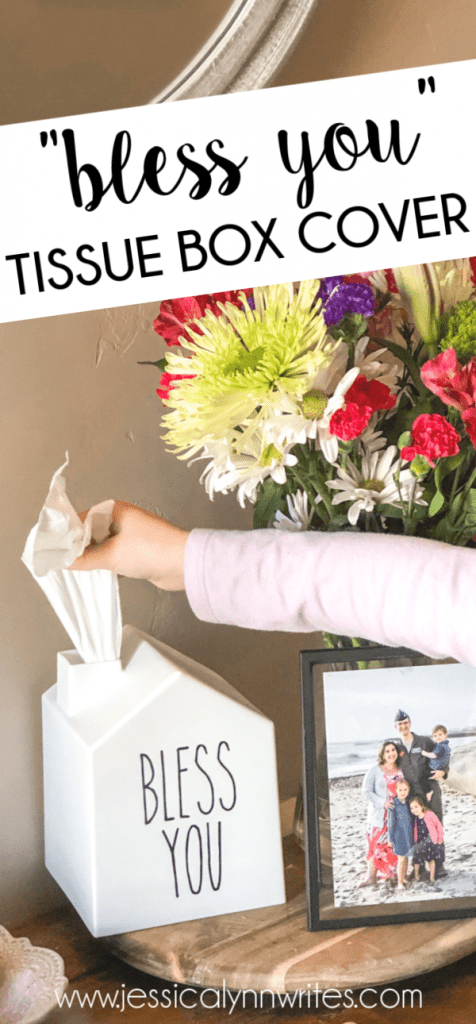 Low and behold I only needed two things, and I totally saved money, so winning!
Super Easy "Bless You" Tissue Box Cover
First, get yourself the "house" tissue box cover from Amazon. This one's made of plastic, which is great since i don't have to worry about a kid shattering it on the floor.
Tip: I actually snagged two tissue box covers at $5 each during a sale on Amazon, so if you're not in a huge rush, keep an eye on the price for these and then grab some when they're cheaper!
The next thing you need is the "bless you" sticker. I found an Etsy shop, Farmhouse Vinyl Co. with a Rae Dunn inspired font, and ordered the decal right away.
The package with the decal came in faster than I anticipated (faster than the tissue box cover, actually), and the instructions on how to put the decal on were easy and super straight forward.
Bam! Instant adorable "bless you" tissue paper cover.
Add Some Fun to Your House
It's simple, but it adds a little spark of fun to our decor, and the kids are getting a kick out of getting their tissues from the "chimney" of the house.