Riding a Scooter Around Oahu
As far as bucket lists go, "ride a scooter" has always been near the very, very top. But with three young kids who call me, "mom," it's not a very feasible activity to accomplish. So when the opportunity to ride a scooter in Oahu appeared on our Oahu Go-Card during our trip to Hawaii, I literally squealed and jumped for joy, and the rest is pretty much history.
Fun fact: when we lived in Italy my husband said he'd buy me a Vespa. I've always been obsessed with them, and what better time to own one than when we're actually living in Italia? Well, then I got pregnant, and then he deployed, and then we had to leave Italy early. Long story short: not only did I never even ride on a scooter, but I certainly didn't own one. So this is literally a dream come true.
Ride a scooter in Oahu = CHECK!
The Go-Card arrangement was for half a day on a scooter around Oahu with Hawaiian Style Rentals, and you can go pretty much anywhere you want.
We sprang for their full day option, and paid out of pocket for a few more hours—I highly recommend opting for the whole day.
We got to the HSR location early (after eating one of the best—and cheapest—meals of our trip) and they got us set up with our scooters, recommendations on where to go, and gave us a safety lesson.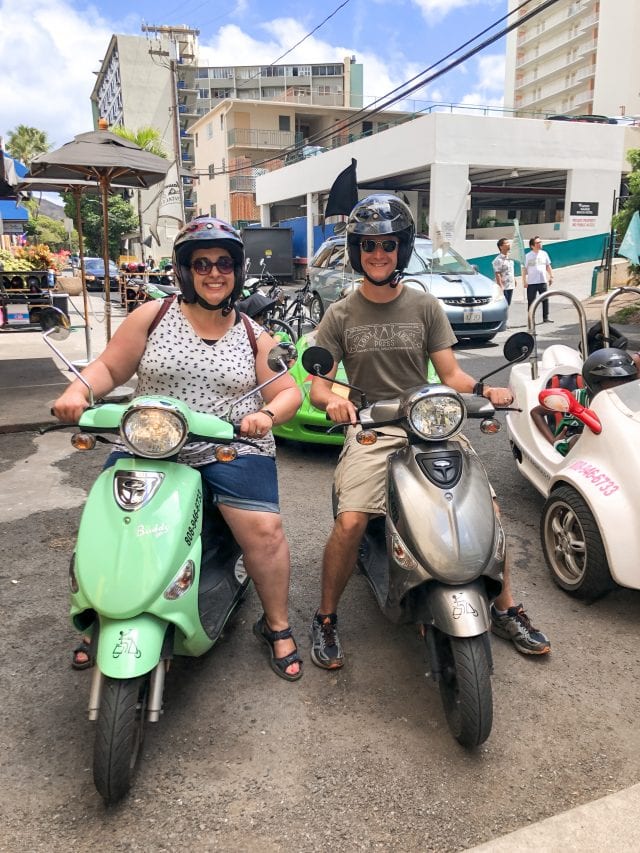 I was so impressed with how organized everything was at Hawaiian Style Rentals. They have a fantastic map available with different routes and things to see along the way.
Scooting Around Oahu: Just Like Riding a Bike
Before sending us on our merry way to roam the island, we circled the block a few times to get the hang of our new ride.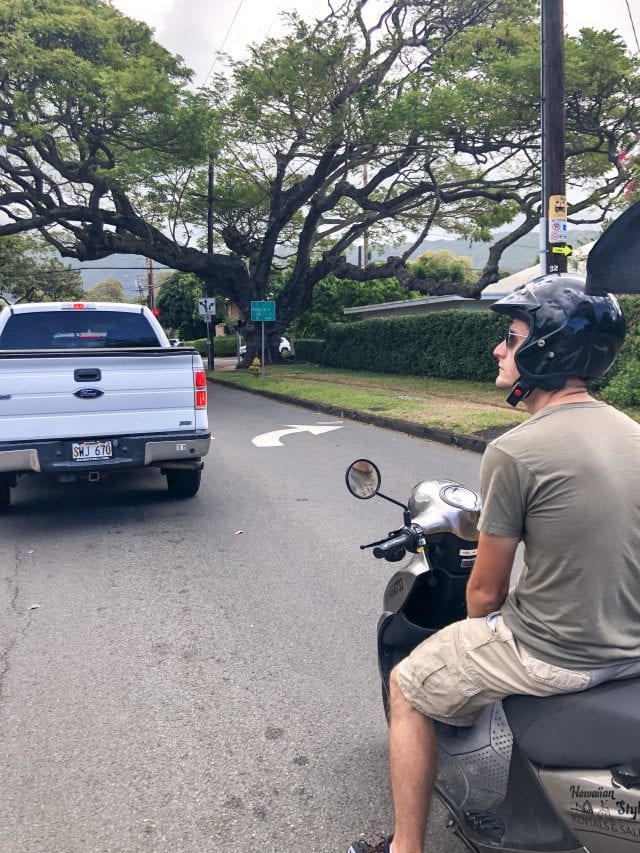 My husband's owned a motorcycle, so driving on two wheels was nothing new to him, but this was my very first time attempting anything like this, so I was nervous (and even a little scared).
But I hopped on the scooter, got my balance, and fully embraced the experience. The wind was in my hair, the breeze fell on my face; all of Oahu before my eyes.
Actually, it wasn't anything like that. I wore a helmet glued to my head, and I was so focused on the road, the cars, and staying upright on the scooter, that the first thirty minutes I just repeated, "I can do this," over, and over again.
Thankfully, I got the hang of it, and off we rode into the sunset (or towards the mountains, rather); riding my scooter actually became second nature.
Y'all. It was SO MUCH FUN.
An Oahu Scooter Ride and a Hike
We decided to check two things off of our Hawaii list that day: we rode our scooters north to Manoa Falls for a hike to see a waterfall.
I will never forget the moment it felt like we left the "big city" and entered into the tropical forest. The scent in the air immediately changed—and that's something I never would've noticed if we were in a car.
The scent was intoxicating and energizing: musky Earth, like we just missed a huge rain storm. Once we got over the big hill you could feel the extra moisture in the air cling to you.
We parked, our scooters, locked them up, and enjoyed our hike up to Manoa Falls (more coming next week).
After that adventure we hopped back on the scooters, and attempted to find some food.
Lost and Found
Fun fact: it's hard to communicate while riding, and at one point we actually got separated from each other.
As we were trying to find a particular restaurant, one of us turned while the other went straight. Of course, it's not like you can just stop and call someone while you're riding a scooter!
We both ended up finding each other again, and amended our travel plans to find a place closer so we wouldn't get separated again. We asked a local where to eat, and without hesitating she suggested the Rainbow Drive-In.
The restaurant was pretty close; so we scooted over, stood in a long line (an indication of a great restaurant), and ate our delicious Moco Loco—white rice topped with a hamburger patty, smothered in brown gravy, with eggs plopped on top.
We caught a brief little rain shower, while we ate, but it was refreshing more than annoying. As soon as we finished we scooted back to the rental company and reluctantly relinquished our scooters.
The entire day was perfect, and a literal dream come true. We ate a delicious breakfast, rode scooters around Oahu, and we hiked to see a waterfall.
Add this to your list!
What more could you ask for? I can't recommend this and Hawaiian Style Rentals enough. If we ever have the pleasure of returning to Oahu, we'll absolutely ride again!
Have you been on a scooter before? Where did you go? Where would you love to do a scooter tour if you had the opportunity?