Unique Date Ideas in San Diego
Tired of going on boring dates in one of the coolest cities in America? Don't settle for mediocre. These San Diego date ideas are awesome, and there's something for every couple..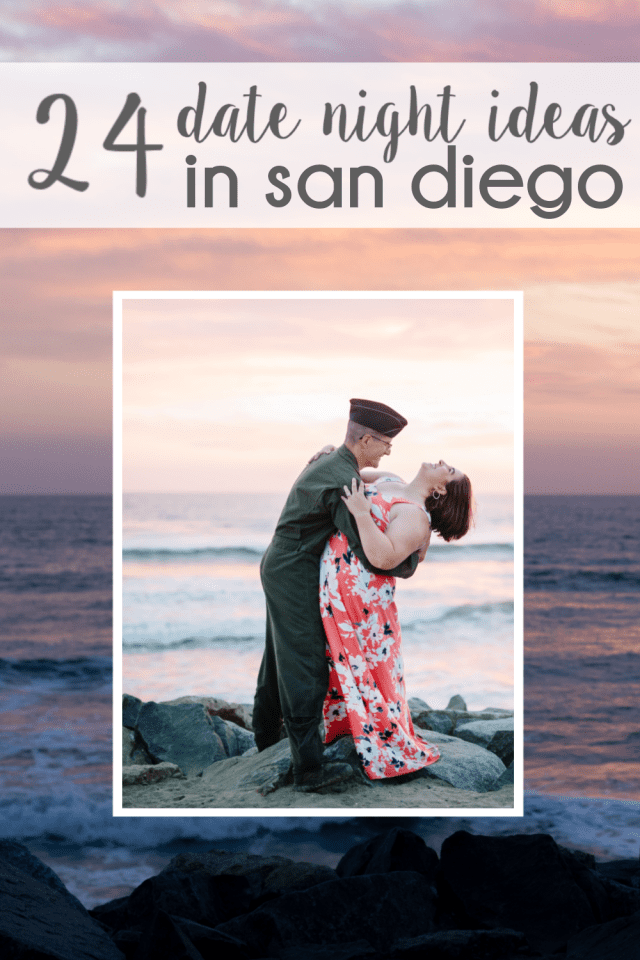 Unique Date Ideas in San Diego
Of course, there's always some sandy fun when you're so close to the beach, but here are a plethora of even more ideas, so you can make the most of your dates.
And if you're interested in printing this list out so you can cross them all off, get your printable date night bucket list here, or keep reading and get it below, too!
Dinner and a (Rooftop) Movie
Head downtown to the Manchester Grand Hotel, and head up to the fourth floor. Stroll through the tennis courts, and that's where you'll see the coolest little setup, ready for your rooftop movie. Rooftop Cinema San Diego is complete with a concession stand (the nachos get two thumbs up), jumbo "yard" games if you get there with enough daylight to play, and adult beverages, too.
I highly recommend going for a sing-along flick. The experience is top-notch and you'll be talking about your date night for weeks.
Glide Around Coronado Bay
Really looking for some romance and another unique date idea in San Diego? Climb aboard a real Venetian gondola with The Gondola Company down in Coronado Cays. You can bring your own snacks, and if you're in the mood for some fancy drinks, they'll even chill some wine, and serenade you as you glide around San Diego.
Tip: go during sunset for the best views!
Laugh it Off
Let someone else do the entertaining on your date. Head over to National Comedy Theater for 100 minutes of non-stop laughs.
You'll be just a hop, skip, and an Uber away from Little Italy, so plan on dining there before heading to your show.
A Whale of an Adventure
This will have to be more of a morning/day date, but it's definitely one for the books. Hop aboard a Hornblower Cruise, and go out for a whale watching tour. The experience is extraordinary and there's nothing like sharing the fun of seeing such a giant beast with the one you love (or like a whole lot).
Tip: pick up some seasick meds if you think you may get a little queasy when that boat starts a-rockin'
Second tip: really want a night date? Go on a sunset dinner cruise!
Talk About a Home Run!
Nothing says, "This is the best night EVER," than over a two-buck taco at a Padres game (okay, it's actually $2.50, but that's still a killer price). Sure you're there to enjoy the game and snuggle up in those stadium seats, but get there a little early for the real fun. Walk around Petco Stadium, and make a game plan to hit up each taco stand—they're all different, and they're all AMAZING.
Watch The Waves (Without Getting Wet)
Make this an anniversary or a special occasion night, and make a reservation at the Marine Room so you can watch the ginormous waves from behind huge panels of glass. The food is fantastic, the ambiance is worth the splurge, and you can't beat seeing the views while dining with your love.
Play Some (Old-School) Games
Channel your inner teenager, find some quarters under the couch or your car's floorboards (I know you have change over there) and test your old-school gaming skills downtown at Coin-Op Game Room.
They have food and drinks there, so plan on hanging out and having fun!
Even More Unique Date Night Ideas
There is SO much to do in San Diego. I put together a printable list with two dozen ideas for date nights. Fill this out for your free list:
[wd_hustle id="SanDiegoDateNightspost" type="embedded"/]
What are your favorite date nights in San Diego? Let me know below!