Stuck at Home? Here's a Free Daily Quarantine Routine
Let's be real here: there's a reason I gladly send my kids to school, and don't homeschool them. Teaching kids and being patient with them (outside my regular mom duties) is not my strong suit.
But I am good at routines, and now that schools are closed for the foreseeable future, I needed a schedule to get us through this.
Second reality check: I know this schedule may only hold up for a few days. I'm not naive to think that I may throw in the towel in three days and just let the little one binge on Daniel Tiger, Big Bird, and Paw Patrol while the other two stuff their faces with their ipad.
But maybe a little false hope is what we need right now.
That, and my two older kids actually love schedules, so I'm hoping they'll get on board with it, too.
Get your free quarantine routine here:
Click on the schedule/plan you want and it will lead you to a new page. Save the image, and then print!
Blank Version: Fill in your own schedule
Blank with snacks: Fill in your own schedule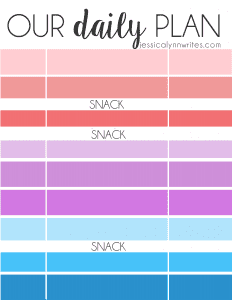 Sample Schedule
I'd love to hear from you…how are you planning on filling your days?