Deployment Goodbye: The Part Nobody Sees
This is the part most people don't see. The deployment goodbye; the "see-ya-later" moments we try desperately to both rush through and cling to so we can move on to the next phase.
It's easy, and understandable why the public gets emotional and excited for homecomings. It's a time to celebrate, and it's the point when we finally let out a giant sigh of relief.
Our world is whole again; it's completely worth celebrating.
But what about the beginning of a deployment when we have to say goodbye?
A Deployment Goodbye
Here's a small glimpse at what that "see ya later," as we like to call it looks like…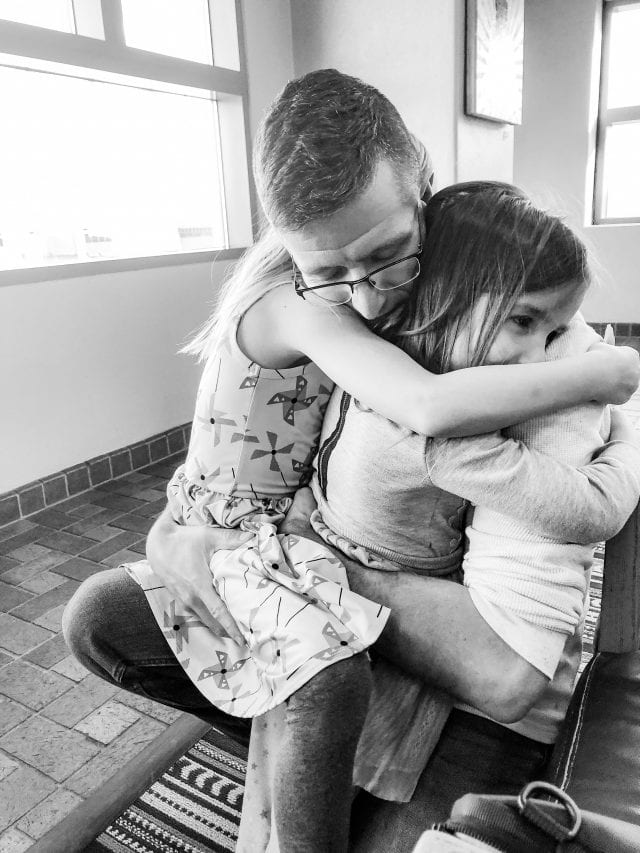 You've pulled your big girl panties up, and you've been strong and ready up until then. But when it actually comes time to say, "see you later," and watch your kids be brave, and tell their dad bye?
That part just rips your heart out right of your chest.
Because they "know" where he's going, but they don't really know where he's going. They don't know what he's about to face, and they certainly don't realize that some moms and dads don't actually come back home.
But we ask them to be brave; to hold down the fort while they're gone, and remind them that they're the temporary man or woman of the house.
Then we ask them give the best darn big hug they can muster.
The general public doesn't see this.
They don't see the kids' inconsolable tears streaming down their face, as they literally cling to their favorite person, not wanting to lesson their grasp, because then it will really be real that they're leaving.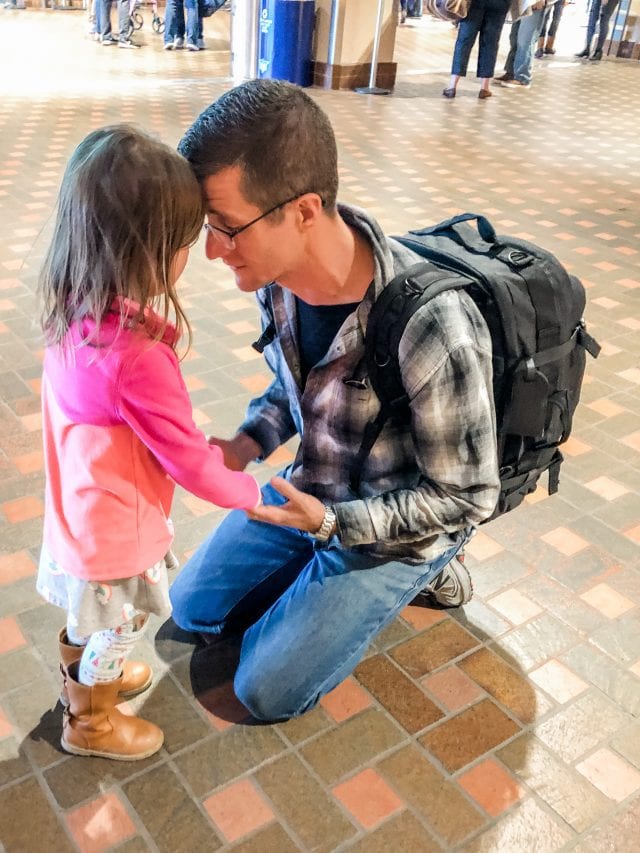 They don't see the hug you give them, and how it doesn't—it can't and won't—replace the empty hole in their tiny hearts.
They don't see comforting words you try whispering in their ear, the wet splotches on your sleeve from their tears, and the desperate prayer that everything will be okay.
They don't see the mom ugly cry behind the van after the kids are buckled in, taking a few seconds…minutes…breaths…to let her own guard down, before she regains her composure enough to be there and be strong for her kids.
The public doesn't see this part.
The outside world isn't there to pick up their little hands with an extra squeeze, or wipe their tears with a big ol' squeeze hug as their lip trembles, or whisper words of affirmation telling them how freaking brave, and strong they are.
They don't hear the tiny sobs in the back of the van as we drive away from the airport, and see the sullen, brokenhearted faces through the rear-view mirror.
They aren't there as your kids climb in bed with you, longing for some extra snuggles in the middle of the night because they had a bad dream and miss their Papa.
As grown ups, we know that the days are long and the years will go by in a flash. But to them? A week feels like a month, months are like years, and thinking about a year? That's basically an eternity.
A deployment goodbye, or a "see ya later," as we call it, to the one you love is one of the hardest things a military kid has to go through.
But the general public? They don't see this side of things.
Resonated with this post? Pin it here: