Our Year-Long Deployment is Finally OVER
After 369 days away from us, my husband is back home from his deployment…and I can breathe again.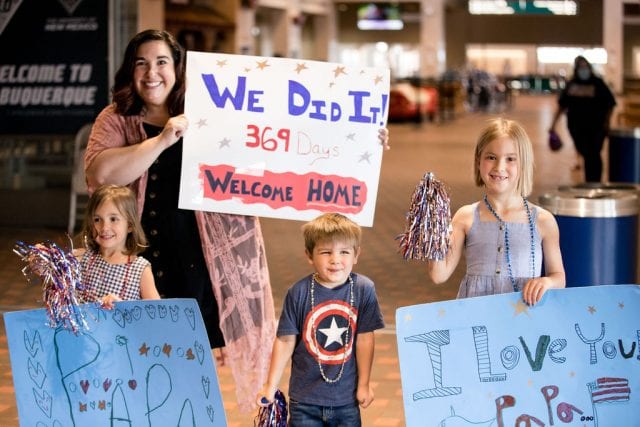 I remember being so nervous for my very first homecoming. It was 12 years ago in 2008, and I was his girlfriend at the time. All things military were so foreign and extremely intimidating. And, like most things with the military, the date and time changed more than a handful of times. I ended up staying with some fairly new friends* who graciously opened up their home to me since the homecoming day completely changed.
*Spoiler alert: those "new" friends are still some of our best friends.
This is embarrassing to admit, but I was so nervous I wouldn't recognize him when he stepped foot off that plane. Hundreds of troops—all dressed exactly the same—walked off the plane about 20 yards ahead of us.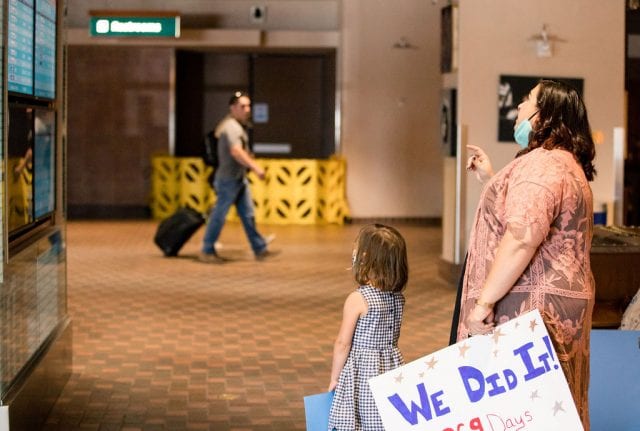 I remember my hands physically shaking so much that I had to tell myself to calm down.
Miraculously, I spotted him like a needle in a camouflaged haystack. We ran to each other and the rest was history.
Every homecoming we've had since that first one plays out the same way: the butterflies start fluttering so much that my hands eventually shake with nerves—exciting nerves. I also feel that twinge of embarrassment, hoping I'll be able to spot him through the sea of airmen disembarking from the plane.
But every time, we manage to catch each other's eyes, and the rest of the world fades away as we reunite.
It truly is a real life, Hallmark moment.
The crazy thing is that I've never actually cried at my own homecoming. There's just too much going on and those tears are always blinked away by nerves and excitement, and replaced with smiles.
Flash forward to this homecoming—my seventh time welcoming him home, but my kids' first official homecoming.
Everything about this homecoming was different.
A Pandemic Homecoming
There was no pre-homecoming pampering. There was no new pedicure with patriotic nail polish; no fancy blowout or fresh cut to spruce up my tired look; no new welcome-home clothes, and we almost didn't even have a photographer, because our state doesn't see something like this as "essential." (Which I totally understand, for the record; it was just another thing we couldn't do.)
My husband deployed on his own, without a squadron or a group of troops, so he left and came back by himself. That's not uncommon, but it's uncommon for us.
What's even more uncommon is having a homecoming—a beautiful and wonderful celebration—in the middle of a global pandemic.
I had grand plans to embarrass the heck out of my introverted husband with a huge crew of family and friends waiting for him at the airport.
We were going to hoot and holler, wave American flags in his face, and shower him some love.
A homecoming isn't just for those coming home; it's for those welcoming him home, too. It's for my kids who went through a year without their dad, and it's for our family and friends who supported us during that time. A homecoming is a celebration for everyone!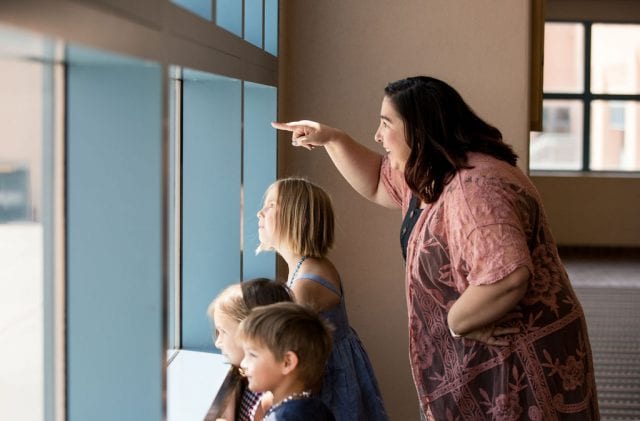 Instead of a crowd, there were only a handful of people in the airport on that beautiful Sunday morning.
It was eerie and weird, and I was almost more worried about my kids not touching anything than I was about getting my husband back.
This was their first time into any sort of establishment in more than eight weeks. Bless their hearts. We had our masks on, but after realizing we were the only ones around, I let them take them off.
Despite the fact that the entire airport was practically empty, my three tiny little humans filled the place with their excitement. They were giddy with anticipation.
He's Coming Home!
We actually got to watch his plane taxi to the gate, and since there were only a couple dozen people on board, we didn't have to wait long to see him walking towards us (after he made a quick stop at the bathroom to wash his hands).
This next part is something I never want to forget, and I'm kicking myself for not recording the whole thing (just too much on my mind to remember to record it).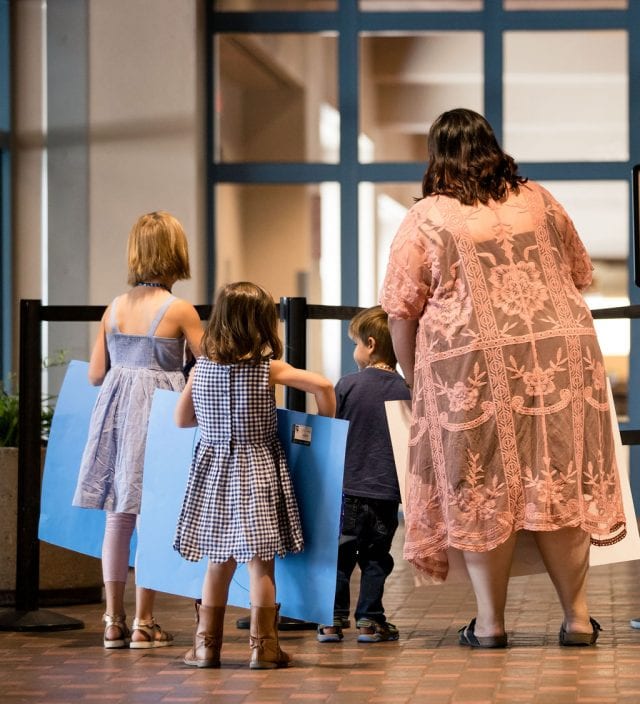 My son (3 years old), who speaks in full, complete sentences literally couldn't contain his excitement.
He started squealing with delight the second he saw his Papa walking towards him.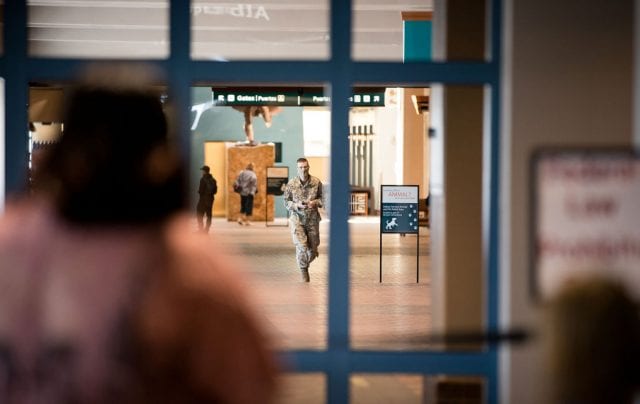 The girls started bouncing and giggling, and I just stood back to take it all in.
Before I knew it, tears were streaming down my face.
Watching their big emotions literally take over their little bodies broke me.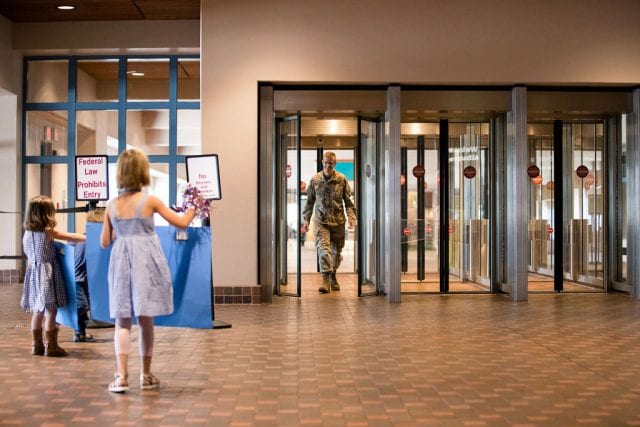 My husband barely stepped foot past the glass barrier before all three kids barrel rushed him—my son leading the pack with his squeals and giggles.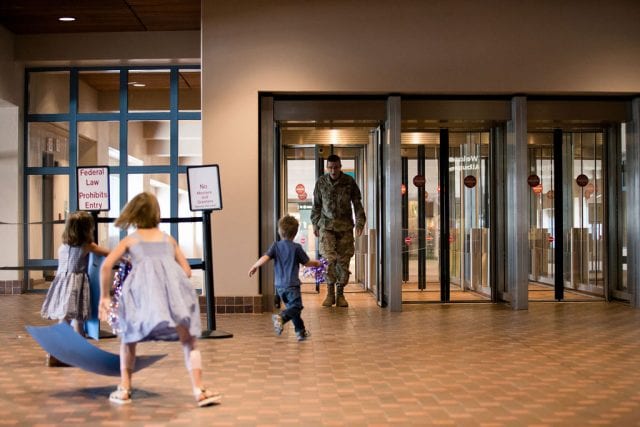 Their hugs lasted an eternity, and when they finally let go, they didn't actually let go; someone was always grasping onto part of him.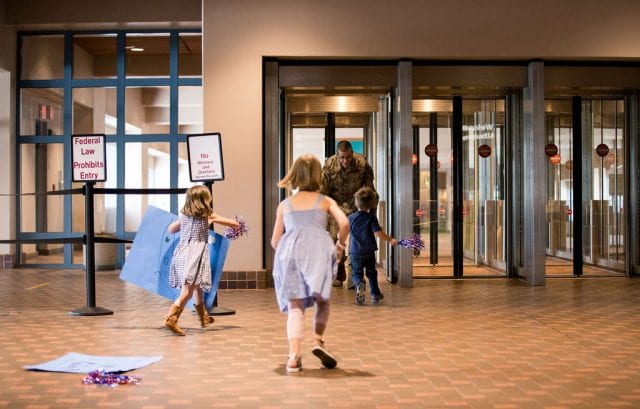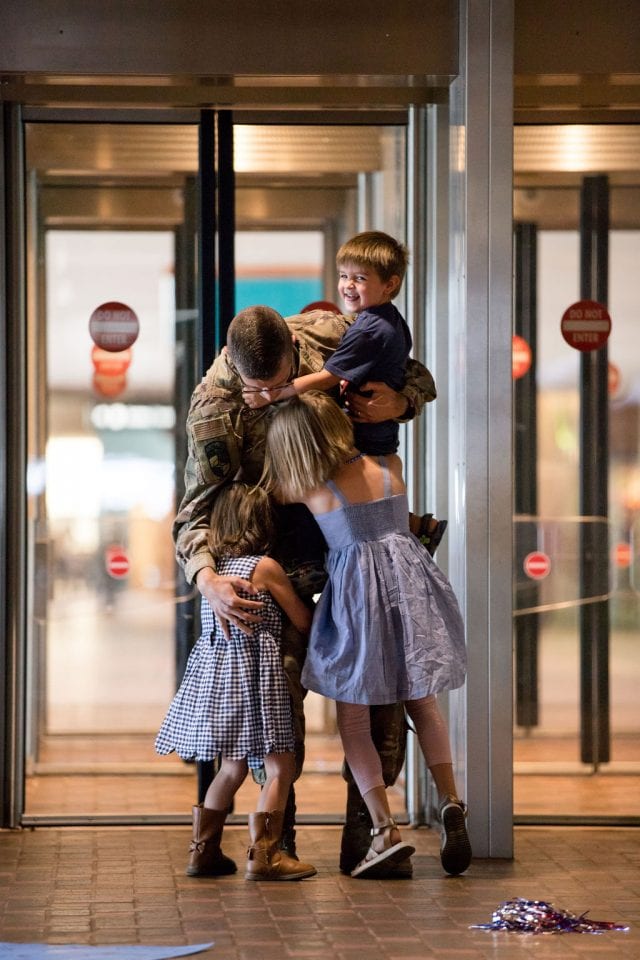 I stood back and let them have their moment; I knew my time with him was coming.
Before I knew it, I was kissing him, and all of the stress, worry, fears, and pressure I've been carrying for the past year melted away.
After 369 days, my husband was home, and I could breathe again.
Time to go Home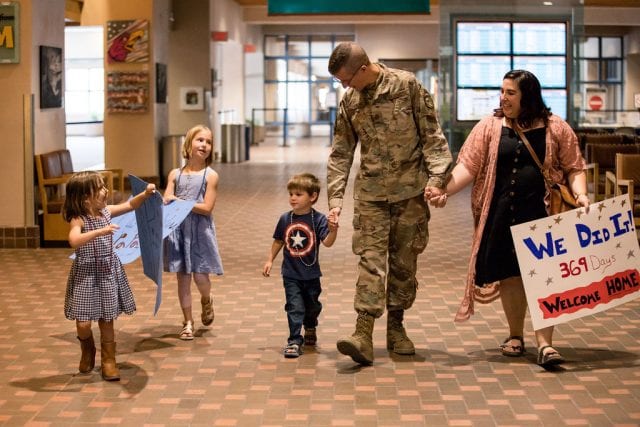 We picked up the dollar-store pom-poms and homemade signs the girls absentmindedly dropped to the floor once they saw their dad, and we sauntered through the empty airport to pick up his bag.
I audibly prayed that the kids wouldn't pick up the virus as they held onto the escalator on the way down, and then doused their hands with sanitizer when we got to the bottom.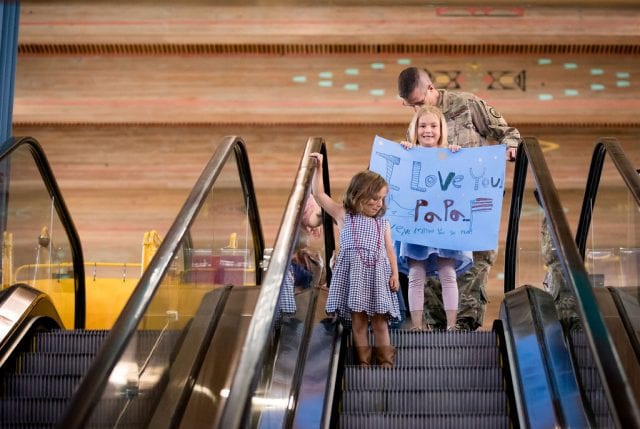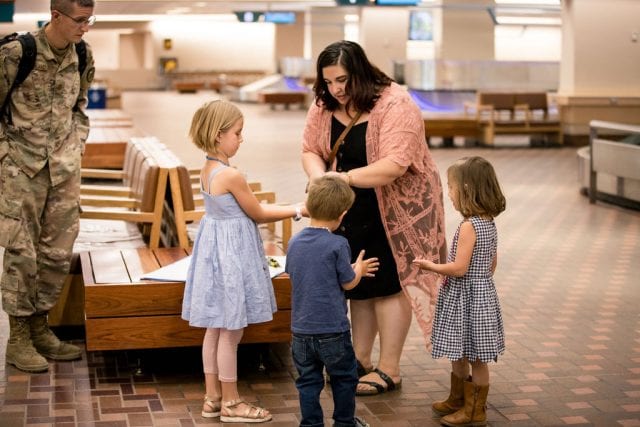 Baggage claim took less than a few minutes. Less people flying means there's a lack of crowd to pick up luggage.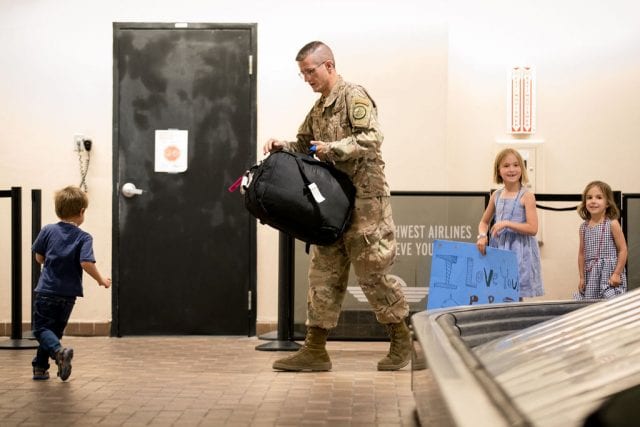 We walked—as a family of 5—back to our van, got the kids strapped in, and headed home.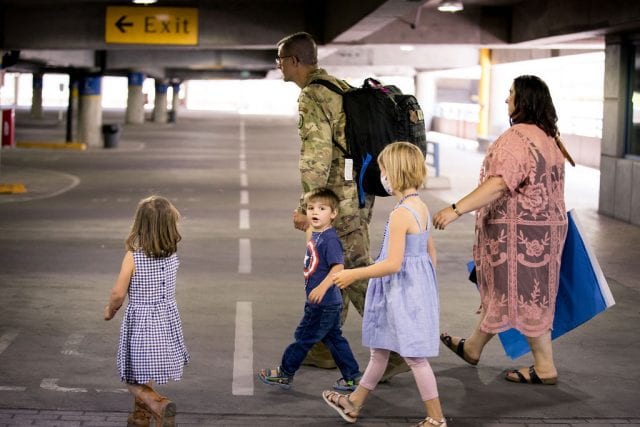 Quarantine Time
Our state has a mandatory 14-day quarantine for anyone coming into the state, and we decided he'll do that time at home with us, as opposed to getting him a hotel room and letting him fly solo for another two weeks.
Having him out of our physical lives for more than a year was long enough, so we're taking our chances and having him home with us.
We're currently on day 12 of his 14 days, so fingers crossed (and lots of silent prayers), nothing emerges.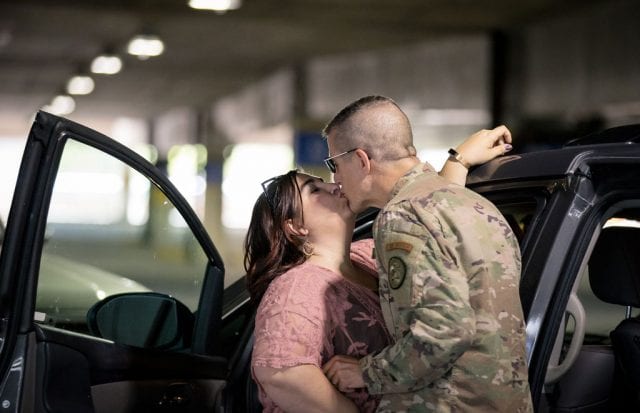 Homecoming Parade Surprise
I had one surprise for him on our way home…
Since we couldn't have a crowd at the airport, I arranged a mini parade for him on our route home. There were around a dozen family and friends all parked along a little stretch of road that leads to our house.
They parked next to each other, hopped out of their cars when we were close, and cheered as we drove by. They had flags, welcome home signs, and smiles plastered on their faces. My husband and kids were pleasantly surprised, and my heart was full.
I recorded a video, of the parade, but since I was also driving at the time, I don't feel comfortable sharing it. Trying to track down and see if anyone has photos of this.
What a Pandemic Homecoming was Like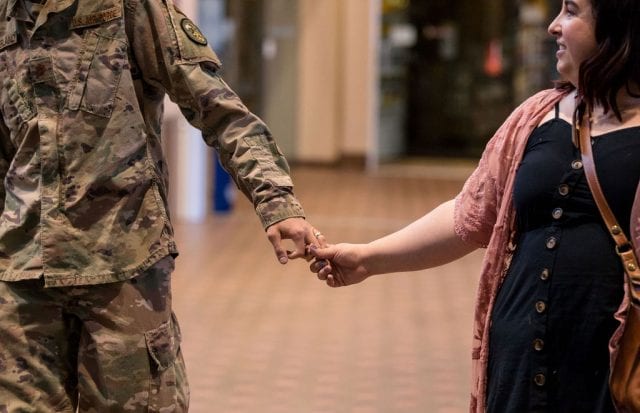 The extra stress we endured during this deployment was stressful enough, but the last few months during a pandemic, while also working on an overseas PCS are things I don't wish on anyone.
I'm thankful for our health, but the uncertainty (on top of the typical military uncertainty) was almost unbearable.
I know women today are all about holding their own and being fully capable to do all the things by themselves, and while I can do it all, I don't want to. I love doing life with my husband literally by my side.
Since he's been home I've been sleeping deeper and longer, my attitude is happier, there's less yelling, and things are overall just better.
I guess that's what happens when you can finally let go of all the stress you've been harboring.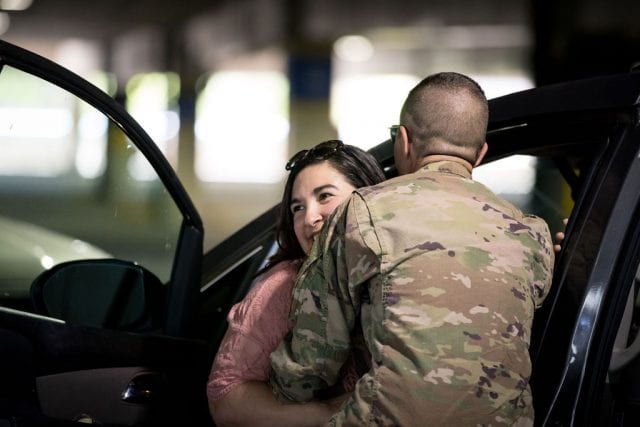 So now that we wrapped up this deployment adventure, we jumped head first into our next one: eight days after he came home, the movers arrived to start packing all our things for our move to Germany. (More on all of that soon!)
It's never a dull moment over here!
photographs courtesy of Heather Marie Photos