Extra Kitchen Things you Need When you Move
So there I was, jet lagged from an overseas move, and trying to cook a meal for my husband with a crappy knife and an old stainless steel pan on a cheap temporary living facility (TLF) stovetop in Italy. I cried that night as we ate burnt food, seasoned with my salty alligator tears (since we didn't even have salt available). I remember sitting there in that hotel room wishing I packed extra kitchen things when we moved.
When you move with the military you typically stay in a temporary living facility while you wait for available housing, and you can be there anywhere from a week to more than a month.
Staying in a TLF, or even an AirBnB is fine and dandy, and they have "exactly" just what you need. For example: you'll have beds, towels, sheets, a little living room area, bathroom(s), and a kitchen sometimes complete with a stovetop.
Extra Kitchen Things You Need For Your Move:
Technically that kitchen will be stocked with "essentials." No food or spices, but like, a pot and a pan, and maybe a knife, and possibly some bowls and plates*.
*Note: because of Covid-19, the place we stayed at on Camp Pendleton did not have dishes or silverware, but they did provide disposable utensils and plates.
But let's be honest: sometimes when you move you still need a few extra kitchen things to get you through meals, and make things feel more normal.
That's all fine, unless you're a cooking snob or just want a little more ease while you're out of your normal kitchen.
Since we (okay, I) fall into both categories, here's a list of the extra kitchen things we packed for our move. These go in our suitcases (yup, we're those people; these things are that important).
A Great Knife.
Having a great knife can literally make all the difference in the kitchen. There's nothing worse than trying to cut something with a dull blade. This particular chef's knife is what we travel with, and I love that it has a cover for the blade.
This one is also a great, but less expensive alternative.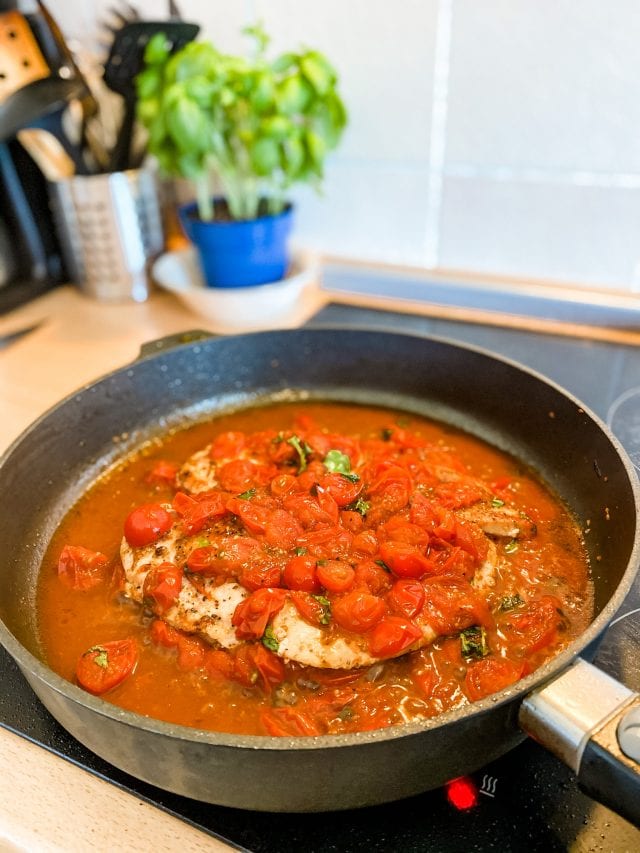 TLF's always seem to have stainless steel pots and pans in their kitchens, so I bring something I know will work and won't cause me to (literally) meltdown while cooking.
This particular skillet is amazing for TLF living for several reasons:
1. The handle comes off (for easy storage)
2. It's surprisingly light (great when you have a weight limit in a suitcase)
3. Non-stick surface
4. It's big enough to make an awesome one-pot meal
Flexible cutting mats.
These don't take up any space and are SUPER handy to have. Seriously, don't leave home without them. Some places we've stayed at have itty bitty cutting boards, which are extra annoying.
Mix 'n Chop
This is my absolute favorite thing, and when I'm cooking for a family of five, you better believe I'll be put it to good use for some taco meat.
You can stretch ground beef and make it work into so many meals!
Instant Read Thermometer.
This is SUPER nice to have. If you're making steaks, cooking chicken, or just need to make sure you're not going to give someone in your family food poison. Because having people throwing up in a new place is the last thing you want to deal with when you're in a new place.
This is the only thing that takes up more space, but it's vital enough to bring with me. Mostly because I can cook an entire box of mac and cheese in it at one time, without having to boil water.
AND I can steam veggies in it, use it to make oatmeal, and use it as an actual bowl, so it's more multi-purpose. Totally worth it.
Nice To Have in a TLF
Put these things on the "nice to have" as far as extra kitchen things you need during a move. They're not as essential, but we still use them just as much.
Chef's Tongs and an Oven Mitt.
I've learned my lesson too many times about needing both of these things and not having them them…so we brought them with us, and the've already been useful to have. The oven mitt, by the way, can double as a trivet.
An adjustable measuring spoon.
These places sometimes only have the bare necessities, so having at least one measuring device is extremely helpful.
Apple Wedger.
The kids love apple slices, and yes, I could totally just cut them up. But I use this enough that it was worth bringing. It's small and flat, so it's not taking up much space.
Cheese Grater.
I know we could get pre-grated cheese, but I'm a cheese snob, and love grating blocks of cheese. Plus, we had a giant brick of Parmesan from the house that we brought with us (didn't want that to go to waste), so we've been shredding that for meals, too. It's also pretty flat and doesn't take up much space.
Seasonings/Spices
This is a bit frivolous, but I brought two of my favorite spice rubs with me, just to add some extra punch to our meals. Garlic and Herb Rub, and my favorite: Bell Pepper Rub—they're SO good, and a little can go a long way.
Most places might have salt and pepper available, but I've never seen more spices than that. If you want some flavor to your food, bring them with you.
(As you can see from that photo, I used every last bit I could of those spices.)
Can Opener.
My husband thinks this was one we could have left behind, but I'm thankful I brought it since our current spot doesn't have a can opener. How can you open a can of beans or corn if you don't have one?
Wine Tumbler.
This goes in the "nice to have" section, because gosh it's nice to have. We use them for water cups, wine glasses, and coffee cups.
REALLY Wish We Had This
Obviously we couldn't pack this in our suitcase, so we don't have this with us, but if we were moving stateside, you can bet your bottom dollar I would've packed it in the car with us.
Deluxe Air Fryer
Not having access to an oven is hard when you're temporarily living for an extended period of time.
An Air Fryer, in combination with anything listed above, would legit make it possible to help you cook anything you wanted.
What Extra Kitchen Things Will You Pack for Your Move?
Are we crazy or do you take some kitchen favorites with you, too? Tell me what you usually bring, or what you think you will bring with you the next time you stay in a TLF.