Holy Schnitzel: We're in Germany!
Seriously, HOLY SCHNITZEL…we're officially IN GERMANY!
This picture is a hot mess. We tried to retake it, but the others were even more of a hot mess, so this was as good as it gets for our first German photo. Still in jammies, too bright from the sun, and not really sure what's going on, but….yay for making it to Germany!
Never a Dull Moment
You guys, 24 hours before our plane tickets said we were leaving America it was still completely up in the air if we were actually leaving.
All things considered, it didn't even surprise me that we had one more hang up. It's all par for the course when the military is in charge of you moving across the world, during a pandemic.
Well, that escalated quickly.⁠
Time to back up a bit so I can remember the timeline of events.
So, on Monday afternoon (June 8th) we decided to leave New Mexico and head to California…on Wednesday morning (June 10th).⁠
And low and behold, less than 48 hours after we made that decision, we were on the road.
My husband still had a couple days of out processing to do in California, and since we were anticipating our flight info/tickets to leave for Germany, we figured it'd be smart to be in Cali. That way, when it was finally go-time, we'd be ready.
So we spent that E N T I R E Tuesday saying bye to our family, tying up loose ends, getting a rental van, and packing for our trip.⁠
It was a whirlwind.⁠
Saying bye to our favorite people is the hardest part of moving. While I'm forever grateful I spent a year at home, it made saying "see ya later" so hard.
My eyes hurt from all the crying, and my soul already aches to see everyone again.
Tickets in Hand…But Up in the Air
We stayed at Camp Pendleton in Oceanside, California, and my husband drove up to Edwards AFB to do his out processing.
It was pretty much the best place we could've stayed. The beach was minutes away, we saw our friends, and enjoyed our favorite restaurants one last time.
Ironically, our airline tickets came in when we arrived to California, but the move was still on hold. We were missing a key component with letting him out process (and if he couldn't out process, then we technically couldn't leave.*)
*When you out process you get NATO orders (different from the official orders we already have), and that was allowing us into Germany since we're still waiting on our no-fee, official government passports to come in.
After making phone calls and sending several emails, it looked like we were going to have to reschedule our trip. On Monday we got frantic and started calling anyone we could think of to help us get the one form we needed to leave.
Then, low and behold, one of our phone calls worked; we got the paper we needed, all checklists checked off, and forms were all signed. We officially had the a-okay to leave!
Longest Travel Day EVER.
That night we scrambled to repack all the things, and get ready to leave dark and early the next morning.
We managed to cram everything in our possession into five suitcases and five backpacks.
The weight limit was 70 pounds, and I'm proud to report that we had two of them weigh in at 65 pounds and one at 55 pounds. (We were slightly nervous they'd be over).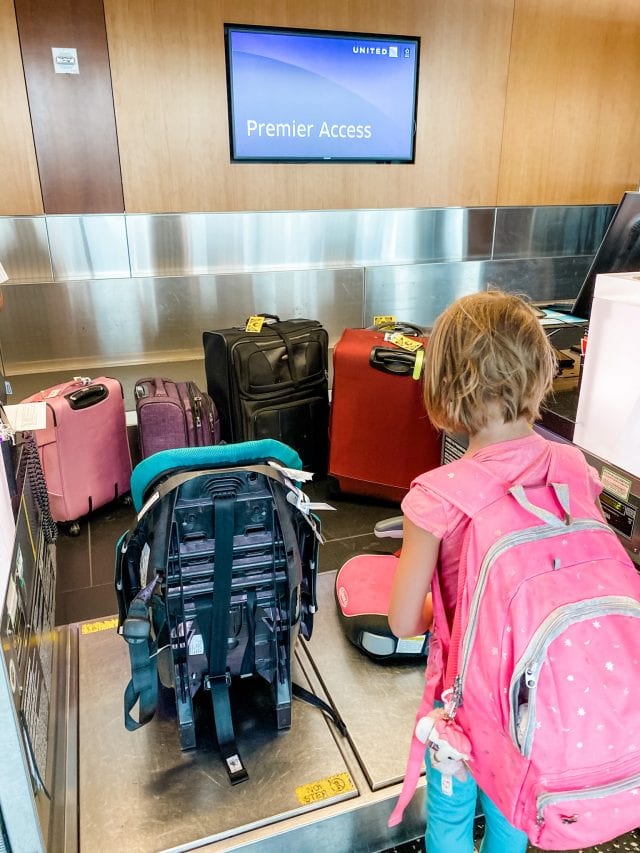 Besides a wheel falling off my suitcase* while we were in the airport, the entire trip was pretty smooth sailing.
*when we picked up our suitcase in Germany another wheel came off that same suitcase. Looks like I need a new one the next time we travel.
Our 26-hour Travel Day
We left San Diego on a fairly full flight on Tuesday, June 17, and flew to Chicago.
Everyone wore masks, and they (United Airlines) kept talking about social distancing, and then crammed everyone on the plane. There were maybe 20 empty seats.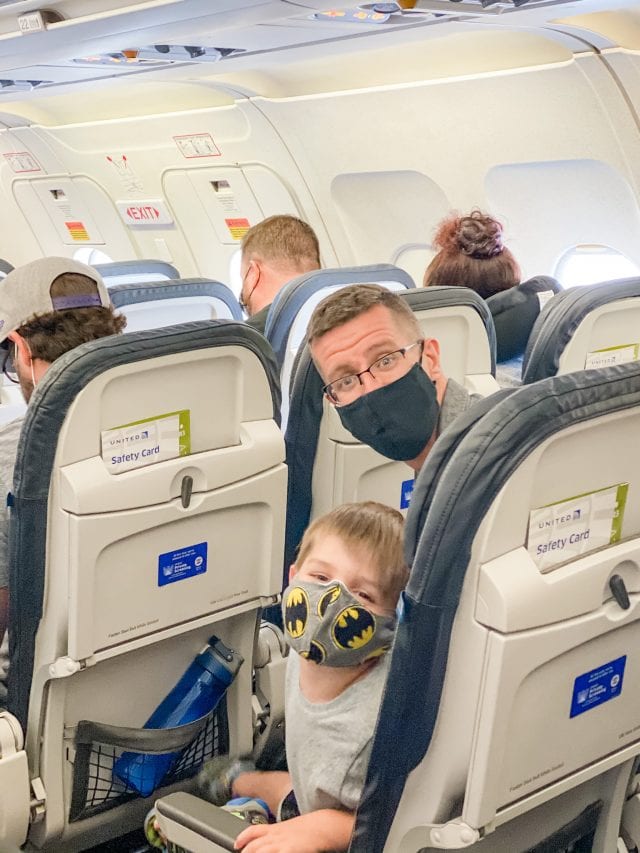 We devoured a Big Mac, Quarter Pounder, fries, and nuggets from McDonalds in the O'Hare airport. And while that's a classic choice for a last-American meal, we wish it would've something a little more "Chicago." Sadly, nothing else was open, so Mickey D's was our only option.
Our flight to London was E M P T Y.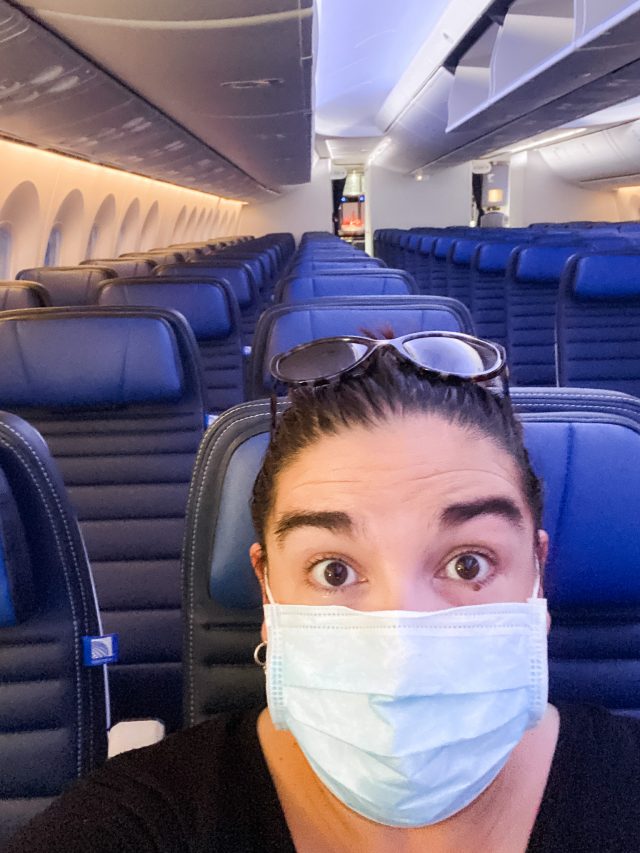 Like, they easily could've bumped all the passengers up to first class. (They did not upgrade anyone for free, however.)
We flew on the new United Dreamliner, and wow was it nice. We were in the economy section, but if we didn't have a family of five to pay for, I totally would've upgraded just to experience an even nicer.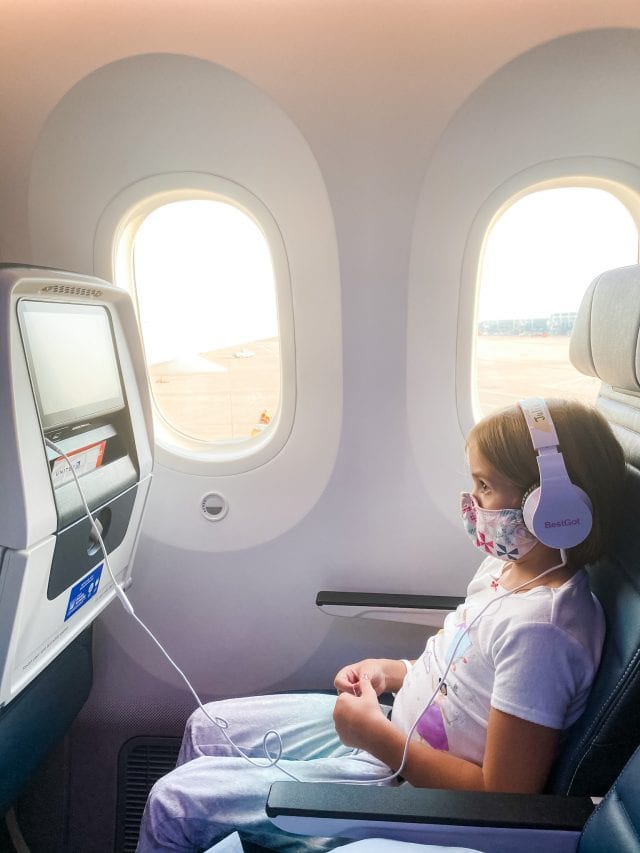 They served dinner, some snacks, and brought little bottles of water whenever we asked.
The kids all napped for three-ish hours, and us grownups got (maybe) around 30 minutes of shut eye.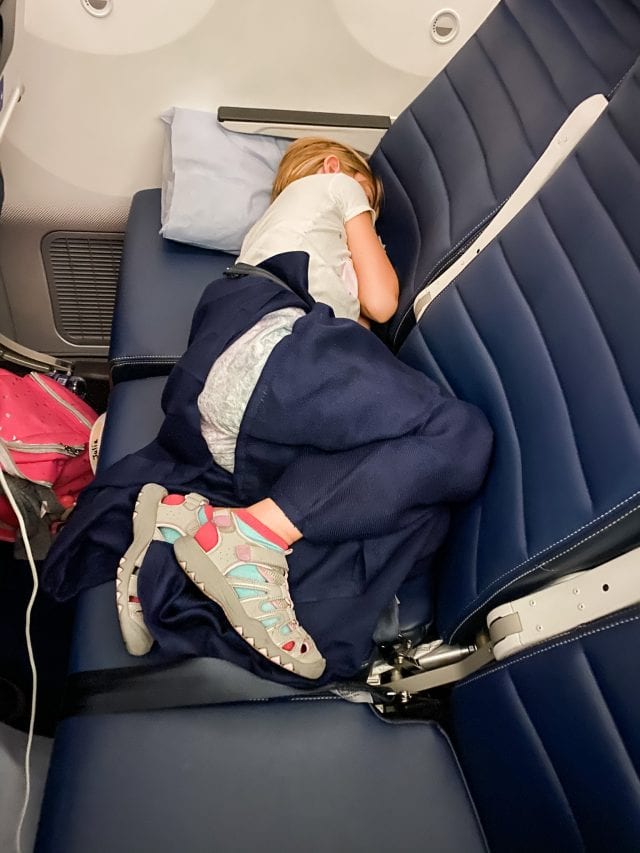 We both can sleep easily on planes, but not with the kids literally on us and moving around. This plane would've been a dream to sleep on, too.
London Calling
Once we landed in London things got a little crazy.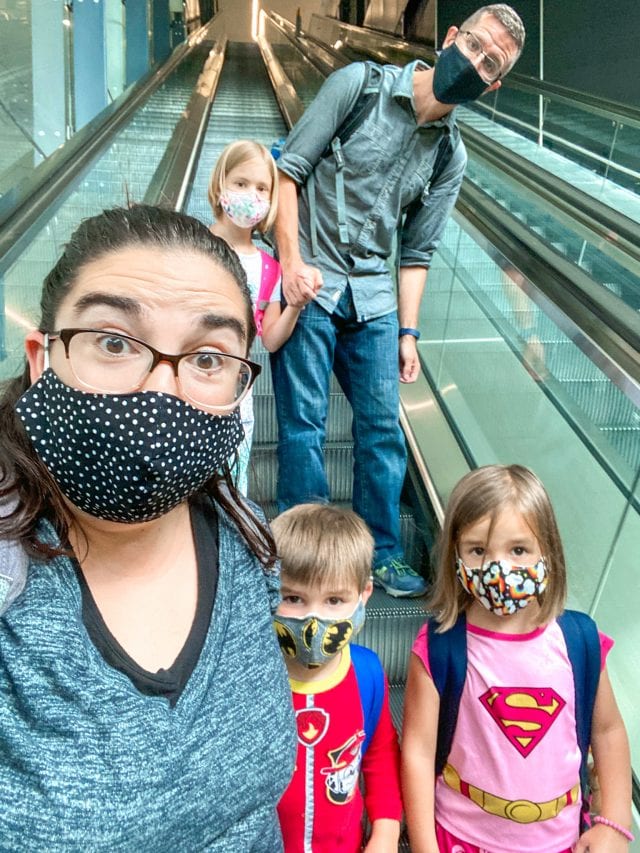 We were grumpy, hungry, and sleep deprived. Then we had to walk forever with grumpy, hungry, and sleep deprived kids. So, I'll let you guess how that went.
It was also completely empty, which was just so strange for such a bustling place like Heathrow.
Once we stopped walking it turned out that we had go through security again (didn't know we had to do that). So it was just annoying to have to fish around for our liquids (mostly hand sanitizer), take out all the electronics again, and our shoes.
Not a huge deal in retrospect, but we were still tired, hot, wearing masks, grumpy, hungry, and sleep deprived. It was extra annoying.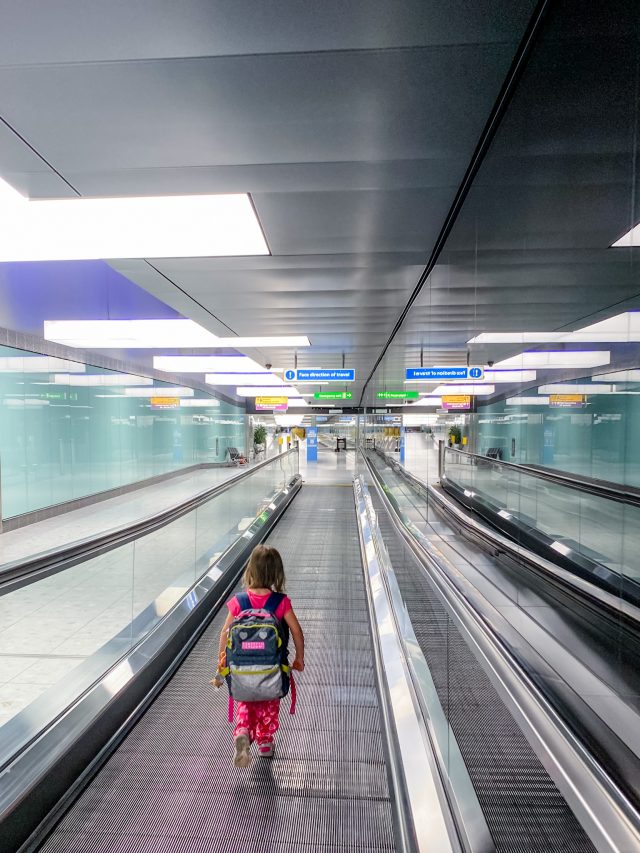 Once we got through that we could head to the terminal where we discovered that nothing was open except for two stores upstairs with a very long lone (obviously, since they were the only places open).
We found a place for us to all sit and relax while I hunted for food.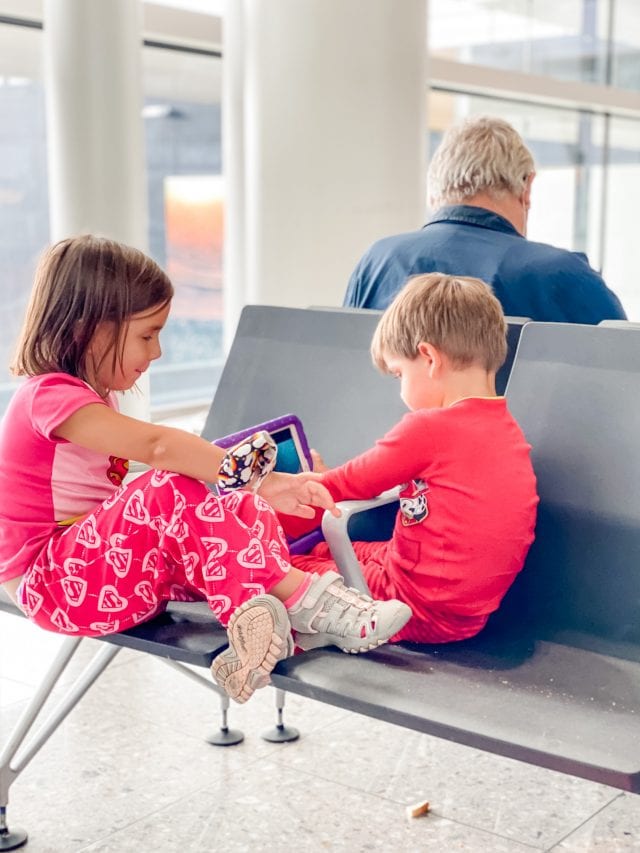 I managed to pick up a couple sandwiches, coffee (cold and canned from the store), and a bottle of water.
One. More. Flight.
Our last flight was crazy.
Our tickets to Düsseldorf didn't allow us to change our seats, and every time we asked about them, they said we could change them at Heathrow. Unfortunately, when we got to London I was told, "sorry," and that was that.
Her charming British accent didn't charm me, and I almost went full-on Mama Bear on her.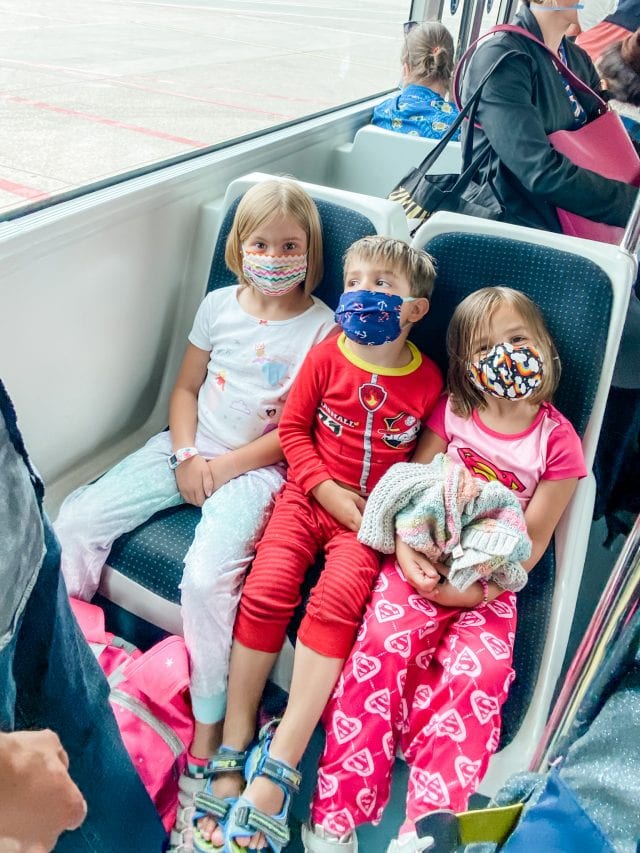 For the record, we were all seated separately and in different rows, so that wasn't going to work for us. PLUS, we didn't have an actual gate until 10 minutes before we were supposed to board.
We found our gate and when we got up to the boarding section I almost let my Mama Bear out, but thankfully I must've been just as charming* in my previous encounter, because the same lady from earlier told me she moved people around and we were all sitting together. WOOHOO
*Pretty sure I just looked like a grumpy, hungry, and sleep deprived mom who didn't want her three year old and five year old to sit next to strangers during a pandemic on an airplane going to another country.
The flight was uneventful, except that we were crammed in there like sardines (there were zero empty seats and 50 seats oversold), and the flight attendants all spoke German on the plane, so that was pretty cool!
One hour later we landed in Düsseldorf, proceeded through customs, grabbed our eight pieces of luggage (minus two suitcase wheels), and then found our guest house mini bus driver.
And finally, at 4 pm Germany time, a whopping 26 hours after we started our travels, we arrived at our Guest House in Geilenkirchen.
And then I tried my hardest to not fall asleep until a respectable 8:30 pm.
Move to Germany: DONE!
I wish I could tell you this move was totally done and we're getting settled in, but it's not over yet. Here are the next events in this crazy adventure:
Two week quarantine (happening now)
Find a house at the beginning of July (there is no base housing; we can live either in Germany or the Netherlands; I'll document and share all of that hopefully next month)
Move into our new house and get loaner furniture while we wait for our stuff to arrive.
Find and purchase a second vehicle
Get our stuff
Unpack/arrange our stuff
Pick up our van in August
So that's where we're at. We're on day 2 or 3 of quarantine (I don't even know what day it is…again), and we're counting down the days to move on with this move. We're all healthy (so far), and in good spirits!
Are you PCSing soon?