What it's Like Flying During a Pandemic
I realize people aren't traveling very much—if at all—right now, but I also know people are curious what it's like, so I want to share our experience about flying internationally during a pandemic.
I'm sure we've all seen the photos of major airports turned into little ghost towns where it used to be packed with people.
Our experience was a mixture of both. At times it felt like we were the only ones there, and then we'd turn a corner and join the mass of other people attempting to get from point A to point B or C.
Why We Flew During a Pandemic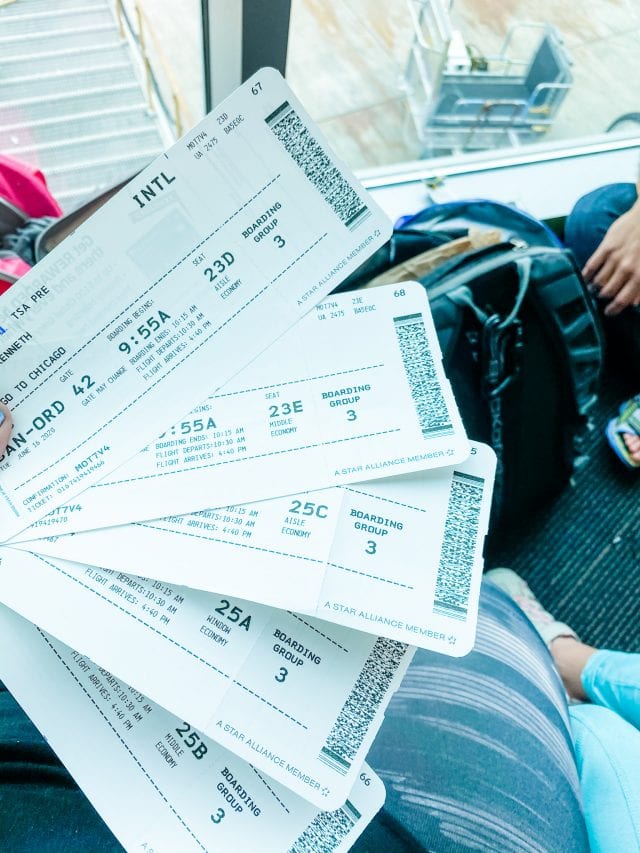 A little back story: my family of five and I moved from America to Germany in June 2020, because my husband is in the military and had to be at his next duty station sooner rather than later.
Things are constantly changing, so what we experienced with flying during a pandemic just last week could very well already be different today.
We took three flights (all explained in more detail below), and all three of my kids (7, 5, and 3 years old) all had their own seats.
Overall Thoughts on Flying During a Pandemic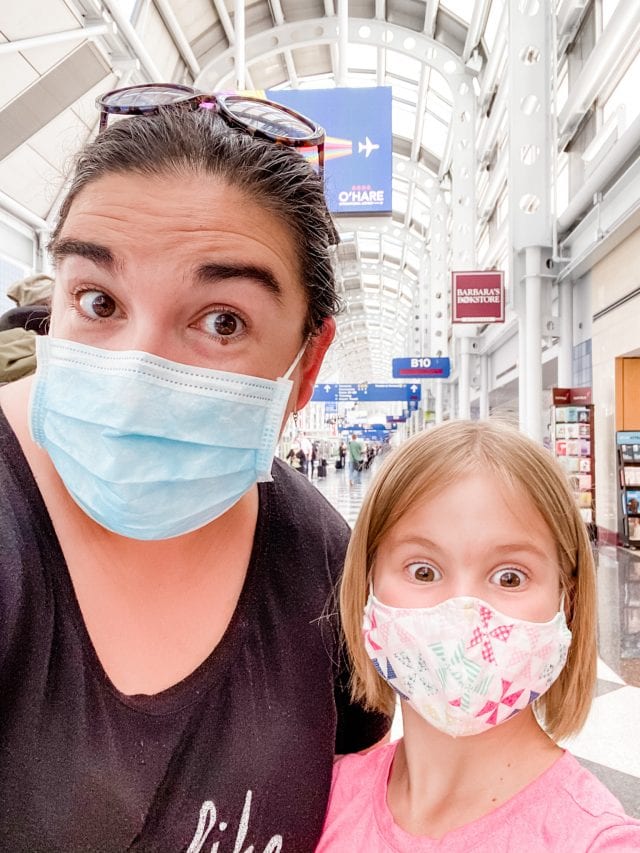 The two big questions people are asking me are: was it cleaner and did it feel safe?
My answers: yes and yes…kinda.
As far as things being cleaner: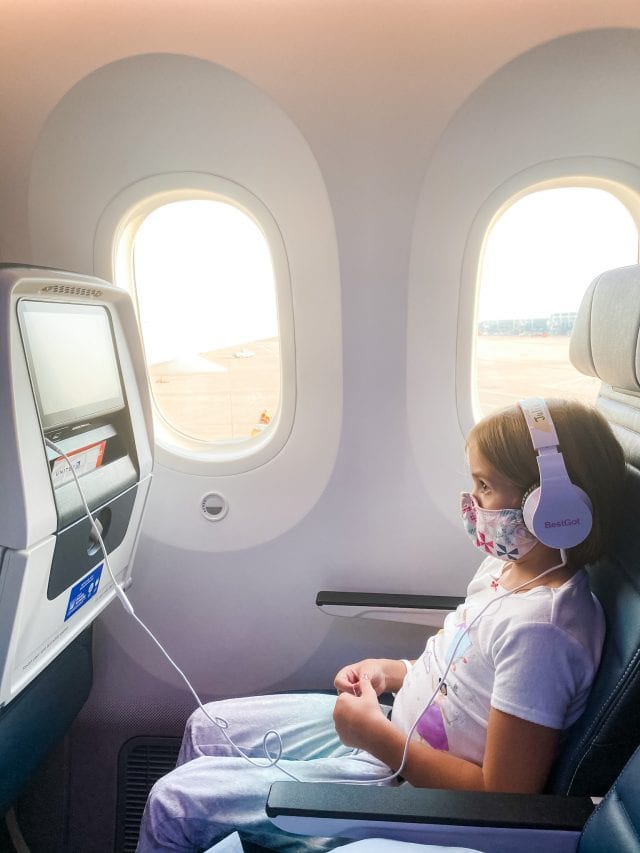 The planes themselves definitely felt and looked cleaner, at least the domestic and our international flight. They were also slightly newer planes, which helped.
On both of those flights they gave us individual sanitizer wipes as we boarded, which was nice. They also said they cleaned thoroughly in between flights.
Despite that, I still wiped down as many surfaces while we waited to board the plane (the arm rests in the seating area) and on the plane as much as I could with my own wipes.
Our last flight from London to Düsseldorf, Germany, was on a much older plane; it felt like a pre-Covid flight, so I have no idea if it was cleaned ahead of time. I also felt very rushed getting on that flight and was exhausted by that point; I honestly can't remember if I had a chance to wipe things down.
As far as things being safer: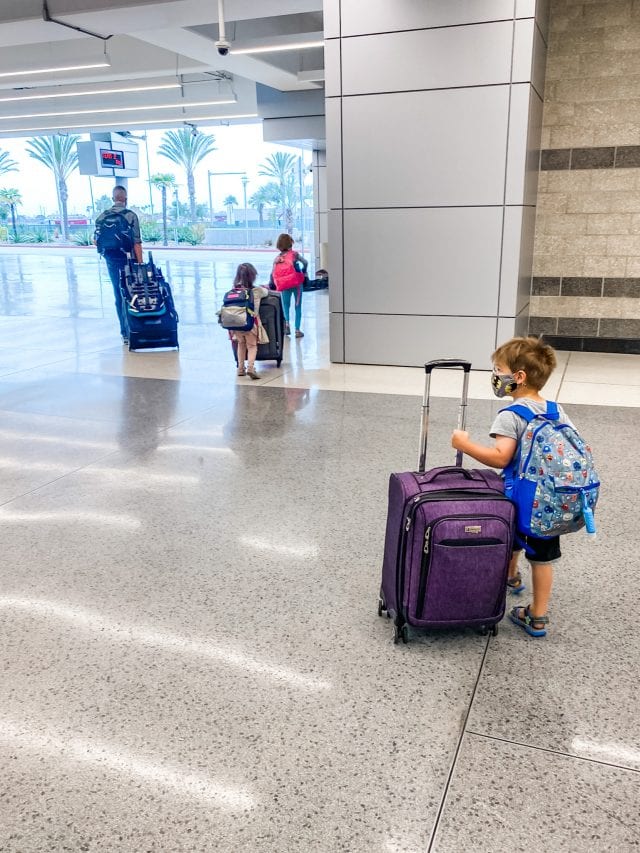 The airports themselves were a mixture of being empty and moderately full, and there was no mix in between. We were either almost surrounded by people, or there was nobody in sight, which was weird.
I didn't notice any extra hand sanitizer stations around.
Everyone wore masks. I brought several masks with me, and I ended up swapping them out once during our trek just to keep things fresh.
We wore our masks the entire time, including my three young kids. They were totally fine with it; we only had them off if we were eating or sleeping. I never saw a bare face.
My favorite flight was our international leg to London. The plane was practically empty, so it felt extra safe.
Full Flights During a Pandemic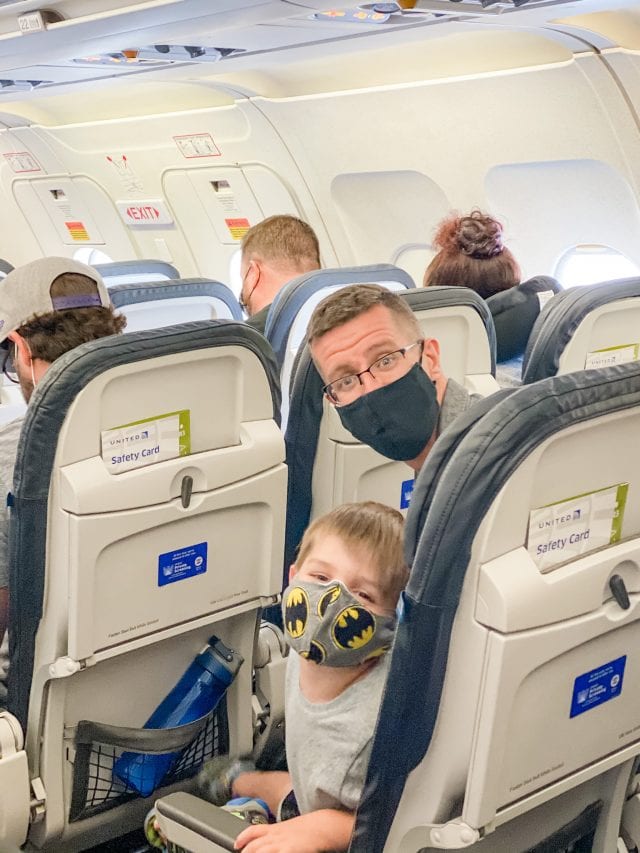 Here's the part that annoyed the heck out of me: social distancing. Obviously you can't social distance on a plane, but when I checked before our flights, United boasted about "limiting seating," which was a complete lie.
Our first and last flights were very full; the last flight was actually oversold by 50 people.
They told us about the lack of seats, and said they'd reschedule you if you weren't comfortable flying (insert eye roll since there weren't other flights available and they'd be just as crowded).
So they made us "social distance" getting on the plane, and then squished us all together. Our family was also separated on our first and third flights, by a few rows, and fellow passengers did not want to swap with us (which added to my annoyance).
One nice thing that's changed is that you now board from the back of the plane to the front, so that was actually pretty nice and I hope they'll continue that in the future.
The overall mood was kinda eerie; just very quiet and almost somber. If anyone coughed or cleared their throat it was very apparent; thankfully it didn't happen often.
On-flight Services: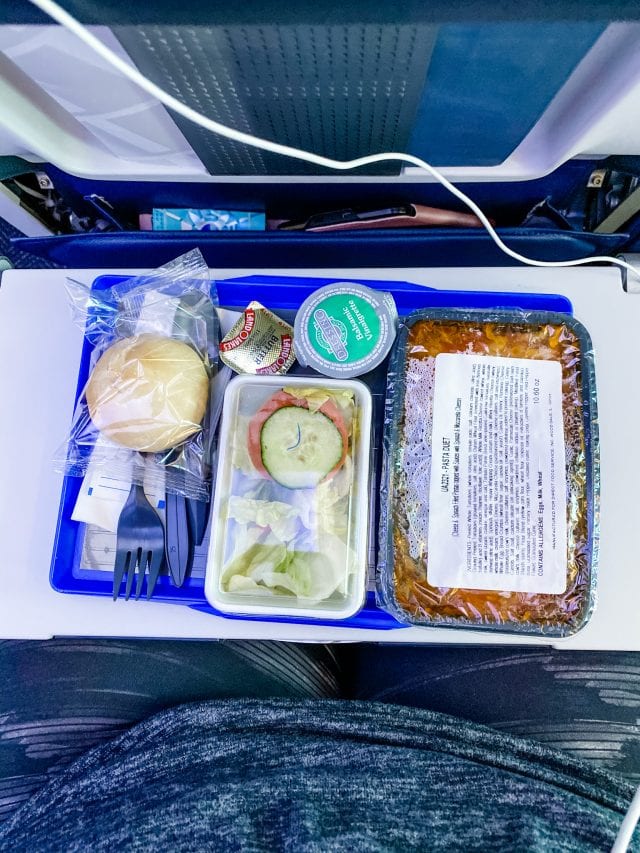 Here's the breakdown of our flights:
San Diego to Chicago (4 hours)
Chicago to London (8 hours)
London to Düsseldorf (1 hour)
On the domestic flight from San Diego to Chicago we got pretzels, a cookie, and small bottle of water; they were all served together in an individual bag. I think we had the option of a canned soda or juice, but we just stuck to water.
Flying internationally from Chicago to London we got dinner service with choice of pasta or chicken with salad and a roll, snack bag of pretzels, and a canned drink (and water bottles whenever you asked for it).
They also served breakfast in the morning (a muffin, canned juice/soda, and applesauce) just before we landed
We didn't get anything on the international flight London to Düsseldorf, (but we were only in the air for about an hour).
Flying to London? Pack Food!
If you're flying into London Heathrow: almost EVERYTHING was closed. There are two stores on the second floor that are open (Boots and WHSmith), but the line was ridiculously long, and you definitely can't be picky with what's available.
We were SO hungry when we landed. Kenny watched the kids and I stood in the queue, managing to grab two sandwiches (for 5 of us), a bag of chips, and a water.
Also, keep in mind that you have to go through security again when you land in London, so dump out or drink your water and repack your 3-ounce liquids/electrical equipment accordingly.
Overall Thoughts on Flying During a Pandemic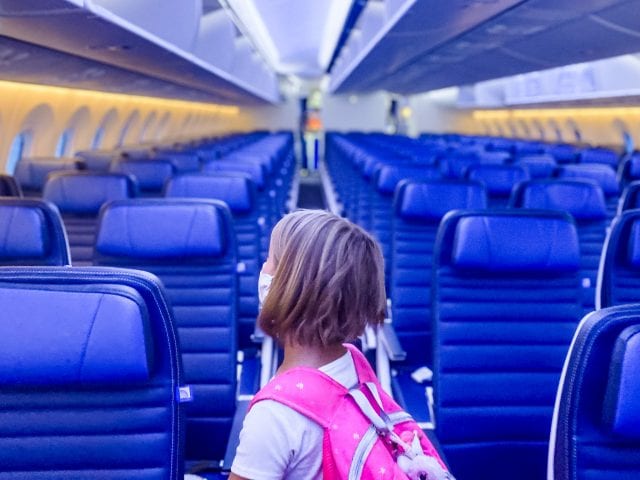 I felt safe and prepared. We used sanitizer often, washed our hands when we could, and tried not to touch surfaces (like escalator rails). We kept our distance from other people (within reason), and tried to just be as safe as possible.
Honestly, if I was going to fly, now is when I'd fly. Being safe is on people's minds, and it's a top priority. I'd worry about what it will be like later once things start relaxing more.