My favorite part of pumpkin season isn't the lattes or carving pumpkins. It's eating the delicious seeds nestled in the pumpkin guts. I decided to skip the oven this year and make my pumpkin seeds in the air fryer, and the results were perfect!
I'm sharing this "recipe" so when the time rolls around again next year I can remember how I made them.
Our Air Fryer
First things first: in order to make these air fryer pumpkin seeds you've gotta have an air fryer.
Ours is the Pampered Chef Deluxe Air Fryer, and I love all of its "deluxe" features. Y'all, I literally use it every day, whether I'm making toast, roasting veggies, whipping up a side dish, or cooking our main course in it.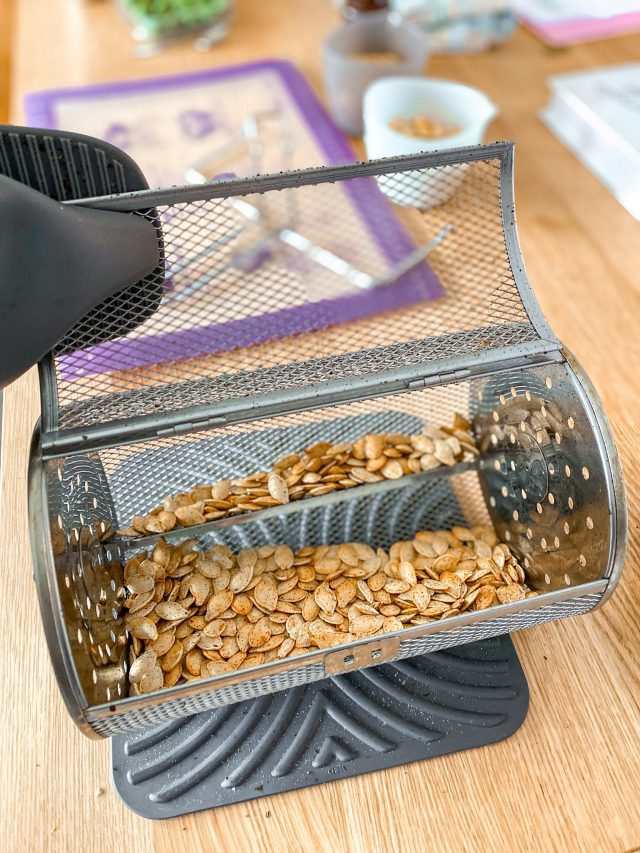 My favorite is the basket that can rotate inside; I use it for so many things: French fries, diced potatoes, brussels sprouts with bacon, etc., and now pumpkin seeds!
How to Make Air Fryer Pumpkin Seeds
We had a whopping four cups of seeds, so I divided them up evenly and created four seasonings: garlic, salt and peper, chili lime, and cinnamon sugar.
A little salty, a little sweet, and so tasty.
Air Fryer Pumpkin Seeds
Skip the oven and make roasted air fryer pumpkin seeds. Here are all of the steps you need to make four different flavors.
Ingredients
1

cup

pumpkin seeds

raw, clean, and dried

olive oil

spritz

seasoning

to taste

salt

to taste
Instructions
Clean and strain seeds from pumpkin pulp

Once clean, spread seeds on a towel to dry overnight

Spritz seeds with olive oil, sprinkle with desired seasoning, and mix.

Add seeds to air fryer basket, and insert into air fryer.

Press the "rotate" button, and roast for 14 minutes.

Once done, dump seeds onto a flat service and let cool.

Enjoy and store in an airtight container.
Notes
For garlic flavor:
Sprinkle with equal parts garlic powder and salt
For salt and pepper flavor:
Sprinkle with equal parts salt and pepper
For chili lime flavor:
Sprinkle with equal parts chili lime rub and salt
For cinnamon sugar flavor:
Sprinkle with 1 tablespoon brown sugar and a dash (or two) of cinnamon
Needs some little containers to keep your seeds in? I love these silicone prep bowls (with lids)—they're super useful for anything and everything you do in the kitchen.
My kids crack eggs into them (no harm if it falls on the floor), we stick it in the microwave to melt butter, pop them in the oven or freezer, or just use them as an actual prep or storage container.
What Flavor Seeds do you Like?
I don't even know if I can pick a favorite. Each flavor comes through, and I find myself taking little pinches from each bowl.
I will say that I was pleasantly surprised with the sweet version—so good, especially with the crunch from the seed.
What flavor will you make?