Our Kid-Friendly AirBnb in Wernigerode, Germany
I can't wait to start sharing info about our trip to Wernigerode, Germany.
But before we dive into those adventures, I want to tell you about where we stayed: a great family-friendly Airbnb in Wernigerode.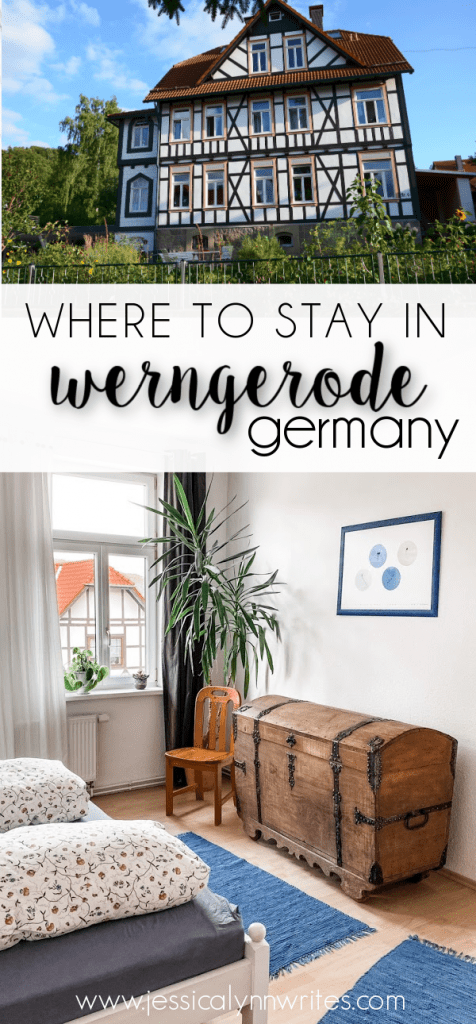 Because sometimes finding a place to rest your head is half the battle of actually picking a location to visit, right?
Honestly, finding this spot was the #1 reason why I picked Wernigerode for our trip.
Feeling lost on where to go, I started searching for spots in the Harz region, an area about four hours from us, and four hours west of Berlin that had very low Covid numbers and was a "yellow" region (as of October 2020).
My main criteria was a place that had a flexible cancellation policy, and thankfully, I could cancel this place up until the day before our trip. But the best part was that it popped up for only €78 a night—a total steal.
(Of course, with all the taxes and extra fees our total stay for two nights ended up being $285, but that was still much better than I found elsewhere.)
A Charming, Half-Timbered AirBnB in Wernigerode
This AirBnB is in Wernigerode, but keep in mind that it's not within walking-distance to the town's center. We had our car, so we were fine with that.
The train station is within walking distance, and there's a bus that stops near the AirBnb, but we just drove and parked near the center—there are plenty of paid lots.
The owners met us at check-in, and were super helpful with some nice inside tips on where to go and what to do.
Pro tip: if you're ever not sure about what to do or where to eat in a new town, and you're staying at an AirBnB, ask your hosts!
Our apartment for this stay was on the first floor (second floor for Americans), and could accommodate up to five people with two bedrooms, three beds, and one bathroom (no tub; just a shower).
If you're looking for something smaller, the hosts have more listings at the same property available.
Family Friendly AirBnB in Wernigerode
Obviously with three young kids we can't pick anything too stylish for fear of them ruining things, but we also like nice places.
This home away from home was clean and had just enough space for the five of us (one "king" bed in one room, and an adjoining room with two beds (one king, and one twin), plus they had some toys for the kids to play with, too.
Speaking of beds: the bedding is an extra cost at this location. My husband and I splurged and paid for our bedding, but we had the kids bring their sleeping bags—a total win for them.
Pro tip: if you have young kids, bring their sleeping bags and save money on bedding!
Plenty of Space
When you're traveling with a family of five, the last thing you want is to be sandwiched in a tiny room.
Thankfully, there was ample room for all of us, and the whole place was bright and airy.
We loved the balcony, too, even though we didn't spend much time out there (we're still warming up to the cooler temps here in Germany!)
Where to Eat
Because of Covid, we didn't eat out as much in Wernigerode as we would've liked to, but that's why we love AirBnb's since we pick places that come with a kitchen.
Keep in mind that it does not have a freezer or a microwave, but it does have a coffee maker (essential), a fridge, and an oven.
We brought breakfast foods and snacks, made pizzas one night, cooked chicken nuggets for lunch one day, and ordered delivery from Flying Pizza another evening.
Pro tip: If you're traveling on a Sunday, keep in mind that German grocery stores are closes, so shop for what you need on a Saturday. We save money and hanger by bringing a cooler with milk, cereal, bread/croissants, deli meat and cheese with us for almost every trip.
Check it Out For Your Next Trip
I absolutely recommend our AirBnb in Wernigerode, especially if you're traveling with a family. If you're flying solo or sans kids, the hosts of this place also have a couple other listings. You can see them here.
And, if those are all booked up, or you're looking for another spot in the area, here are a few more options: