Three Easy Trunk or Treat Ideas (2022)
Let's be real here for a minute: assuming Halloween doesn't get canceled again this year…or that the Walking Dead doesn't actually become a reality (because it is 2022 after all), you may need some cheap and easy trunk or treat ideas—for social distancing purposes.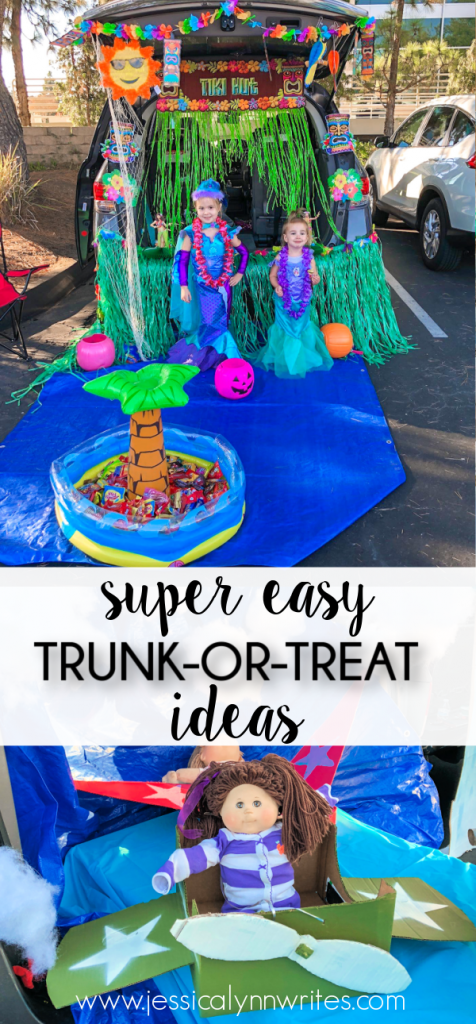 If you don't want costumed strangers coming to your front door, maybe your neighborhood could organize a trunk or treat and you leave bowls of candy a nice, socially distanced six feet away from your car.
That way, the kids still get dressed up, you still get to ooh and aaah over how cute they all look, and they still get candy. It's a win-win for everyone.
You Can an Easy Trunk or Treat Display
BUT, I know what you're thinking: "Jessica, I can't add one more thing to my already overflowing plate."
And I get it, so here are some super cheap and easy trunk-or-treat ideas that you can get pretty much all at one store.
Plus, if you don't procrastinate, this won't have to be last minute. Go get the things you need for it now, and by the time your official Trunk or Treat festival rolls around, you'll be ready to go.
Three Easy Trunk or Treat Ideas
Here's my biggest trick for picking an easy trunk or treat theme: go to a party store or the party section of a store and pick a theme.
Find one common idea that has a lot of accessories and decorations, and roll with it. Don't overcomplicate it and just keep it fun and easy for your trunk or treat display.
Under the Sea/ Little Mermaid
If you have little girls, this super easy trunk or treat idea may be up your seashell path. We did an under-the-sea/little mermaid theme, which was super simple to put together with a few party decorations.
What you need:
Balloons (shades of blue)
Blue tablecloth (to cover the trunk as "water")
Crepe paper (for more "water") or these (more expensive, but also more fun)
Under the Sea accessories
Little Mermaid accessories
Island/Luau/Tiki
Since our girls still wanted to be mermaids, we switched up locations a bit and went with an island/luau/tiki theme for this easy trunk-or-treat theme.
What you need:
Grass table skirt (to hide the trunk)
Green table grass skirt (to hide the rest of the car)
Blue tarp (for "water")
Inflatable Island (to hold the candy)
Extra fun accessories to hang around the trunk
Up, Up, and Away
Inspired by my husband's flight suit and my son's love for airplanes, this up, up, and away trunk or treat theme was pretty fun.
What you need:
Blue tarp (for the "sky")
Dolls for the "passengers"
Blue table cloth (for the "sky")
Cardboard boxes (to make airplanes; easy tutorial here)
Poly-fil (for the clouds; a little will go a long way!)
Spray paint

More Easy Trunk or Treat Ideas:
Looking for even more fun and easy trunk-or-treat themes to spur your imagination? Check out this post!
Have you participated in a trunk or treat before? I'd love to hear what ideas you've used!