One Dozen Awesome and Useful New Mexico Gifts
My love for New Mexico runs as deep as the Land of Enchantment is wide. It's always been my home no matter where I am in the world, and I want to share a piece of home to anyone else who loves it as much as I do with this New Mexico Gift Guide.
Whether you're lucky enough to see a New Mexican sunset every night from your home, or you're living a world away from home, I hope you'll find something here to bring a smile to your face.
Top 12 New Mexico Gifts
I'd love to encourage you to shop around the sites listed below; I listed the home/shopping page for each of them.
It was extremely hard to pick just one thing from each of them, because they all have so many awesome New Mexico gifts.
Hatch Chile Shirt, $24; from Organ Mountain Outfitters
get it here
New Mexico Map Mug, $15; from Duran Central Pharmacy
get it here
Green Chile Candle, $16.50; from Retail Therapy
get it here
Salsa, three pack for $9.99; from Papa Felipe's
get it here
Green Chile, four pack for $23; from La Salita Restaurant
get it here
Casa Zia Home Sign, $30; from Maggie Made Me Designs
get it here
Tortilla Coasters, $7.50; from Seraparito Supply Co.
get it here
New Mexico Necklace with Heart, $30; from Root and Feather
get it here
NM Doormat, $35; from Miles of Peonies
get it here
Lavender Lotaion, $18; from Los Poblanos Farm Shop
get it here
Dion is my Boyfriends Water Bottle, $12; from Dion's Pizza
get it here
"All Sick" Coffee Blend, $18; from Little Bear Coffee Co.
get it here
What are Your Favorite NM Gifts?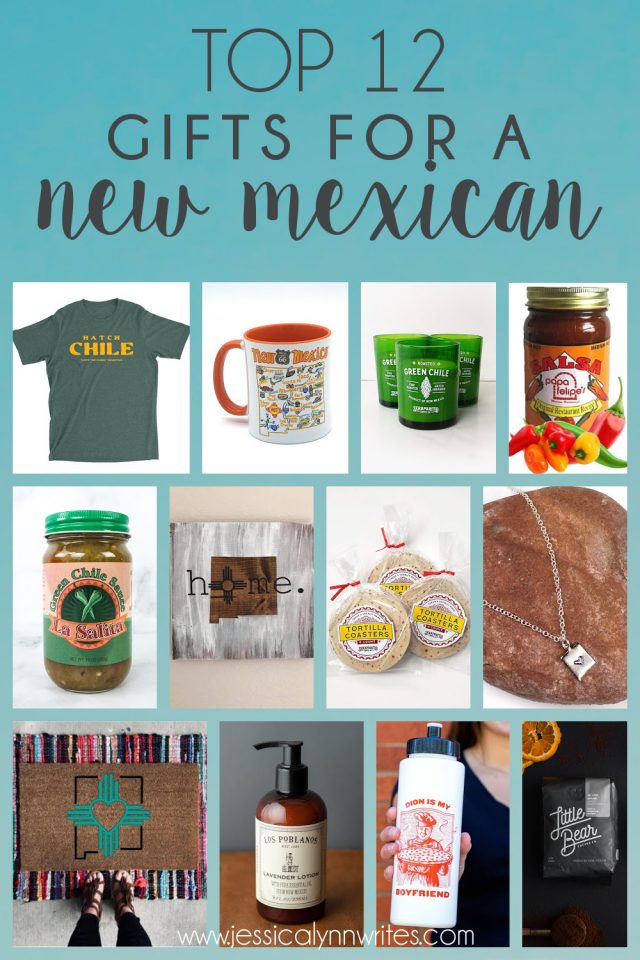 Did you buy something above for yourself or a friend? I'd love to know what struck your fancy—tell me what you got in the comments.
I tried to pick out some fun, useful, and equally as awesome New Mexico gift ideas, but with so much out there, I'm sure I missed something. Tell me about your favorite things below!