Pumpkin Torte AKA The Best Part of Fall
What do you get when a traditional pumpkin pie mixes with the best part of cheesecake? You get the most scrumptious creation to ever grace your lips: Pumpkin Torte.
Friends, I pinky promise you that if this pumpkin torte is sitting next to a regular pumpkin pie, every single crumb of the torte will vanish, and that pie will sit there looking lonely and sad.
I'll save more raving about this torte till the end since I know you really only care about the recipe, but I do hope you'll read on.
This recipe has been in our family for years, and I'm a little nostalgic sharing it with you.
Pumpkin Torte Recipe
I usually love sharing super easy recipes, so this is a little out of the norm with how many steps there are, but it's actually still relatively simple…so don't freak out.
Just follow the directions and you'll be just fine.
It's 110% worth it, and you'll be so happy you made it!
Pumpkin Torte
Move over, pumpkin pie. This pumpkin torte is what happens when pumpkin pie mingles with cheesecake; it's guaranteed to be your new fall fave!
Ingredients
Crust
2

cups

crushed cinnamon graham crackers

about 16 "sheets"

1

tsp

cinnamon (if not using cinnamon graham crackers)

½

cup

butter

melted

½

cup

sugar
Cream Cheese Layer
1

8 oz

cream cheese

softened

2

eggs

¾

cup

sugar
Pumpkin Layer
1

15 oz can

solid pumpkin

not pumpkin pie filling

3

eggs

(divided)

¾

cup

sugar

(divided)

½

cup

milk

½

tsp

salt

1

tsp

cinnamon

1

envelope

(Knox) gelatin
Topping
1

whipped cream

¼

tsp

cinnamon
Instructions
To Make the Crust
Preheat oven to 350° (180°)

Mix graham cracker crumbs (and cinnamon if not in the graham crackers), butter, and sugar in a bowl.

Pat lightly into a 9×13" pan
For the Cream Cheese Layer
Beat the softened cream cheese, eggs, and sugar.

Pour mixture on top of crust; save bowl for the next step.

Bake at 350° (180°) for 20 minutes. Set aside; let cool.
For Pumpkin Layer
In sauce pan, mix the following: pumpkin, three egg yolks (set the whites aside), 1/2 cup sugar, milk, salt, and cinnamon.

Cook on medium heat for about 4 minutes, or until thickened. Remove from heat.

Add 1 envelope of gelatin in 1/4 cup cold water; mix until completely dissolved.

Mix gelatin into pumpkin mixture.

While pumpkin mixture is cooling, beat 3 egg whites (from the yolks above) until they're stiff with hard peaks.

Once whites are stiff, beat in 1/4 sugar.

Fold fluffy egg whites into pumpkin mixture. It will still be soupy, but don't worry. It'll "set" later.

Pour pumpkin mixture on top of cream cheese layer.
Almost Done, Promise!
Cover and let sit in the fridge for at least four hours—24 is best!

When you're ready to serve, top with whipped cream and a sprinkle of cinnamon.
This Torte is so Gosh Darn Good
One bite into this pumpkin torte and you'll appreciate the texture.
Soft, creamy whipped cream is on top of the thick—but not mushy—pumpkin layer.
That pumpkin layer, by the way, is also fluffy and not as heavy as regular pumpkin pie, which makes you want to dig in for another taste.
Once you get to the cream cheese layer you'll appreciate how it breaks things up with a little tangy bite, followed up with the salty/sweet crunch from the crust.
I have no doubt that this will end up being a traditional dessert on your table for the holidays.
Make Ahead (and You Can Freeze it, TOO)!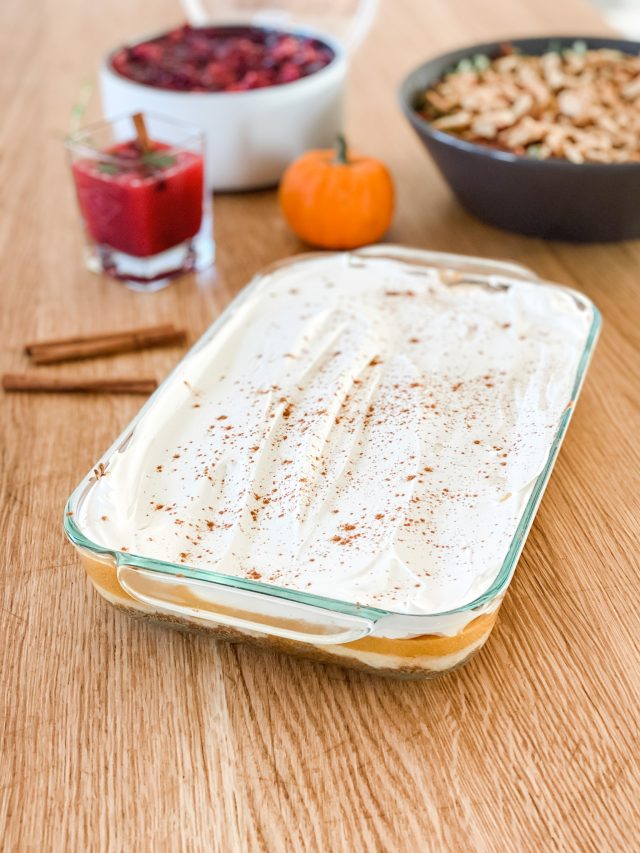 Thanksgiving is a busy day, and this pumpkin torte needs some time to be awesome (aka, it needs to set preferably overnight).
You can make this at least a day in advance—just keep it in the fridge and don't top it with the final layer of whipped cream until you're ready to serve it so it can have that freshly-made look.
As for freezing it, freeze it with or without the whipped cream.
We've been known to make these in smaller, individual ramekins or single-serve foil containers, to enjoy throughout the holiday season.
My mom, because she's awesome, would always make a side little portion so we could have some after our Thanksgiving feast (since it would all get eaten).
Our Pumpkin Torte History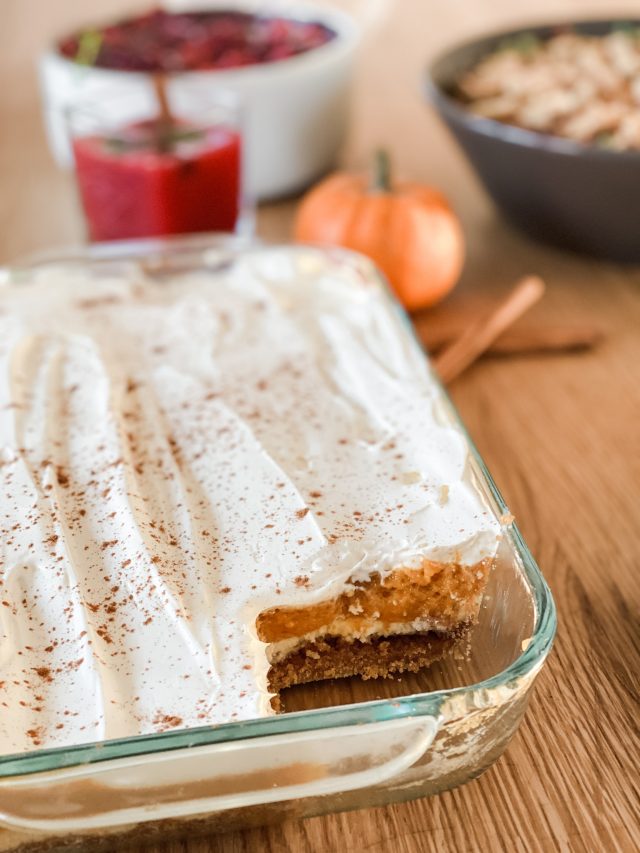 I can't remember a Thanksgiving when we didn't have this Pumpkin Torte grace our table.
It's one of those things that is almost as important as the turkey, and especially as important as green bean casserole.
So important that my mom, bless her heart, has been known to make this multiple times in one season. If she's going out of town for Thanksgiving (usually to visit me wherever we're living), she'll make a pumpkin torte so our extended family can still enjoy it.
Did You Try It?
If you made this pumpkin torte, I would absolutely love to hear from you! Shoot me an email, leave a comment below, or tag me on Instagram so I can hear how it turned out!