5 Ways to Get Books Delivered Straight to Your Door
Whether you simply love the idea of embracing social distancing, or you simply like having things come to you—what's not to love about that? Here are five ways to get books delivered right to you.
I've always been a reader, but I've upped my reading game the past couple years. This hobby makes me happy; it's a fun way to escape and stretch my mind.
Of course, the obvious ways to get new (to you) books are to check your local library. And, of course Kindle books will land right in your app. But if you love the feel of reading an actual book, these ideas might be for you.
One. Your Local Bookstore
I'm not talking about the closest Barnes and Noble or Target. Don't get me wrong; I love me some B&N (and used to work there), and you can never go wrong with Target. But your local mom and pop bookstore probably needs some business, and many of them are offering shipping and delivery. Check around your town and/or ask friends in other towns if they have any recommendations for you.
Two. Book of the Month Club
I've been getting my Book of the Month (BOTM) books delivered to my door (actually, the straight to the post office since they ship to APO addresses) for the past six months, and I love it. It's as easy as picking from five different titles every month in different genres. Then it arrives at your door later that month—easy peasy.
As a bonus, they often they offer brand new, not-on-shelves-yet releases from favorite and up-and-coming authors.
Pro tip: If you and a friend both sign up for BOTM club, and you pick different books, you can swap after you've read them. Then, bam: two for the price of one!
Three. Bookroo for Kids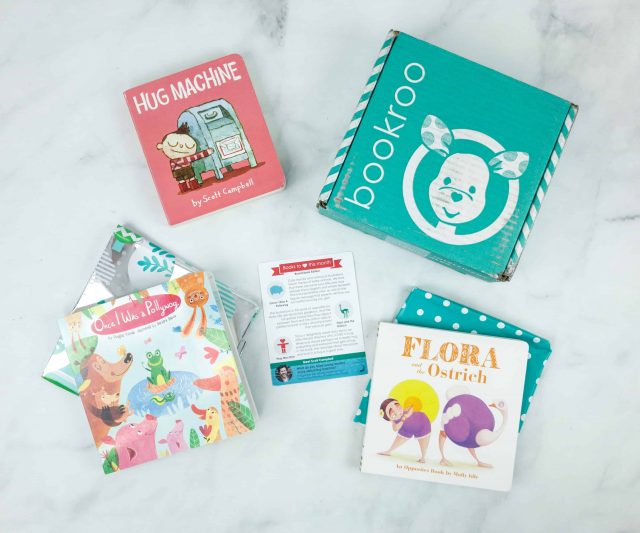 I have friends who've received Bookroo for their kids, and they've loved it. This is for babies all the way up until around age 10, and you can pick between different options to fit your reader (board books, picture books, and chapter books). Starting at $16.95/month
Four. The Wordy Traveler
If you have the itch to travel, but you're stuck at home and/or you love exploring new cultures and regions, then you have to check out The Wordy Traveler.
Every three months you'll get one or three books (depending on which package you get), ethically sourced tea from theme region of the month, an art print, and fun travel-related gifts that are connected to the same area. And you can pick between fiction or non-fiction—it just looks awesome!
I've had my eye on this subscription box for several months, and I have a feeling I'll be treating myself to it sooner than later.
Five. Book Swap with Friends
Did you know that if you send books through the post office you can send them as "media mail" for a much cheaper price?
If you have friends scattered around the world (military) or around America, start swapping books after you've read them. This is a fun way to chat about what you've read with friends, and who doesn't love some happy (snail) mail?
Keep in mind that it does take longer for media mail books to reach your doorstep, and you can't have anything else in the package besides books.
How Do You Get Your Books?
Have you tried any of the ways listed above? I'd love to hear what other ways you've had books sent right to you instead of buying them from a big box store!