Cravings Cookbook Challenge | part 1
At the beginning of 2021 we set a goal to create, cook/bake/make, and eat our way through every recipe in Cravings: Hungry for More by Chrissy Teigen.
We picked this book because the recipes not only look delicious, but because they seemed easy enough to make, our kids have the potential to actually try them, and there are a few that will push us out of our culinary comfort zones.
While I'd love to share the actual recipes with you that I'll talk about below, I don't feel it's right doing that since I didn't create them.
You can, however, buy Cravings: Hungry for More on Amazon, your local bookstore, or even check it out at your library (that's where I got it the first time, and realized we had to own it instead).
The recipes we tried in January:
We tried 11 new recipes this month from the cookbook, and not a single one was "bad." They were all great, and several of them are definite keepers. We've actually made a few multiple times already.
One thing I will note is that I can't wait for the evenings to be brighter—taking dinner pictures in the dead of winter is my nemesis!
French Toast with Whipped Honey Ricotta Topping (page 13)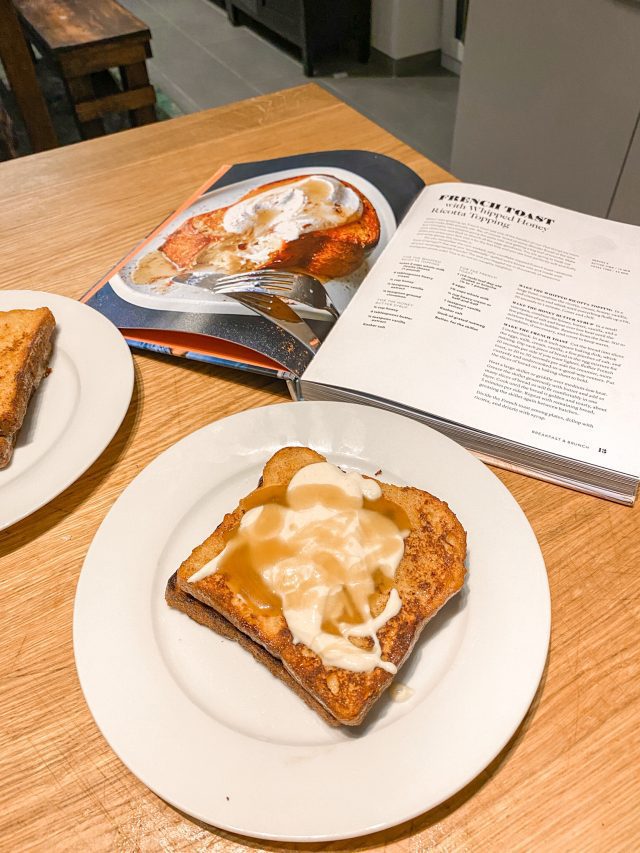 Thoughts: This was tasty and a fun breakfast to have on a weekend. We have a French Toast recipe we prefer (Alton Brown's), but this one wasn't bad by any means. The topping was sweet and tangy, but the kids didn't care for it.
Will we make it again? Probably not. We like AB's recipe for French toast a little more, and will stick to that one. Definitely didn't love the Whipped Honey Ricotta Topping enough to make it again.
Creamy Tomato Soup (page 45) and Jalapeño Parmesan-Crusted Grilled Cheese (page 74)
Thoughts: We had to try these two separate recipes together, and a cold day in January was perfect to try it. The soup was really tasty. We made it in our blender since it cooks as well as heats. But it cooked for a little longer than recommended and came out orange instead of a nice deep tomato red. It was rich and the kids loved it. And, of course, it was perfect for dipping a grilled cheese.
The sandwich was harder and messier to make than I anticipated. Or, maybe not "hard," but more time consuming. While it tasted good (I mean, all that cheese, how could it not), but it just didn't totally do it for me. I think I'd rather make a regular grilled cheeses—there's something classic and delicious about a simple grilled cheeses.
Will we Make it Again? The soup: yes. The sandwich: no.
Bacony Clam Chowder (page 53)
Thoughts: So we've already had this twice now since the beginning of the year, so needless to say, but we really like it! The only thing I changed is that I reduced the butter; Christy seems to be a little heavy-handed with it in this cookbook, so I've been reducing as necessary.
It's rich, and creamy, and perfect on a cold day with some warm, crusty bread.
Will we make it again? Absolutely.
Crispy Bacon & Sweet Pickle Patty Melts (page 87)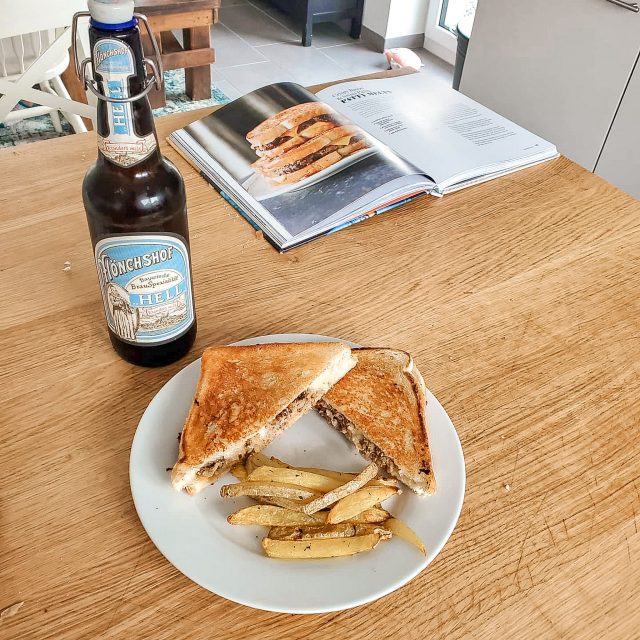 Thoughts: GET IN MY BELLY. Oh my word, y'all—this sandwich is AMAZING. Like, it's so good that we've already made it three or four times since we got the cookbook, and it's the meal I picked for my birthday meal. It's that good. The bacon, the onion, and the pickle relish (do not leave that out), combined together is what patty melt dreams are made of.
A couple slight changes we make: my husband adds thousand island dressing to the bread before putting down the cheese. We also use butterkäse instead of American slices. And if we had green chile I'd slap some on there for a slight extra kick, too.
Bonus: the kids love this one, too!
Will we make it again? Absolutely. I'm already excited for the next time we'll have it for lunch/dinner.
Taters, Shrooms & Peas with Parmesan Cream (page 127) and Spicy Honey-Butter Carrot Coins (page 133)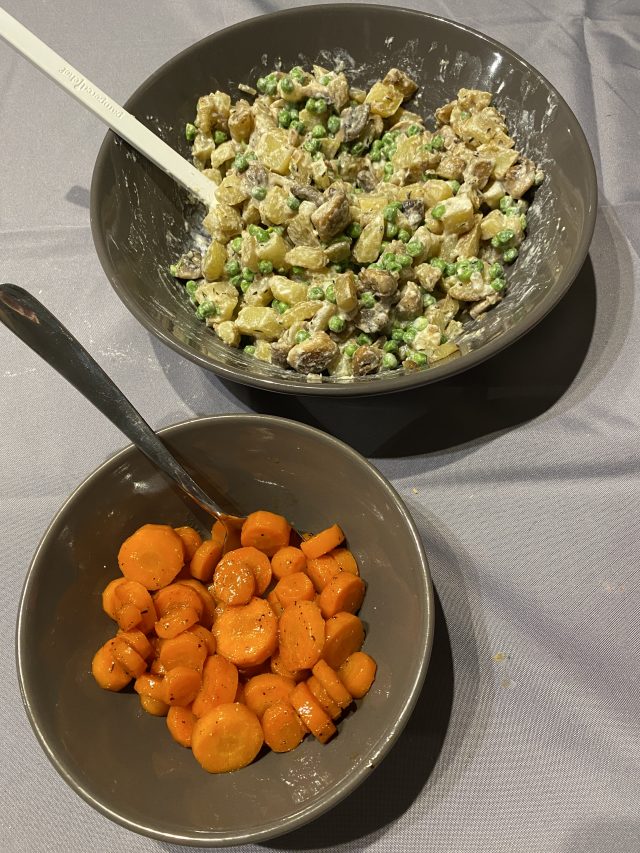 Thoughts:
Let's take the Taters, Shrooms and Peas first. These were good, but not all I hoped they'd be. I doubled the mushrooms (because my husband and I love them), and if I make them again I'd probably add even more. The mushroom cream was divine but we only used less than half of what it called for; if we used all of it it would've been too much.
The Spicy Honey Butter Carrot Coins are awesome, and probably the only way I've liked eating carrots. I've been anti-carrots for a very, very long time, despite trying to make them dozens of times. These are soft, caramelized and sweet. They're in no way healthy, but on the flip side: I'm eating carrots.
Will we make it again? The Taters, Shrooms, and Peas…maybe. I'd like to give them another chance. The Spicy Honey Butter Carrot Coins? Absolutely. We've already made them twice.
Sleepytime Stew & Cream Cheese Smashed Potatoes (page 179)
Thoughts: I had high hopes for this meal. It smelled spectacular, and it was the kind of Sunday meal that I love—it took a lot of TLC and cooked for a few hours. But in the end, it was just okay. The potatoes didn't wow me, although I really enjoyed eating it with the stew. To be fair, we didn't have the right kind of potatoes—options were limited out here, so I might attempt those again.
Will we make it again? Probably not. There was nothing wrong with it…I'd just probably keep searching until I found that perfect stew recipe for us.
Chicken & Dumplings (page 185)
Thoughts: Well this was a fun recipe! I've never actually had chicken and dumplings, so I didn't really know what to expect, but we really liked this. The dumplings cooked perfectly in the soup, and our oldest even had seconds.
It took a hot minute to make (2.5 hours), so definitely plan on making this on a weekend. We had leftovers, so when we reheat them I'll just make a batch of the dumplings to throw in while it reheats on the stove.
Will we make this again? Maybe. Although, since it was my first dip into chicken and dumplings, I may try some other recipes just to compare and see what else is out there.
Steak Diane with Crispy Onions (page 199)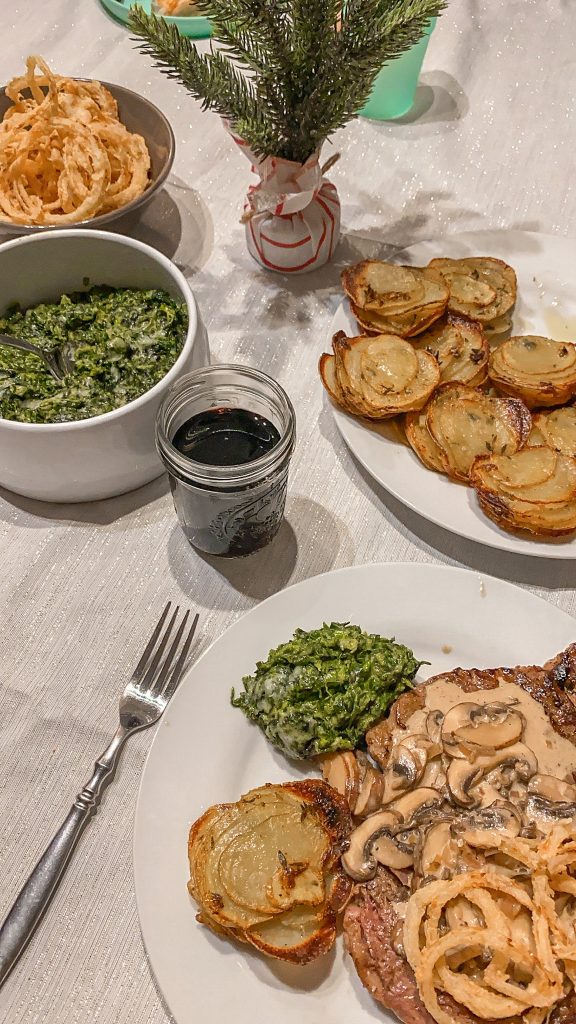 Thoughts: YES, YES, HELL YES. This was spectacular and I'm practically drooling just thinking about it again. Since this seemed a little more on the fancy side of things, we made it for Christmas Eve, 2020, (I know; we didn't officially start this challenge until January, but whatever…I'm still including it here).
The mushroom sauce flavor was simply divine, and the crispy onions? STAHP it. I want to have these all the time. It was a little shocking how easy they were to make. The whole meal was just unbelievably wonderful.
Will we make this again? Yes. Absolutely. Maybe for Valentine's Day?
Simple Skillet Broken Lasagna (page 213)
Thoughts: As I was making this sauce I knew the recipe would be a keeper. I usually like to make recipes exactly as written the first time, but I couldn't resist swapping out the ground pork for Italian sausage. Not a huge change, but felt I should note it. This was rich and tasted like it came from a restaurant.
Will we make this again? Yup! I've already made the sauce again for spaghetti night. There was some leftover (it makes a lot), so I froze the rest and have more for another night's dinner.
Have you Made Something From this Cookbook?
Do you have Cravings: Hungry for More, and have any favorites from it? Wanna cook along with us, go for it! Tag me, use the hashtag, and share what you've made! I'd love to hear if you've made one of these and what you thought of it!