#DutyStationSpotlight: Moving to Pápa, Hungary
If your family just got word that you're moving to Pápa, Hungary, soon you've come to the right place.
But this isn't your run-of-the-mill guide.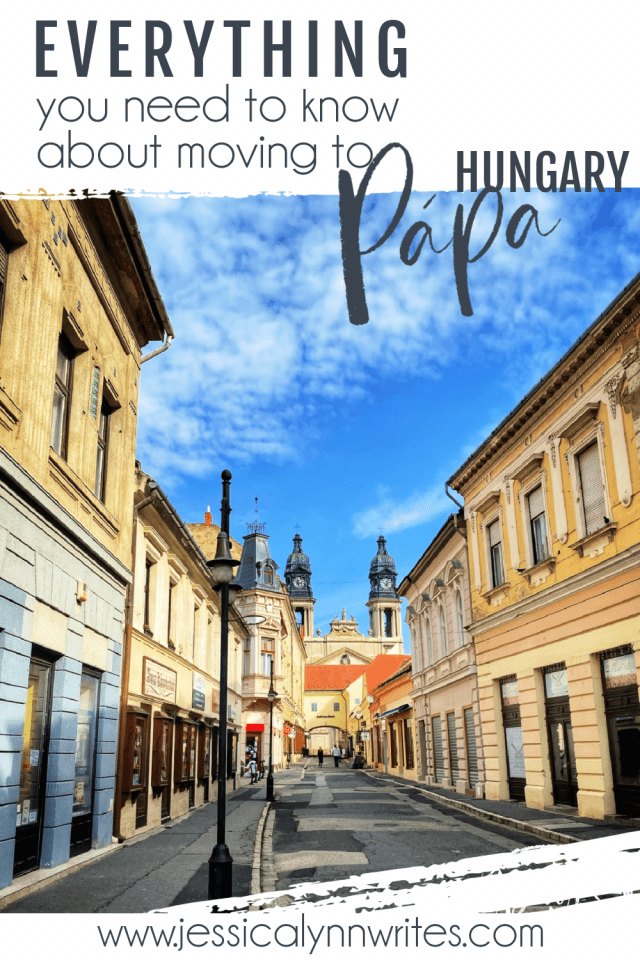 You won't discover what schools are the best, where you should live, or the best doctor.
Instead, you'll find things you want to know about like favorite day trips, radio stations, all the yummy places to eat, and more
Meet Bri!
This Duty Station Spotlight is from Bri, a pilot's wife, mom of three, licensed clinical counselor, and explorer at heart.
They love learning about far away lands and different cultures as a family. And even though they recently left Hungary, they now call Belgium their "home base" for the next few years.
You can find her on instagram or on her blog, Home Base Belgium.
First Things First: The Basics
What were your first impressions of Pápa, Hungary?
Remote! I felt like we were going to be on our own without the familiar military facilities and conveniences.
How did you feel at the end of the tour? Did your impressions change?
It is still remote, but it felt cozy, like home. Everything was convenient and accessible, and the international community there was like family!
What is ONE THING you wish you had known before moving to Pápa, Hungary?
The transition can be tedious. There are tons of checklists, language barriers, making sure you have a good amount of cash up front, and understanding little things. It will take more time than Americans are used to; it's slower-paced in Pápa.
Good (Local) Eats
If someone came to visit you, and you had to take them out to eat, what would your TOP THREE favorite places be?
This is easy! I'm going to stretch out a bit and say within one hour of Pápa, because we always took people to Villa Kabala overlooking Lake Balaton, and the Viator at Pannonhalma. Two amazing places.
In town, we always ate at Hotel Villa Classica, the Stork Nest, or the Galleria. Kebabs on the walking street or pizza at Kattanyi are awesome, too!
PRO TIP: Check out some of Bri's favorite places to eat in/around Pápa.
Favorite place(s) for coffee and/or dessert?
Cafe Mug and Helo Velo are hands down the best coffee shops. Sweetest people and they understand English. Dessert at Ricsi's!
Is there a farmer's market scene in there? Tell us about it!
Yes! Tuesday and Friday is a lovely farmer's market. But I preferred driving about an hour away to Liliomkert on Sundays – it is huge and has everything!
Best place for brunch? And your favorite thing to order, please!
Brunch, sadly, really isn't a thing in Hungary. Hotel Villa Classica has a breakfast buffet, but it is European and maybe not what we are craving.
You have to be in Budapest or Vienna (2 hours away) to get a good brunch. Lots of restaurants in Budapest do it right – our favorites are Cirkusz (pancakes and a variety of Eggs Benny) and Blue Bird Café. In Vienna, we always went to Landtmann's Café for their amazing Eggs Benedict!
How about a fun night out on the town for a date night?
OMG! This was my favorite part about Pápa – pre-pandemic, of course.
We would go out to eat somewhere (Intro, Gróff11 or Gambrinus were popular for date nights) on our bicycles, and then head to the movies—usually, one English movie showing every couple of weeks—and then ride home under the light of the moon.
Everything is close in Pápa, so get a bike if you want to make the most of it!
Also, the community has tons of parties. Each country has its own themed event, plus there are holiday dinners, balls, and lots of opportunities for unique and fun date nights!
Get Around (and out of) Town
Top five favorite things to do in Pápa:
– The Várkertfürdő (Thermal Baths) is an awesome water park we frequented. It's huge, and only a couple of bucks to enter! (Everything in Hungary is super cheap, going out to dinner for a family of five is around $30!)
– The Fő tér (Main Square) is a great hang-out. We would take our "wheels" to the square every Friday and the kids would ride around, and play on the playground, we'd grab an ice cream or a bite to eat at an al fresco restaurant while they played! So awesome!
– Activities for Kids: Horseback riding, swimming, dance, aerial gymnastics classes (popular in Hungary), music, soccer clubs, painting classes…plenty available!
– Things to tour nearby: lavender fields, Herend porcelain factory, Blue Dye Museum, Esterhazy Castle, Chocolate Factory, Pannonhalma, Veszprém Zoo
– Tons of HIKES nearby, many of them with castles or ruins: Celldömölk, Döbrönte, Szigliget, Somló, Sümeg, Bakonybél, Csesznek, Csóbanc, Badacsony, Szentbékkálla. (See more about Bri's favorite hikes here.)
Picture this: You have a whole weekend to go somewhere within driving distance: Where are you going and what are you doing?
Within three hours we'd go to Budapest (Hungary), Bratislava (Slovakia), or Vienna (Austria).
Tour around, eat good food, wander around the old parts of town and see something new each time, maybe tour a castle or old building, picnic or play in the playgrounds, watch an English-speaking movie at the theater, ride the ferris wheel, shop, go to the zoo. Endless possibilities in the city!
What was your favorite park in town?
The Main Square was our favorite place to hang out as it had playgrounds, eateries, and seating, but there is also a huge lovely park behind Esterházy Castle that is great for walks or bike riding.
Any museums worth checking out? Please share their exact names so I can reference them specifically!
These are all great for school field trips in town: The Blue Dye Museum (Kékfestő Múzeum), The Esterházy Castle tour, and the Pannonia Reformata Múzeum.
All the Extras
Favorite radio station?
We'd listen to AFN (102.7), and also sometimes listened to "Retro Radio" (I can't remember that station!)
Info on your favorite hair salon/hairdresser, please and thank you.
Everything in Pápa is by appointment only, even before the pandemic.
Luckily there are many places and all of them are super cheap! Gel nails are only around $12! Simple is maybe $10-15. I can't really recommend specific places because you have to just go and ask and see who has availabilities. But don't worry, there are many options!
Like a Local
Were there any instagramers, bloggers, or specific non-military affiliated Facebook groups you followed?
Yes, Facebook groups, because I made them 😉 hahaha I think they're still operational but I'm not sure. When you are assigned to Pápa, a key spouse will share all of the groups that will be helpful! It is a small community so everyone is like family.
Any festivals, fairs, or events worth checking out?
We always kept an eye out for seasonal treats: apple picking, strawberry picking, lavender fields, wine tastings etc. Hungarian wine is quite famous!
As mentioned before, there are many events in the Strategic Airlift Community. There is a Dutch Party, Swedish Crayfish Party, Norwegian Cardboard Boat Race Festival, USA Fourth of July Party, and each month there are brunches where the spouses of each of the 13 Nations take turns cooking their national foods to share. It's wonderful!
Tell us about the weather.
There are four seasons, but the weather is generally dry, and snow doesn't last long.
It rarely gets below zero, and it can be quite hot in the summer! I mostly remember the sun, and at certain times of the year, it was dusty or windy. There is a rainy season, but not like we are used to in the states. Glorious sunsets! Ultimately the climate is manageable and mild.
Is there anything else you'd like to mention about moving to Pápa, Hungary, for someone who is heading there soon?
Find someone to ask all the questions to (I don't mind helping or referring!) so you're prepared before you go with what to expect.
Moving to Europe is a big change already, but without a commissary or BX, and with mail being delivered only 1/wk (and it takes bout 2 weeks to get an Amazon package) you have to adjust your expectations.
Pack all the OTC meds you need and you'll be ok. The nearest commissary/BX is 6 hours away in Aviano, Italy – people help each other out grabbing items if they're passing through, too. It's not so bad if you're ready for it, and all the benefits outweigh the challenges!
Want to see even more of Pápa, Hungary? Check out Bri's photo tour of the area here.
Your Turn!
If you've been stationed at Pápa, Hungary, please share your favorites in the comments!