What I Read in 2021 | march & april
I unintentionally slacked during March and only read two books, so I'm combining March and April reads into one post. Thankfully I picked things up in April (big time) and read six books!
So, enjoy my thoughts on all eight below.
By the way…Logan's recently opened a book shop at home, so any time we want to read a book, we have to check it out from him. He's already told me about 17 times that my books are too big and that I should start getting his books.
Noted, kid.
It's 2008, and the inauguration of President Barack Obama ushers in a new kind of hope. In Chicago, Ruth Tuttle, an Ivy-League educated Black engineer, is married to a kind and successful man. He's eager to start a family, but Ruth is uncertain. She has never gotten over the baby she gave birth to—and was forced to leave behind—when she was a teenager. She had promised her family she'd never look back, but Ruth knows that to move forward, she must make peace with the past.

Returning home, Ruth discovers the Indiana factory town of her youth is plagued by unemployment, racism, and despair. As she begins digging into the past, she unexpectedly befriends Midnight, a young white boy who is also adrift and looking for connection. Just as Ruth is about to uncover a burning secret her family desperately wants to keep hidden, a traumatic incident strains the town's already searing racial tensions, sending Ruth and Midnight on a collision course that could upend both their lives.

Powerful and revealing, The Kindest Lie captures the heartbreaking divide between Black and white communities and offers both an unflinching view of motherhood in contemporary America and the never-ending quest to achieve the American Dream.
Soooo…I wasn't a fan of this book. From the synopsis, I was expecting more. More drama, more depth, more story, more everything. Instead, reading this left me frustrated with the characters—all of them—and annoyed that things didn't pan out differently in the book. I kept waiting for something more/different to happen…and it never did.
The Four Winds is a rich, sweeping novel that stunningly brings to life the Great Depression and the people who lived through it―the harsh realities that divided us as a nation and the enduring battle between the haves and the have-nots. A testament to hope, resilience, and the strength of the human spirit to survive adversity, The Four Winds is an indelible portrait of America and the American dream, as seen through the eyes of one indomitable woman whose courage and sacrifice will come to define a generation.
Kristin Hannah has a gift for storytelling, and this novel captivated me from the very beginning. Several people said they didn't care for the characters at the beginning, but I didn't mind them. With almost 500 pages, I had a feeling we'd get a deeper feel for them, and I was right.
While this one didn't haunt me as The Nightingale did, it left me feeling a desire to know more about this time period and the devastation from it on American soil. I fell in love with the characters and was rooting for all of them; I'm also thankful that she tied things up at the end. Unless I know there's a sequel already out, I don't like being left with a cliffhanger.
Claire Cook has a perfect life. Married to the scion of a political dynasty, with a Manhattan townhouse and a staff of ten, her surroundings are elegant, her days flawlessly choreographed, and her future auspicious. But behind closed doors, nothing is quite as it seems. That perfect husband has a temper that burns as bright as his promising political career, and he's not above using his staff to track Claire's every move, making sure she's living up to his impossible standards. But what he doesn't know is that Claire has worked for months on a plan to vanish.

A chance meeting in an airport bar brings her together with a woman whose circumstances seem equally dire. Together they make a last-minute decision to switch tickets—Claire taking Eva's flight to Oakland, and Eva traveling to Puerto Rico as Claire. They believe the swap will give each of them the head start they need to begin again somewhere far away. But when the flight to Puerto Rico goes down, Claire realizes it's no longer a head start but a new life. Cut off, out of options, with the news of her death about to explode in the media, Claire will assume Eva's identity, and along with it, the secrets Eva fought so hard to keep hidden.
We picked this book for our book club read in March, and I liked it! I was intrigued in which direction the story was going to go, and never guessed "what happened." It got a little deeper than I was expecting, which was fun. I feel like the ending left you wondering what actually happened to one of the characters, but a few other people in our book club thought it was wrapped up.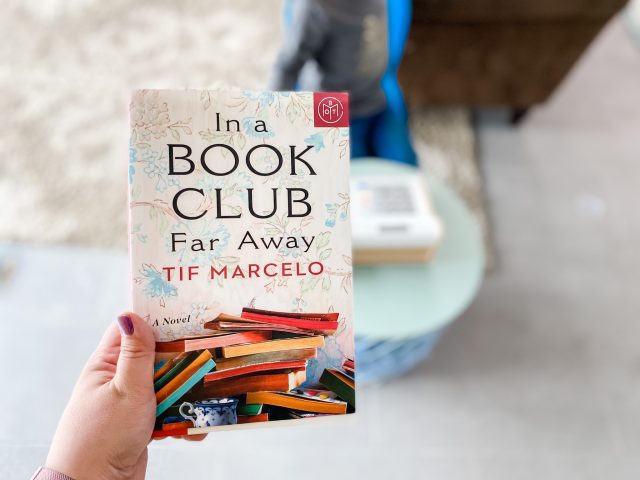 Regina Castro, Adelaide Wilson-Chang, and Sophie Walden usedto be best friends. As Army wives at Fort East, they bonded during their book club and soon became inseparable. But when an unimaginable betrayal happened amongst the group, the friendship abruptly ended, and they haven't spoken since.

That's why, eight years later, Regina and Sophie are shocked when they get a call for help from Adelaide. Adelaide's husband is stationed abroad, and without any friends or family near her new home of Alexandria, Virginia, she has no one to help take care of her young daughter when she has to undergo emergency surgery. For the sake of an innocent child, Regina and Sophie reluctantly put their differences aside to help an old friend.

As the three women reunite, they must overcome past hurts and see if there's any future for their friendship
I had such high, high hopes for this book….but it let me down big time. To start, characters needed way more development. I feel like I didn't have a good grasp on who was who until about halfway through the book (maybe even more). Every few pages I was trying to remember who had what storyline; I never got a clear picture of what any of them looked like, either. Maybe I totally glazed over their descriptions at some point?
The plot was just "eh." Maybe because I'm too close to the story (as a military wife who's been through her share of moves and deployments), but I just found that the story dragged on and on. There were also several holes in the storyline (like….what happened with that one wife's husband's diagnosis that was thrown at us in the last 1/4 of the book?!).
And maybe I'm jaded by military life, or because my kids are still quite young, or perhaps because we're still very much in the thick of things, but as much as I'd love to run to an SOS from a military spouse, I just find that super far fetched and not feasible. Especially someone that I was only friends with for an incredibly brief period (their friendship had to have been less than 6 months, I think). I'm NOT saying that extremely close friendships can't blossom from in that short of a time, but to have this bond that they speak of just seemed to be stretching it for me since they never talked after that at all.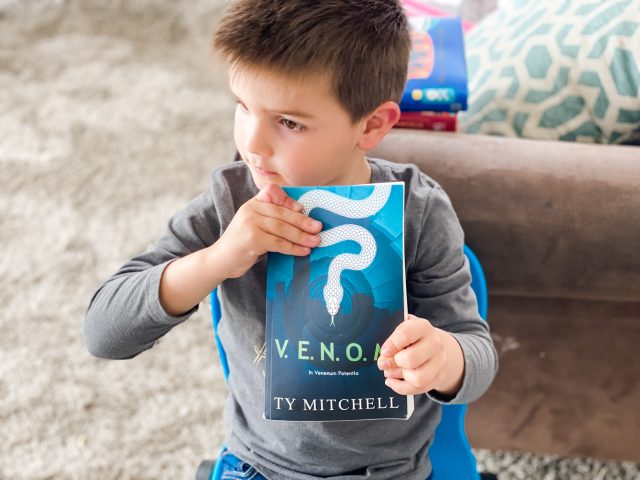 NYPD homicide detective Jake Penny can't escape the guilt of causing his wife and daughter's deaths. Battling alcohol and opioid addiction, he's assigned a murder investigation that points toward a sinister secret organization. And when a career-driven NSA agent joins the case, Jake is terrified his own prior membership in the group will send him to his doom.

With his unwanted partner obsessed with recovering stolen secrets, the pressure mounts on Jake to keep his history buried. And as corruption and deception cover the trail, he's never sure he's on the right side of the law.

Will Jake find redemption for his sins by terminating a deadly threat to global peace?
I usually don't start a book the same day I finish one, but I just needed to get over A Book Club Far Away as soon as possible, so I picked up this thriller…and literally couldn't put it down. It as a suspenseful page turner and kept me completely entertained the entire time.
This book could easily be turned into a movie! As I read it I actually had different actors in mind for some of the characters. It was energetic and I give it a generous two thumbs up. I hope this author writes more!
As an aside: I got this book from someone who was moving away from Germany; she said a friend of hers wrote it, and he was stationed here. So, hooray for a three-degrees of separation and for an Air Force author!
After her former band shot to superstardom without her, Claire reluctantly agrees to a gig as a playgroup musician for wealthy infants on New York's Park Avenue. Claire is surprised to discover that she is smitten with her new employers, a welcoming clique of wellness addicts with impossibly shiny hair, who whirl from juice cleanse to overpriced miracle vitamins to spin class with limitless energy.

There is perfect hostess Whitney who is on the brink of social-media stardom and just needs to find a way to keep her flawless life from falling apart. Caustically funny, recent stay-at-home mom Amara who is struggling to embrace her new identity. And old money, veteran mom Gwen who never misses an opportunity to dole out parenting advice. But as Claire grows closer to the stylish women who pay her bills, she uncovers secrets and betrayals that no amount of activated charcoal can fix.
I needed something lighthearted and fun after the last couple books I read, and this checked those boxes completely. It was almost like motherhood meets Gossip Girl, with an unexpected twist at the end.
Maybe it's because I've been living this life for the past eight years, but I resonated with (some) of the characters. I do wish the characters were developed a little bit more—and that the point of view didn't keep swapping around, but overall, I enjoyed this as a fun read.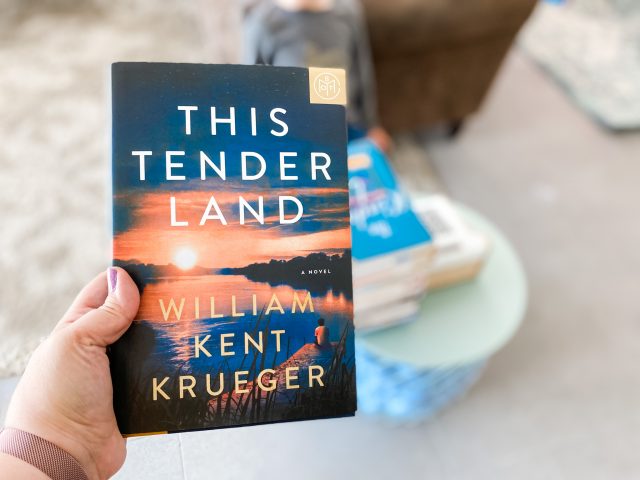 In the summer of 1932, on the banks of Minnesota's Gilead River, Odie O'Banion is an orphan confined to the Lincoln Indian Training School, a pitiless place where his lively nature earns him the superintendent's wrath. Forced to flee after committing a terrible crime, he and his brother, Albert, their best friend, Mose, and a brokenhearted little girl named Emmy steal away in a canoe, heading for the mighty Mississippi and a place to call their own.

Over the course of one summer, these four orphans journey into the unknown and cross paths with others who are adrift, from struggling farmers and traveling faith healers to displaced families and lost souls of all kinds. With the feel of a modern classic, This Tender Land is an enthralling, big-hearted epic that shows how the magnificent American landscape connects us all, haunts our dreams, and makes us whole.
To be 100% honest, this was a local book club pick for April, and I was absolutely dreading reading it. The synopsis didn't entice me at all, and before I cracked it open I knew it'd be a bore. I judged this book by its cover, and I'm thrilled to say that I was completely wrong. This was a FANTASTIC story. I was captivated by the adventure and the characters, and the story simply enveloped me into it.
Another thing I loved about This Tender Land is that it tied it all up at the end. It didn't feel rushed, and there wasn't an open-ended cliff hanger. There was also a total shift that I didn't see coming at the end, which made me love this book even more.
Excellent read, and I'll absolutely check out some of his other books now.
When Lila Macapagal moves back home to recover from a horrible breakup, her life seems to be following all the typical rom-com tropes. She's tasked with saving her Tita Rosie's failing restaurant, and she has to deal with a group of matchmaking aunties who shower her with love and judgment. But when a notoriously nasty food critic (who happens to be her ex-boyfriend) drops dead moments after a confrontation with Lila, her life quickly swerves from a Nora Ephron romp to an Agatha Christie case.

With the cops treating her like she's the one and only suspect, and the shady landlord looking to finally kick the Macapagal family out and resell the storefront, Lila's left with no choice but to conduct her own investigation. Armed with the nosy auntie network, her barista best bud, and her trusted Dachshund, Longanisa, Lila takes on this tasty, twisted case and soon finds her own neck on the chopping block…
This was a book of the month club book by a debut author, and I loved every single page! As a writer, my family has been asking me when I'm going to write a book, and my answer is always the same: not now. It's not that I don't want to have a novel out there with my name on it, I do! But I haven't had a story come to me before.
With that said…
I felt so connected reading Arsenic and Adobo that it felt like something I wrote. I only mean that her writing style is how I love to write: this was easy-going, conversational, funny, relatable, dramatic, suspenseful (but in a "fun" way), and just overall downright great. Her use of culture in it literally brought tears and laughter more than a few times, because it reminded me so much of my own Hispanic family.
The plot was fun in a "whodunit" it sense, and the only thing I wanted a little bit more of was some extra romance thrown in there. There were hints of something, and I wanted more!
Absolutely loved it, and I can't wait to read whatever she comes out with next!
What are you reading?
Have you read any of these books? What are you currently reading? Tell me so I can add it to my list!