Where to See a Stave Church in Germany
Did you know that you can see a Norwegian-style stave church in Germany? True story! And this post will tell you everything you need to know about it.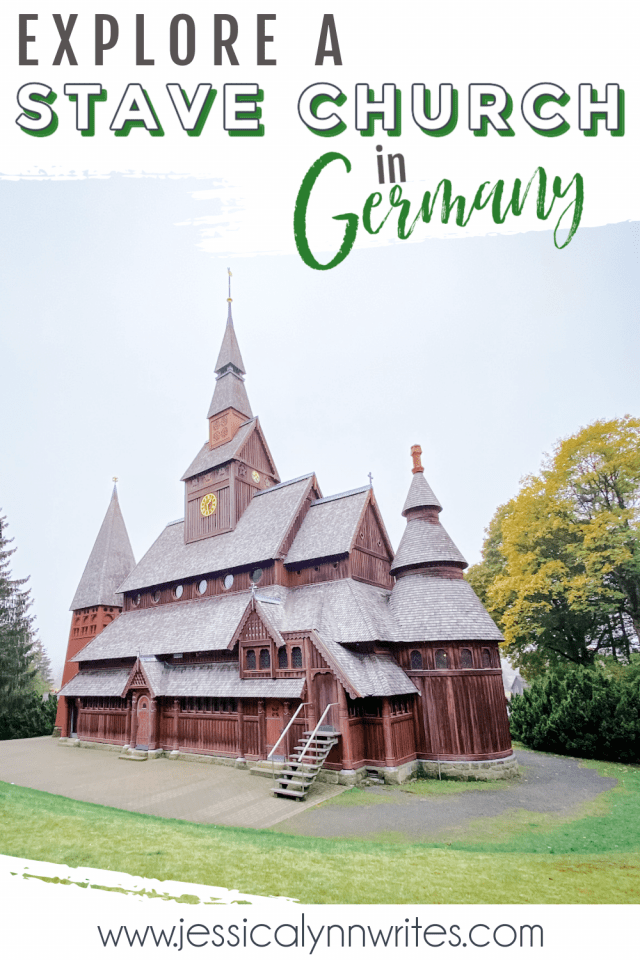 Nestled in the Harz region in a town called Hahnenklee (near the charming towns of Goslar and Wernigerode), is the Gustav Adalof Stave Church. This stave church in Germany was modeled after the medieval Borgund Stave Church found in Borgund, Norway.
Built in 1907 from spruce trees, the Gustav Adolf Stave Church is now a popular tourist spot, but it also still welcomes parishioners with regular church services every Sunday.
What is a Stave Church?
If you're like me and have never heard of a stave church before, here's a quick deep dive into what it all means.
Essentially, they're called "stave" churches because they're built out of wood. The main construction is created from upright planks or poles ("staver" in Norwegian; "staves" for us). These churches were popular—and unique with elaborate carvings—in Norway between the 11th and 13th century.
Because Vikings knew how to construct boats and homes, they took this craftsmanship by creating churches.
Most of the carvings around and inside a stave church are intriguing with Viking themes, motifs, animals, and even dragons.
There used to be at least a thousand stave churches in Norway, but now there are less than 30 still standing.
My (honest) Initial Thoughts:
Do you want the good news or the bad news first? I'll start with the bad news and just get it out of the way.
I know travel writers aren't supposed to do this, but at first glance this church didn't initially live up to my expectations.
From the pictures I saw on Instagram and Google (and even my own photos now), I was expecting this to be out in the middle of nowhere, alone on a pasture in the middle of a forest. I thought it was going to be huge and majestic, and we'd be the only people seeing it.
Honestly, I thought I found a unicorn destination in the middle of Germany.
But the reality is that you drive right up to it just like any other church in the middle of a town, and it's been a popular tourist destination since it was built.
Thanks to some nifty angles you can certainly make it look like it's on its own in the middle of nowhere. …but it's not
In fact, there's a parking lot around the corner with bus parking where dozens of tourists can appear at a moment's notice, showing up and taking that beautiful empty scenery with them.
(this tour group showed up just as we were leaving, and there were three other big busses in the parking lot when we left! I just wasn't expecting it, which is why I'm sharing this part with you.)
Okay, now for the good—if I didn't already totally ruin your perception of this place.
It was still incredible to see in real life, even if I was slightly initially let down by its local. I highly recommend seeing it if you're in the area.
Luckily we were there in between throngs of tourists and experienced the area alone for ourselves.
It's Incredibly Beautiful
The craftsmanship for this stave church in Germany is astonishing. Now I desperately want to see some in Norway, too.
The outside is a marvel to see, but the inside is just as grand, and I may have enjoyed it even more than the picturesque outside.
From floor to ceiling, wood carvings are everywhere—including dragons and elements of Viking ships (the chandelier is supposedly modeled after a Viking ship's steering wheel).
It was rustic and beautiful.
Truly, walking inside transported me to a different time…to the middle ages in Norway. It didn't hurt that it was super misty and foggy the day we were there.
Basic Info for Gustav Adolf Stave Church in Germany
Website: Stab Kirche
Address: Professor-Mohrmann-Weg 1, 38644 Goslar
Donations:
€5 requested donation for adults
Times/Hours/Covid: check website for current information
How to Get There
Getting to Gustav Adolf Stave Church in Hahnenklee, Germany, is ideal via car (there's so much to see in that area that you'll want to drive around and see more).
If you're traveling by train it's about a 10-minute walk to the church from the Hahnenklee Friedhof station, not too bad as an excursion from some place like Wernigerode.
(driving by car) Coming from…
Geilenkirchen NATO Air Base/JFC Brunssum: about 5 hrs away
Spangdahlem Air Base: about 5 hours away
Weisbaden: about 4 hours away
Goslar: about 20 minutes away
Wernigerode: about 50 minutes away
Berlin: about 3 and a half hours away
Amsterdam: about 5 hours away
Where to Park
We parked at the wrong spot the first time since we just followed the GPS to the church. It turns out there is a large parkplatz just next to the church. Use this address: Am Bocksberg 7, 38644 Goslar.
There is a path that leads from the parking lot to the church, but it's a dirt path. Keep the dirt in mind if it's just rained recently—you might want to wear boots. And if you take a stroller and it's muddy, the wheels could get stuck.
Have you seen the the Gustav Adolf Stave Church in Germany in real life yet, or is it on your bucket list? I'd love to hear if you visit it!
---
SHARE THIS ON PINTEREST!
---