#DutyStationSpotlight: Moving to Anchorage, Alaska
If your family just got word that you're moving to Anchorage, Alaska, and getting stationed at Joint Base Elmendorf-Richardson, you've come to the right place. But this isn't your run-of-the-mill guide.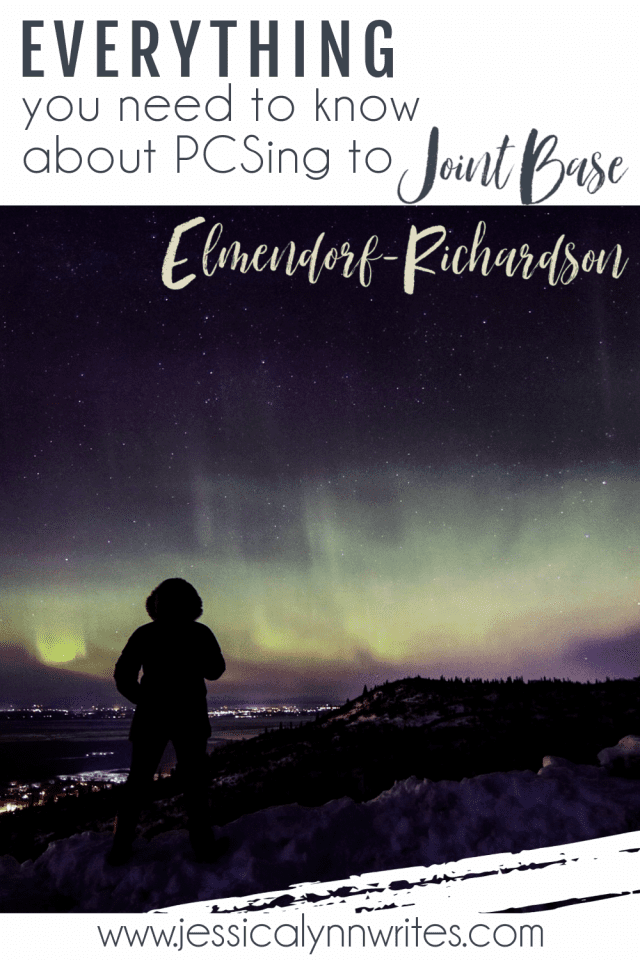 You won't discover what schools are the best, where you should live, or the best doctor; instead, you'll find things in this Duty Station Spotlight that you want to know about like favorite day trips, radio stations, and all the yummy places to eat when you're moving to Anchorage, Alaska.
Meet Liz!
This Duty Station Spotlight comes from Liz, an Air Force spouse, mom-of-three, speech-therapist and someone who loves the travel, friendships and lessons that the military lifestyle has given her. She and her family were stationed at JBER for three and a half years.
You can find her on Instagram here.
Moving to Anchorage, Alaska: the Basics
What were your first impressions of moving to Anchorage, Alaska?
My initial impression wasn't positive. We were moving to Anchorage, Alaska, in middle of January and due to a brief warm spelling followed by freezing temperatures, much of the snow had melted and re-frozen leaving every outdoor surface covered in ice. Roads, sidewalks, decks were all impossible to navigate easily.
The sun rose around 11:00 and meandered lowly across the sky until setting at 4:00. My feet were constantly cold and I my cell phone service was terrible. "Bleak" is the best word to describe my outlook at the time.
How did you feel at the end of the tour? Did your impressions change?
After finding a home that I loved, a pair of the warmest boots on the market, and outfitting my car with studded tires my outlook began to brighten considerably.
We learned how to buy and wear appropriate snow gear and started to love exploring the winter wonderland around us. People actually hike in the winter here! It's amazing!
And if winter was fun (even with the limited light and low temps) then summer was exceptionally amazing. The sunlight lasted till 11pm, giving us ample time to enjoy the beauty and grandeur of Alaska.
Also, apart from the natural wonders of the state, we developed some wonderful friendships with both fellow military families as well as many life-long Alaskans. We loved our life there.
What is ONE THING you wish you had known before PCSing to Joint Base

Elmendorf

-Richardson?
Don't skimp on winter gear.
Spend the money and buy warm, waterproof boots; waterproof gloves; insanely thick wool socks; and a good winter coat. (Though, caveat, your children will loose gloves like normal people loose socks. So take that into account : )
Here are some of Liz's recommendations:
Winter Boots from Bogs Footwear won for me. Easy to get on and off and excellent in frigid temps. Worked great for muddy spring and messy fishing too!
My kids LIVED in their Muck Boots all year round. Perfect for Alaska living due to their durability and warmth.
Winter socks I went with REI brand. All their socks are good but for winter I went with the warmest.
For everyday hiking/snow sports gloves I got the Serius brand and loved them!
My kids would wear glove liners and waterproof mittens with extra long cuffs (keep that snow out of sleeves).
For my family, we generally wore the puffers from the 32Heat Brand for everyday use and REI coats and jackets for hiking/snow sports.
Good (Local) Eats around Anchorage, Alaska
If someone came to visit you, and you had to take them out to eat, what would your TOP THREE favorite places be?
Favorite place(s) for coffee and/or dessert?
Coho Coffee
Jitters Coffee
That Feeling Co.
Kaladi Brothers Coffee
Wild Scoops Ice Cream
Is there a farmer's market scene in there? Tell us about it!
Yes; the Anchorage Farmers Market.
Best place for brunch? And what's your favorite thing to order?
Snow City Cafe, and our family's favorite order was "Heart Attack on a Plate."
How about a fun night out on the town for a date night?
In the summertime, the patio dining with live music at 49th State Brewing in Anchorage was fun.
For a romantic evening, you could attend a concert at the Anchorage Performing Arts Center or visit the Anchorage Museum followed by dinner at Crush Wine Bar or South Restaurant.
Wintertime fun might include nighttime skiing at Hilltop Ski area followed by dinner at Spenard's Roadhouse.
Get Around (and out of) Town
Top five favorite things to do around
Anchorage
:
Hike (you will never, ever run out of options for both summer and winter hiking.)
Go fishing for salmon in the summer.
Enjoy snow sports at Hilltop or Hillberg Ski areas in the winter.
Go blueberry picking in the fall.
Wait up at night and try to see the Northern Lights.
The All Trails website/app is super helper for hiking; and the travelalaska.com website is very helpful for researching adventure opportunities!
Picture this: You have a whole weekend to go somewhere within driving distance: Where are you going and what are you doing?
I would head south on the scenic Seward highway stopping first at the small town of Girdwood to either ski in the winter, hike in the summer, or relax for a night at the beautiful Alyeska Ski Resort and Spa.
The second day I would finish driving to Seward, Alaska where I would either book a wildlife-watching day cruise, visit the Exit Glacier national park, explore the SeaLife Center, walk to Lowell Point or hike Marathon Mountain for some breathtaking views. I'd enjoy coffee at Resurrect Art Coffee house, lunch at Zudy's Cafe and dinner at The Cookery.
Driving back, I would plan enough time to stop and take pictures of the mountain, valleys, rivers, glaciers and wildlife that I will see along the highway.
What was your favorite park in town?
Any museums worth checking out? Please share their exact names so I can reference them specifically!
The Anchorage Museum in Anchorage and the Sea Life Center in Seward.
All the Extras
Favorite radio station?
The ubiquitous K-love
Info on your favorite hair salon/hairdresser, please and thank you.
My favorite hair stylist is Kyle Dickerson at Midtown Beauty Studio; Favorite nail salon was Queen Nail and Spa in Eagle River.
Like a Local
Are there any instagramers, bloggers, or specific non-military affiliated Facebook groups you followed?
"Hiking in Alaska" and "Southcentral Alaska (SCAK) Fishing" for Facebook
Any festivals, fairs, or events worth checking out?
The Alaska State Fair in August/September is a big deal, totally worth visiting at least once. The Blueberry Festival in Girdwood is fun. The Fur Rendezvous Festival is part of the yearly excitement around the Iditarod.
Tell us about the weather.
Summer temps usually stay below 80 degrees F. The sunlight was glorious in the summer.
Fall weather included more storms and the first snowfall usually arrived around Thanksgiving.
Winter temps could dip down to -15 but generally hovered between 10-20 degrees F. The snow fall usually didn't melt, resulting in layer after layer of snow build up.
Spring was muddy, due to all that snow melt.
The only natural disaster to be ready for are earthquakes. Usually small, they do take some getting used too.
Is there anything else you'd like to mention about moving to Anchorage, Alaska, for someone who is heading there soon?
Alaska will never cease to amaze you, if only you are willing to get out and explore it's natural beauty. The people of Alaska are kind and generous and love to give advice for living life to the fullest.
Some of the biggest hurdles to overcome are the absence of light during the winter (which can truly impact mental health) and the distance from family and friends in the lower 48.
But there are ways to mitigate these difficulties from trips to sunny destinations in the winter to gym memberships where you and friends can encourage each other through the longer winter days.
Alaska is an adventure just waiting for anyone to jump and enjoy.
Your Turn!
If you've been stationed at Joint Base Elmendorf-Richardson in Anchorage, Alaska, please share your favorites in the comments!
---
SHARE THIS ON PINTEREST!
---