#DutyStationSpotlight on PCSing to RAF Lakenheath
If your family just got word that you're PCSing to RAF Lakenheath in England, you've come to the right place. But this isn't your run-of-the-mill guide.
You won't discover what schools are the best, where you should live, or the best doctor; instead, you'll find things in this Duty Station Spotlight that you want to know about like favorite day trips, radio stations, and all the yummy places to eat when you're moving to Lakenheath, England.
Meet Emily!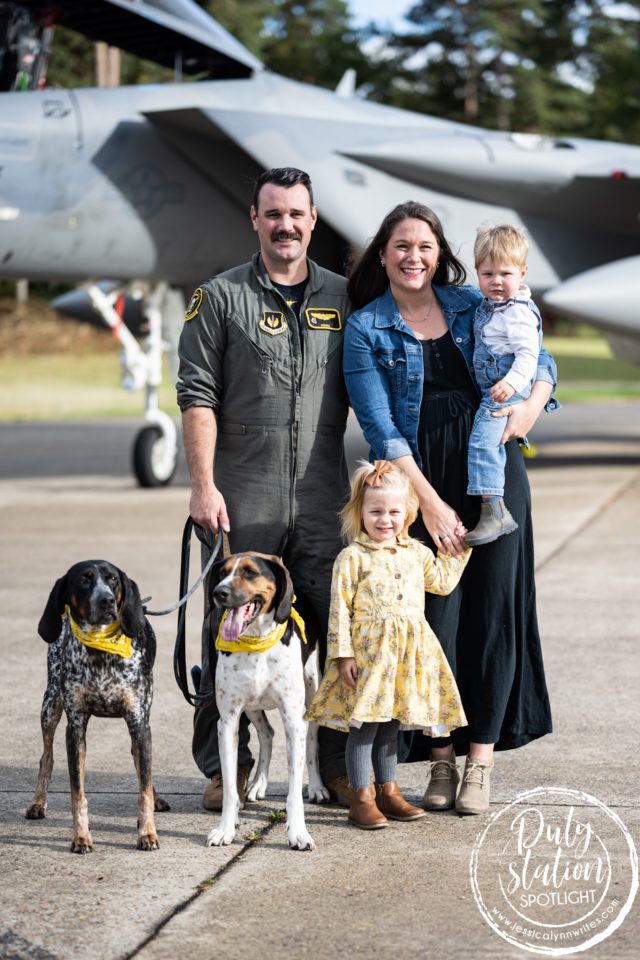 Emily's an Air Force wife who's been stationed at RAF Lakenheath for three years. She's a former elementary school teacher, turned stay at home mom to two active toddlers, with one on the way, and two snuggly coonhounds! You can find more from her on instagram here.
PCSing to RAF Lakenheath: The Basics
What were your first impressions of moving to

RAF Lakenheath

?
The town of Lakenheath is rather small, which is why we chose to live further from base in the gorgeous town of Bury St. Edmunds.
How did you feel at the the end of the tour? Did your impressions change?
Going overseas and having to drive on the "wrong" side of the car and road was the most difficult thing to get used to. And roundabouts. Those things can be scary! But like with anything, the more practice, the better you get.
What is ONE THING you wish you had known before moving to

RAF Lakenheath

?
HOW MUCH MONEY WE SHOULD HAVE SAVED! The cost of shipping our two large dogs was way more than what we thought/had read about. We moved during peak PCS season so that didn't help. Once we paid off that debt, we immediately started saving for their return trip to the states.
Good (Local) Eats around RAF Lakenheath
If someone came to visit you, and you had to take them out to eat, what would your TOP THREE favorite places be?
I'm going to answer for my top 3 favorite places in Bury St. Edmunds (a lot of people who work at the base live here)
Cheers (a delicious cook-your-own-steak house)
Wright's Cafe (a local guy who started with a mobile stall at our Saturday market and has evolved in to a full blown restaurant!)
Gastrono-ME (bottomless mimosa brunch. Need I say more?!)
Favorite place(s) for coffee and/or dessert?
Wright's Cafe for coffee and Kaspas for dessert!
Is there a farmer's market scene in there? Tell us about it!
In Bury St. Edmunds we have a farmers market every Wednesday and Saturday! There are also TONS of other farmers markets in other surrounding towns!
Best place for brunch? And wht's your favorite thing to order?
Gastrono-ME for the Pain Perdu and a mimosa
How about a fun night out on the town for a date night?
Dinner at Wagamama in the Arc and then hop across to a movie!
Get Around (and out of) Town
Top five favorite things to do around

RAF Lakenheath

:
1. Grab Wright's cheese toasties and walk to Abbey Gardens for a picnic
2. Farmers Market Saturday and eat your weight in food and come home with delish fresh fruit and veg
3. Sounds cheesy, but go to the end of the runway on base and watch the jets take off and land
4. Head to Cambridge and go punting! (A fun on-the-water activity)
5. Go to this random field* where they've imported Highland Cows and take pics
*I'm not sure they're even still there, but the closest place to park and walk out to the field (which most fields you're allowed to walk to/through as land here isn't usually privately owned) is called Brandon Park Heath, Fire Route 5 on google maps (it's in Hillside, Brandon IP27 0NQ)
Check out more to do around Cambridge
Picture this: You have a whole weekend to go somewhere within driving distance: Where are you going and what are you doing?
We've done lots of local driving trips (thanks Covid…) A favorite so far has been heading south to the coast! We've been to Portsmouth and Brighton and they were both amazing at giving us much needed Vitamin Sea 😉
What was your favorite park in town?
Abbey Gardens in Bury St. Edmunds has a great greenspace, a fun playground for kids, a walk up coffee stand window with ice cream and snacks, and even a little aviary!
Any museums worth checking out? Please share their exact names so I can reference them specifically!
We haven't been to any local, but anything in London is great!
All the Extras
Favorite radio station?
BBC radio 2
Info on your favorite hair salon/hair dresser, please and thank you.
I took my 1 year old son for his first haircut at Mr. Barbers and they were amazing with his not so tolerant attitude haha We're lucky enough to live down the street from a small salon, so that's where I've gone–Gina Giles Hairdressing!
Like a Local
Are there any instagramers, bloggers, or specific non-military affiliated Facebook groups you followed?
There's loads of FB spouses pages that were super helpful. Here are several to get you started:
Any festivals, fairs, or events worth checking out?
The first year we were here, Bury St. Edmunds put on an amazing Christmas Fayre!! It was cancelled last year due to Covid.
Tell us about the weather.
It's…..rainy. But I grew up near Seattle, WA so I'm totally used to it and don't mind it at all.
The summer usually has a couple heat waves that get up in to the 90s, but it doesn't last very long. Fall is GORGEOUS. Winter is dark and spring is wet haha
Is there anything else you'd like to mention about moving to

RAF Lakenheath

, for someone who is heading there soon?
Save up money for moving expenses, and if you want a real British experience, live off base if you can. Cambridge, Ely, Newmarket and Bury St. Edmunds seem to be the most popular.
And don't worry about driving. You get used to the tiny, one car width but two ways of travel, 60mph roads. I promise.
Your Turn!
If you've been stationed at RAF Lakenheath please share your favorites in the comments!
---
SHARE THIS ON PINTEREST!
---