Explore Burg Satzvey in Germany
Burg Satzvey was one of the cutest little castles that we've seen in Germany, and it's less than an hour from two popular cities, Bonn and Cologne, making it a great day-trip from either spot.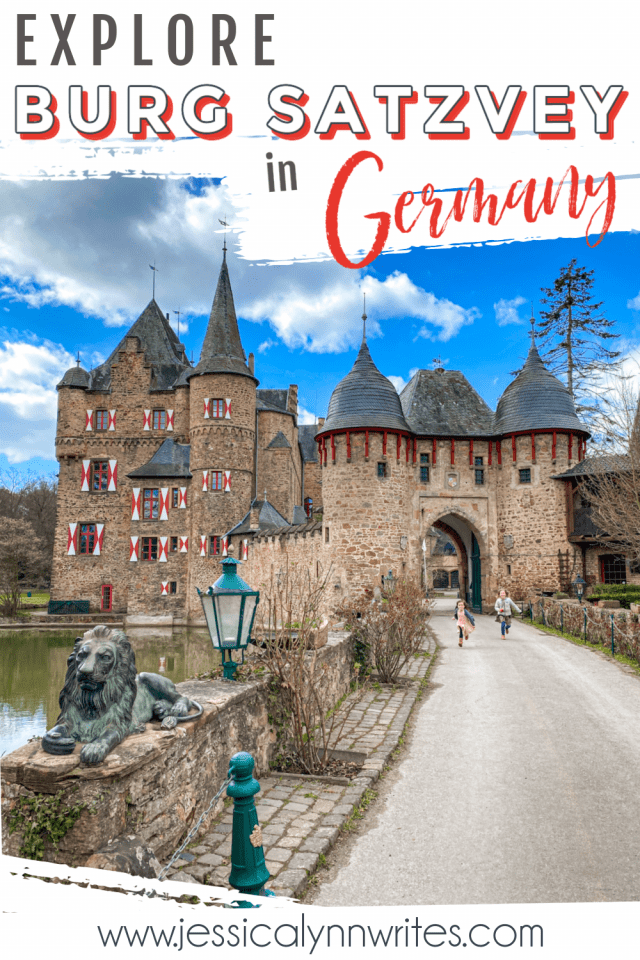 We visited Burg Satzvey on a random day during the lockdown in 2021 and had the place to ourselves.
Since everything was closed we didn't experience the castle to its fullest extent, but we vowed to go back again…and we will. Especially because you can tour the castle and even stay there, too, and their events (see below) look so cool!
The Satzvey castle first dates back to 1396, and as soon as you see it you'll be enveloped in total medieval vibes. If you've seen A Knight's Tale, it was like stepping onto a film set for the movie. If only Heath Ledger came trotting by on a horse…
Things to do at Burg Satzvey
Truthfully, the outside and the courtyards were the most impressive part for us, but we haven't been inside yet. It was just beautiful and almost didn't seem real.
Another cool thing about this castle is that it's tucked into a neighborhood. It's definitely on the smaller side, and if you didn't know it was there, you might even miss it.
While I 100% want to go back for an event (see below), it was also so great to walk around without anyone else there. Such a fun experience.
BONUS: Walking around the courtyard is free if there aren't any events.
Events at Burg Satzvey
While the castle grounds are always open, the cool thing about Burg Satzvey is that they often have events, including an Easter market. Plus, you've gotta check out the Burg Satzvey Weihnachtsmarkt (Christmas market) open on the weekends during market season. They also typically have Knights Festivals in June and September each year complete with jousting, jugglers, and a medieval market with more than 70 trades.
I'm itching to go back and check some of them out.
Eat at Burg Satzvey
Unfortunately, there was a massive flood during the summer of 2021 that destroyed a lot of Burg Satzvey, and according to their website, their restaurants are still closed. (However, they do have events coming up, so I'm assuming they'll provide some sort of food or drink opportunities.)
I'm really hoping their establishments open again. We had a hankering for schnitzel when were were there.
Basic Info for Visiting Burg Satzvey
The main path to the castle is paved, but it's also dirt/rocks once you get inside, and I've heard from others that wearings boots (especially during the rainy months) is the way to go.
Also, the parkplatz is in a field, so it'll get quite squishy out there.
How to Get There
Castle address:
An der Burg 3, 53894 Mechernich
Parkplatz address:
Veybachstraße 1, 53894 Mechernich
NOTE: Their website says there's a €3/per car charge. When we visited there was no attendant collecting money. This may be for when they have events, but good to be prepared just in case.
Driving from…
Cologne/Bonn: 45 minutes
Geilenkirchen/Brunssum: 1 hour 15 minutes
Spangdahlem: 1 hour 15 minutes
Train:
Because of the flood, train service has been spotty. I'll try to update this if I hear that it's consistently back up and running.
If you visit Burg Satzvey I'd love to hear about your adventure! Tell us about it below.
---
SHARE THIS ON PINTEREST!
---