Visiting the Anne Frank House in Amsterdam
When my mom came out to visit us in the fall of 2021 there were three things she wanted to do: experience visiting the Anne Frank House in Amsterdam, see Corrie ten Boom's house in Haarlem, Netherlands, and see the Berlin Wall and Checkpoint Charlie.
So one rainy day in November, she and I caught a train to Amsterdam to see check two of the boxes off her list.
(This post will be skimpy on photos—no pictures are allowed in the museum except for the one you'll see below.)
My hope is that you already know about Anne Frank, and why her story is so important to our history, so I won't go into her history or why she's important. What I will say is that reading Anne Frank's diary changed my life when I read it, and I hope you're reading this because she impacted yours as well.
When to Read Her Diary
Curious if you should read her diary again before you visit?
I read her diary a couple of times when I was much younger; I also read it very, very shortly before visiting her house in Amsterdam, and part of me almost wishes that I read it again after I visited.
If you read her diary after you visit…
If you read her diary after you visit the Anne Frank House, you'll have a greater understanding of the layout of her home, so the places she mentioned and the people she talks about will make more sense.
I found myself slightly confused at just how big it actually was, and I couldn't quite grasp the space in my mind.
If you read her diary before you visit…
If you read her diary before you visit the Anne Frank House, then you'll know the whole story and it will come full circle.
I found myself thinking as we walked into a couple of rooms, "Oh, I had no idea this is what she meant." I almost feel like you need to read it twice—once before, and again after so you can truly grasp the reality of the Anne Frank House.
Books for You:
Reading The Diary of a Young Girl as an adult brought up a lot of different feelings and thoughts than when I read it as a young girl, so if it's been a hot minute since you've read it, I highly encourage you to pick it up again.
I read the definitive edition, which included extra useful and interesting passages. There were several parts from this version that I distinctly don't remember reading when I was younger (or I was so young that the points went over my head).
If you're looking for the short stories that she mentions in the diary, I also bought Anne Frank's Tales from the Secret Annex, because I was so intrigued with her other stories (they have this, along with hundreds of other books in the museum's gift shop.)
If you're looking to introduce Anne Frank to kids, here are a few I recommend:
Things to Know Before Visiting the Anne Frank House
Before you even get as far as arriving in Amsterdam to visit the Anne Frank House, make sure you have tickets and a time slot to visit the museum (her house). They very, very often sell out, and they've put a limit on capacity because of Covid, so I can't stress how important it is to have your tickets before you get there.
We spent about an hour walking through her house and the more modern museum portion (where her diary is), and then we spent a little longer in the building itself, so plan on at least an hour (more like two) to spend at Anne Frank's House.
There's also a cafe, bookstore, and a mini theater experience that is definitely worth watching.
Watch Your (VERY STEEP) Step
If you haven't been in an authentic Dutch house, here's something to know: the steps are very, very, very, steep. Like, you'll feel as though you're climbing a ladder. The steps themselves are also quite narrow.
Also, the actual step to get into her house—behind the famous bookcase is giant…like it came up to my knee.
There is no elevator or other way to access the floors when you visit the Anne Frank House, so keep that in mind if mobility is an issue.
Young Children
My kids did not come with us to the Anne Frank House, and I was actually surprised that we didn't see any kids within our time slot. With that said: the museum is tastefully put together, and it's an audio tour (in many languages) with videos here and there, so if you brought your kids you wouldn't have to worry about any terribly graphic photos.
I am planning on taking my oldest (8/9 years old), and I would feel comfortable bringing my 6/7-year-old. If I had to bring a child younger than that I would for sure try to plan accordingly with something for them to listen to while walking through the house.
But you know your kids best. If you think they may be too rowdy or restless, possibly plan on bringing a spouse or friend and swap out with them so one person can watch the kid(s) while the other does the tour.
Strollers at The Anne Frank House
Because of the steep steps, strollers are not allowed through the museum. And on top of that, when we were there, the cloakroom was closed* and you couldn't leave any bags or strollers there. (So honestly, I'm not sure what you would do if you brought one; if you've been recently and have experience with this, please let me know). Plan on wearing your child!
2022 UPDATE: A reader emailed me to say that as of October 2022 the coat room is up and running again, and you can leave your stroller there!
My Experience with the Anne Frank House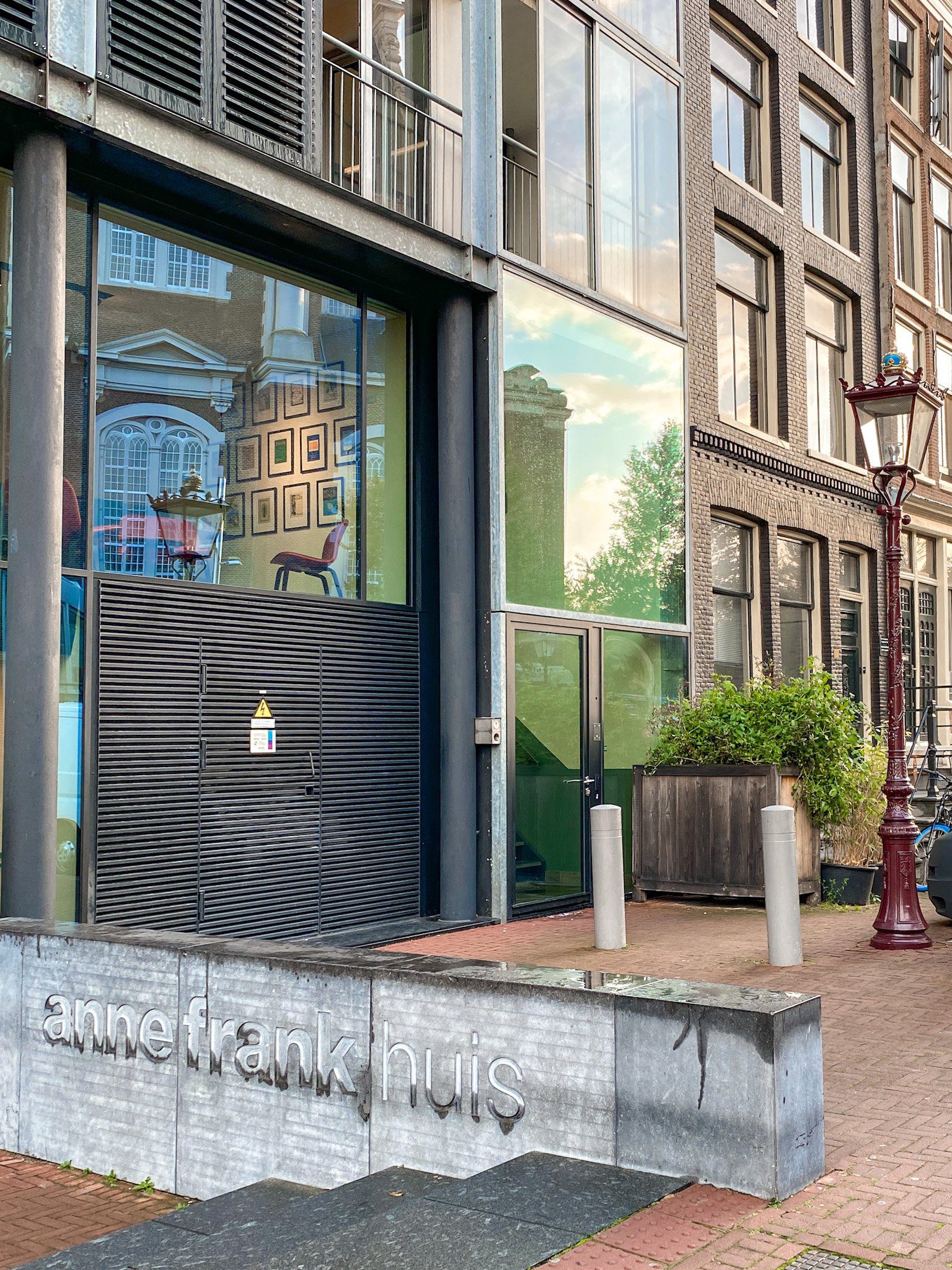 Here's the strange thing about visiting the Anne Frank house: I visited Amsterdam in college and would have bet you 10 million dollars, and I'd swear on my dad's grave that I've been through the famous house before. Clear as day, I remember seeing the bed in her room, worn and weathered pictures on her walls, the table in the kitchen, and of course, the bookcase used to hide the families in hiding.
I specifically remember seeing her diary, too. I was enthralled with it because it's what spurred me to want to be a writer after I read it in school.
What I didn't expect during this visit was for my memories to completely deceive me.
The Anne Frank House today—just as its been since it opened—does not contain any furniture inside the rooms. Otto Frank (Anne's father, and the only living soul from the Frank family after the Holocaust) made sure it was empty since the Nazis took everything; he didn't want to recreate it.
As I walked through the museum with my mom (no pictures are allowed inside), I had a hard time wrapping my brain around the empty rooms…it's not what I was expecting/remembering.
And then a thought came to mind: did I really even visit Anne Frank's House years ago?
Did my mind add details based on reading her diary and wanting those things to be there? Or did my mind just think I had been there?
Either way, I was 100% there this time.
My Experience This Time
I really enjoyed the tour, and I liked the way the audio was set up. I never felt rushed and it was never too crowded, even in the smaller rooms.
It's surreal to walk the same steps she used to walk and climb the stairs she once climbed. Even without furniture in the rooms, it was easy to imagine what life must have been like cramped in such a place with so many people for so, so, so long. Seeing the curtains she used to peek through, and the tiny bathroom the eight of them shared… was surreal.
Personally, I wasn't as emotional as I thought I'd be walking through the rooms until we came to the end of the tour and I saw the book with their names in it. Not her diary, but a book of names.
It wasn't just seeing their names that got to me—it was seeing how large the book was. Honestly, it was possibly one of the largest books I think I've ever seen, and it was full of names….of entire families taken from their homes; taken from their lives. That book holds more than 100,000 names of those who died—just from the Netherlands—in the Holocaust.
It broke me.
I'm thankful such a little girl had such a big impact on the world. Her voice was heard loud and clear, and I hope her story continues to be told.
What to do Before/After Visiting the Anne Frank House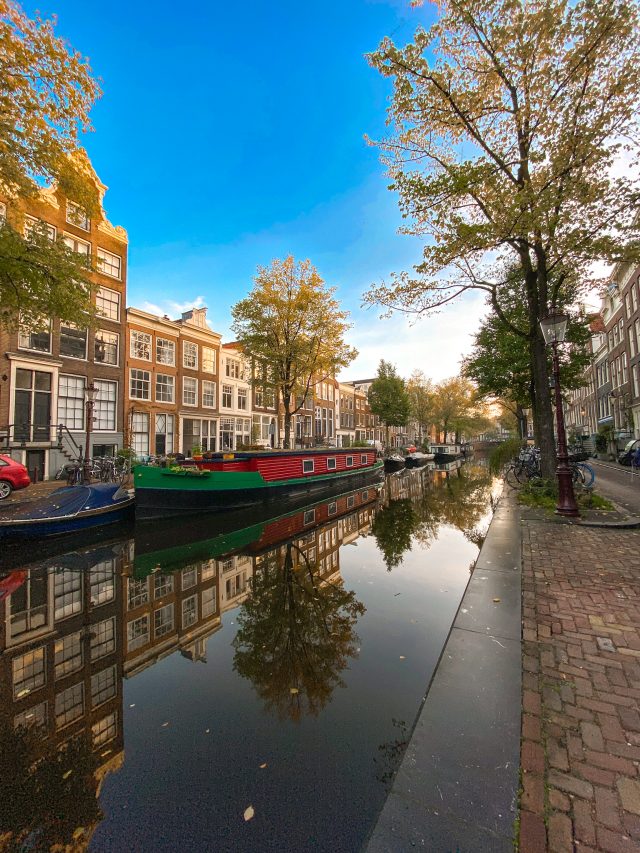 If you have the time (2 hours), this Anne Frank/WWII walking tour looks fantastic and is a great way to get familiar with that period before going into her house.
After we visiting the Anne Frank House we made it back to the Amsterdam train station and hopped a train to Haarlem to see the Corrie ten Boom Haus—another famous landmark popular because Corrie ten Boom, a Christian during the Holocaust, hid Jews in her home. (post in the works about this experience.)
If you're sticking around Amsterdam, there's plenty to do to around town. Pick one or a couple of the activities below:
Where to Stay in Amsterdam
We stayed at the perfect spot for visiting the Anne Frank House. Mr. Jordaan is a small boutique hotel that's trendy and fun, and comfortable. The rooms are tiny, but you're in Amsterdam to explore, so just roll with the coziness.
Things to note about Mr. Jordaan:
There is a lift. It's very slow, but it's there and quite welcomed.
The breakfast is extra, but it's plentiful and delicious.
Play some records on their record player in the morning—it was super fun.
Take a selfie of yourself before you go up the lift (can you spot ours?)
Splurge for a canal view, because nothing beats that view.
Follow them on Instagram for special discounts sometimes
You can buy their merch before you leave…don't forget. I love the tote I got from there.
Find a place to stay in Amsterdam here:
Have you been to the Anne Frank House?
I'd love to hear about your experience with visiting the Ann Frank House. What did you think? When did you last read her diary? Were there still Covid protocols in place? Tell me all the things!
---
SHARE THIS ON PINTEREST!
---