An Ultimate Guide for Taking Kids to the Balloon Fiesta
Every October the skies in Albuquerque, New Mexico, are dotted with hundreds of colorful balloons. And if you're wondering what there is for kids at the balloon fiesta, I've got you covered with some tips, ideas while you're there, and what to do after the balloons land.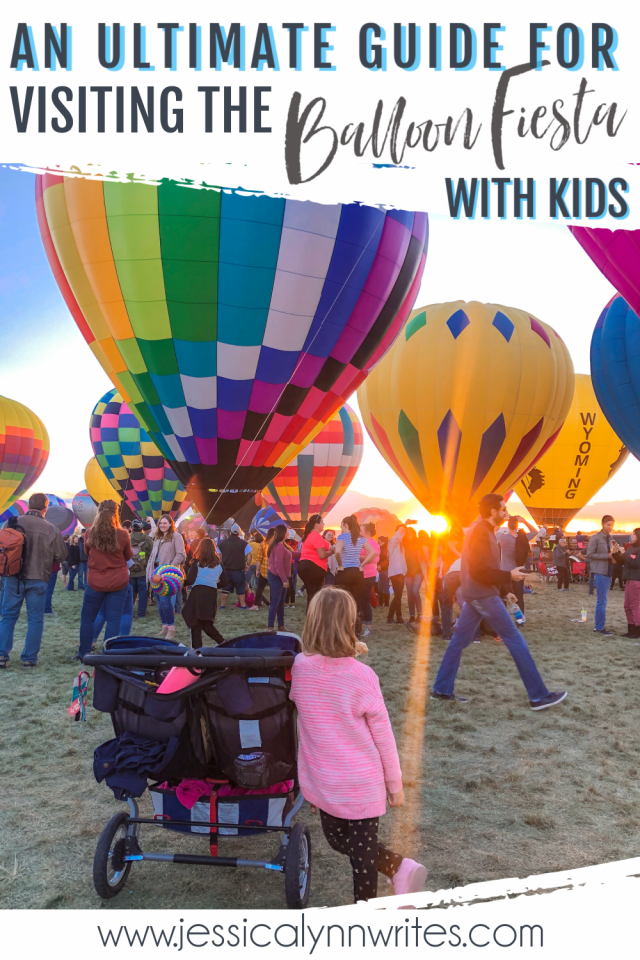 As an Albuquerque native and mom to three kids, you're in good hands with this post.
I'm going to fill you in on everything you need to know about taking kids to the Albuquerque Balloon Fiesta.
Balloon Fiesta Details
The balloon fiesta takes place every October in Albuquerque, New Mexico. For nine days, hot air balloons will dot the sky like confetti.
Future Balloon Fiesta Dates:
Mark your calendar and make some hotel reservations asap. The 2022 Albuquerque Balloon Fiesta will be October 1—9.
If you can't make that, here are the dates for upcoming fiestas:
2023 October 7-15
2024 October 5-13
2025 October 4-12
The main events happen in the morning (weather dependent), but there are also special events within the morning events and "glowdeos" that happen in the evenings.
What Time, Exactly?
The balloon fiesta is an early morning event. Like, the park opens at 4:30 am and I highly recommend you're in your car and driving by 3 am to get there.
You probably just spat out your drink at that statement, but trust me that it's MUCH better to be in the park sipping coffee/hot cocoa and eating a breakfast burrito in the park than sitting in your car in a line of cars trying to get to the parking lot, frustrated that you decided to sleep for an extra 30 minutes.
Pro tip: The whole family can take a nap in the afternoon! Suck it up and leave early. (Then thank me later.)
For the afternoon/evening sessions, aka balloon glows, the park reopens at 3 pm, but the balloons don't inflate until around dusk. They will not lift off during balloon glows; they only inflate and stay on the ground. But it's incredibly beautiful and a really fun event.
How to Purchase Tickets
Great news: kids 12 and under are free! It costs $15 to enter for those over 12.
Where to See the Balloons
Here's the thing: as long as they launch, you can see the balloons from anywhere in the city. BUT if you want to be down where all the action is, you need to go to Balloon Fiesta Park. I highly recommend you experience a mass ascension day and/or a special shapes day from the field at least once in your life.
How to get to Ballon Fiesta Park:
Drive there and park. Gather the kids in their PJ's and tell them you're going on an adventure in the dark! Grab yourself some coffee and your sunglasses (don't forget your sunglasses), get in the car ridiculously early, and drive yourself to the park. THIS IS MY PREFERRED WAY!
Park and Ride. There are three official places around the city where you can park and ride a shuttle to the park. This is great in theory since it includes your park ticket, and takes away the stress of sitting in a line of cars and driving, but I personally feel less in control this way and like to make sure I'm at the park early enough. *Also, it is not operational on Mondays, Tuesdays, or Wednesdays. See more info about it here.
Ride your Bike. There's a bike valet system in place where you can ride and park it for free!
Other Places to See the Balloons
As I said, you can truly see balloons from anywhere in the city. There's no set way they float or place they go, so as long as you are flexible, drive around and see what you can see.
Here are a few great lookout spots to keep in mind (that also have a park for kids to run around):
Quick Tips for Taking Kids to the Balloon Fiesta
Before we get into the fun stuff with all the things for kids to do at the balloon fiesta, let's go over some quick nitty-gritty tips that may save you some frustration.
Always have a Plan B.
Launching balloons rely 100% on weather conditions. And even though October is the optimal time for the festival, weather happens and the festivities often get canceled. Have a Plan B in mind for your day, and talk to your kids about the fact that sometimes plans might change.
It can be LOUD and SCARY for kids.
If you're not familiar, hot air balloons inflate and stay up in the air with (you guessed it) hot air. And in order to get that hot air, it takes actual fire. The whole process of inflating the balloons can be sensory overload for little ones.
Consider bringing kid-friendly headphones for little ones, and explaining the process ahead of time. If you see a balloon standing upright and inflated, keep in mind that they have to keep the balloon up by occasionally igniting its burner.
There will be A LOT of people.
If you're taking kids to the balloon fiesta I highly recommend doing a few things for their safety and your peace of mind"
Tag Your Tots (see pictures above). On the main street parallel to the food vendors, you'll see a giant New Mexico State Police RV set up. You can register your kids with their and your information. They'll get a wristband, and if anything should happen, the state police will know exactly how to get in touch with you.
Write your phone number on their arm in pen or sharpie. Pro tip: start teaching your kids to memorize your number now!
Talk to your kids—even the young ones—and tell them what they need to do if they separate from you. Our go-to is that I tell them to look for another mom who has kids with them and tell her that they're lost and that she'll know what to do. I also say that if they can't find a mom, to look for a police person (and they'll know what the uniform looks like since we've already stopped by the APD section).
Have a meeting place. The balloon fiesta park is HUGE, but if you have older kids and can agree on one large landmark, let them know where you will go if you lose sight of one another.
Dress for the occasion.
I'm talking layers, closed-toe shoes, and possibly even hats and gloves. And don't forget the sunscreen. If you're going to an early-morning launch at the park it will be cold and dark in the mornings, but once the sun comes over the mountains it'll warm up quickly.
Curious about what else you should bring to the balloon fiesta? Check out my complete guide here.
Obey the Zebras.
Say what?! The "zebras" are official balloon helpers wearing white and black striped outfits (hence the nickname "zebras"), and they rule the balloon fiesta land.
They help direct crowds stay out of the way when a balloon is inflating and ready to launch, so if they tell you or whistle at you to move, you need to scoot your butt ASAP!
Keep them contained.
I know it's a balloon fiesta "park" but there really will be A LOT of people around, and it'll be very dark and early if you go in the morning. Even if they might not use a stroller anymore, you might want to bring one just to keep them from running around. (The last time we went my kids were old enough to skip the stroller, but I was so thankful I brought it. They sat in it when the grass was wet, it was a great place to store all our stuff, and two out of three of them even fell asleep in it!)
If you're not bringing a stroller, consider a baby carrier. Bonus for a carrier: it'll keep both of you warmer.
Note: if you do the Park & Ride, keep in mind you'll have to fold up a stroller and carry anything you bring with you on/off the bus.
Skip the crowds.
If the thought of taking your kids to the balloon fiesta park is more overwhelming than fun, skip the crowds and head to Vista Del Norte Park it's not a guarantee, but the balloons very often fly over (and sometimes land) here.
Fun Things for Kids at the Balloon Fiesta
The Albuquerque Balloon Fiesta can be a kid's dream come true. Larger-than-life special-shaped balloons, balloons as colorful as the rainbow, and balloons from all around the world all come together for this event.
Here are some extra fun things for kids to experience, do, and see at the balloon fiesta.
Albuquerque Aloft
This event takes place the Friday before the balloon fiesta starts, and it's specifically geared towards kids and the community. Pilots will either launch or tether their balloons at multiple (sometimes dozens) elementary schools around Albuquerque, specifically to give kids an up close and more intimate look at the balloons.
You do not have to be a student/family member to attend. You just have to know where to go and get there early enough to experience it.
Keep an eye on this page for info on where the 2022 locations will be.
Kid's Day
There are specific "kid's days" at the balloon fiesta, which also coincide with the special shapes rodeo. Alllllllll the special shapes inflate on the special shapes rodeo days. It's a ton of fun for kids of all ages.
For the 2022 balloon fiesta, kids' day is Thursday, October 6. Kids can get a goodie bag as they enter through the main gate and enjoy all the extra fun special shapes.
Collect Balloon Cards
This is one of my kids' favorite things to do at the balloon fiesta. (Almost) Every pilot will have cards featuring their balloon on them, including the name of the balloon, where they're from, and sometimes a little info about the balloon.
Kids (and grown-ups!) can ask for their cards; they're more than happy to hand them out. Sometimes their helpers will have a stack of cards on hand, too.
My kids love looking at all of them after the fact to see how many they got.
Collect and/or Trade Balloon Pins
This is a tradition that I sadly never took part in but always looked at in awe from afar. You will see hundreds (maybe thousands?) of balloon pins up for sale and for trading. Keep an eye out for Steve Stucker—a local weatherman wearing a balloon hat and dozens of pins on his jacket. He's a balloon fiesta icon and a joy to see.
This video explains the balloon-pin trading excitement a bit more.
Chase (And Help) the Balloons
Chasing balloons was one of my absolute favorite things to do as a kid at the balloon fiesta (and spoiler alert: it's still one of my favorite things as an adult!). Chasing balloons is exactly as it sounds: around mid-morning when the balloons start to land, keep an eye on them and follow them around until they land.
But it's more than that. You get to help bring the balloons down safely. Grownups can help with that part, but they let kids help with the process of deflating the balloons. In all my years of going to the balloon fiesta (including being a kid), I can only think of one specific time when we asked if we could help and someone said no. So if you see a balloon that just landed: Ask if your kids can help. 9.99999 times out of 10 they'll say yes!
I go into more detail about balloon chasing, along with tips, in this post.
The Balloon Discovery Center
Once you're inside the balloon fiesta park gates, make your way to the north end of the field and find the Balloon Discovery Center for some hands-on balloon fun. Learn about everything from how a basket is made and how the weather creates a "box" for balloonists to touching an actual balloon.
See more info here.
Count Balloons
While this is an activity more for the younger kids, older kids can help the little ones with it (which gives you more time to stare in awe at the balloons!).
The idea is simple: try to count how many balloons there are. How many are in the sky? What about, how many animals do you see? How many have more than five colors? You get the point. There are a lot of possibilities with this.
Go on a Photo Scavenger Hunt!
Let your little one borrow your phone (or use an old phone on airplane mode) and see if they can find everything off this balloon fiesta scavenger hunt!
When all is said and done, you'll have some fun photos from your time at the fiesta.
Play on the Field
After the balloons launch and leave the field (especially if they don't come back to land), you'll suddenly find yourself with a gigantic open field. Let your kids run around and enjoy the extra space.
Most people leave as soon as the balloons all leave the general area, but there are usually bands still playing and events still going on (like chainsaw carving!), so don't feel like you have to leave quickly.
Go Up, Up, and Away!
If you have older kids, consider actually going on a balloon ride. It's unbelievable and unlike anything you've ever experienced. The company we've flown with accepts kids over the age of 6, HOWEVER…the gondola is quite tall.
My oldest (8 years old at the time of our flight) would have had a hard time seeing over it. So even though my middle and oldest kids could have technically flown with us, we decided to wait until they were older (and by "older" I really mean "taller).
What to do With Kids After the Balloons Land
Once the balloons land and deflate, have no fear: there are still plenty of things to do with kids in Albuquerque.
Here are several ways to pass the time:
Looking for even more things to do in Albuquerque? Check out my ultimate guide to Albuquerque with insider tips on places to eat, explore, and enjoy during your time in the Land of Enchantment.
Where to Stay as a Family at the Balloon Fiesta
Places in Albuquerque book up fast for the fiesta, so book something ASAP. While you can see balloons from the entire city, if you want to be close to the field where they take off, you'll want to stay in the northern part of the city.
Here are some places we've stayed as a family that I personally recommend:
There are so many possibilities for where to stay. Find a place here:
Have you taken kids to the Balloon Fiesta before? I'd love to hear about your experience!
---
More Posts About Albuquerque and the Balloon Fiesta:
---
---