Review of Center Parcs De Haan in Belgium
When my in-laws said they were flying into Brussels on a Friday, we had the grand idea to turn that weekend into a mini holiday for our family. Since it was the end of summer I figured it'd be the perfect time to hit up the Belgian coast, and I was thrilled when I found Center Parcs De Haan in Belgium on the map.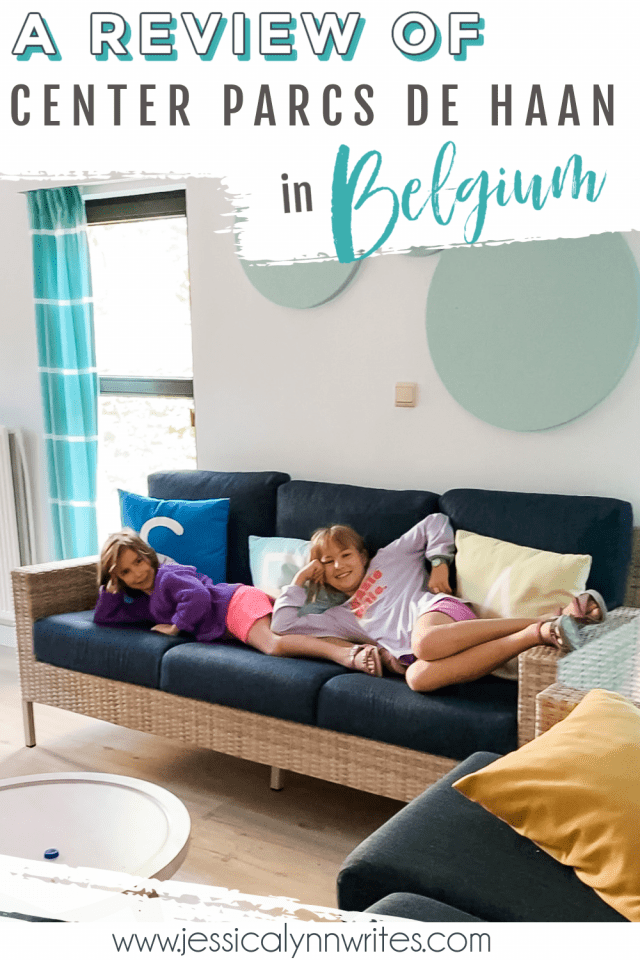 Since my kids love Center Parcs (the Aqua Mundo water park, to be exact), they were totally on board with this idea.
Plus, I got to check off another city on my list while we were there, too, because Bruges is only 30 minutes from De Haan and the Center Parcs is less than an hour away from Ghent. Not only that, but you can also spend an afternoon going giant troll hunting in Belgium!
READ NOW: How to spend one day in Ghent!
I took advantage of a last-minute deal and booked an 8-person cottage for the seven of us, and basically wiped my hands of that trip. I love staying at Center Parcs because it's truly a little mini vacay for everyone and requires hardly any planning once you book a cottage.
So, if you're considering staying here, too, here's my quick review of the Center Parcs De Haan location.
*Note: I'm sorry for the lack of photos and the quality of some of the ones featured in this post; I usually take more but didn't this time. Some pics are from screen grabs off videos, which is not how I normally do things.
**We were not compensated in any way for this stay/review. All thoughts and opinions are mine.
Our Overall Thoughts on staying at Center Parcs De Haan
I'll just jump in with our opinion on staying at Center Parcs De Haan right off the bat.
Did we like it? YES.
Do we recommend it? YES.
With the exception of a plumbing issue (see below), we thought this was a great stay. The location was great especially if you make it a hub for exploring the coast; the property was also great, and the price was great. We love that Center Parcs is more than just a place to stay since so much more is included. All in all: it was great.
We stayed from Friday evening until Monday morning, and we had other things to do during the day (spent some time at the beach, visited Bruges, and found some awesome giant trolls).
While the kids loved Aqua Mundo and the indoor play place I will say that this location was on the smaller side, and I think we may have been bored if we were there for longer than a weekend.
However, it's a great "hub" for a (long) weekend with the intent to also spend time outside of the property around other cities within Belgium.
What is Center Parcs?
Okay, let's talk about this place. In case you're not familiar, Center Parcs is a family-friendly, holiday oasis in Europe. Each location has accommodation for groups (this one had a cottage for up to 12 people), a giant waterpark* with kiddie pools and slides (included in your stay!), relaxing nature all around you, restaurants, and a grocery store on-site; plus they have activities for everyone, bikes to rent, playgrounds galore, and dozens of locations to choose from in multiple countries. ⁠
*I've noticed a couple of Center Parcs don't actually have the Aqua Mundo, so double-check yours does before booking.
⁠
Seriously, it's a perfect spot for a staycation or a family getaway. ⁠
NOTE: there's no free childcare included (like at a kinder hotel), but there are tons of things for kids of all ages to do (some have a fee)….and the awesome free water park, of course!⁠⁠
Quick Tips for Staying at a Center Parcs
I always like to include these quick tips with super important info that I really want you to know. So I may touch on it again later, but for now: make sure you read and remember this stuff!
You check in from your car. You read that right: you check in from your vehicle, so make sure you have your stuff (reservation number and/or cottage number) handy and ready to go as you pull up! You'll get a wristband for every member of your party that will allow you to get into your room and into Aqua Mundo.
Check the check-in time. If you're early, they won't let you go to your room unless you've paid extra (or have stayed at least once before and opted in for early check-in when you booked your stay). You can, however, go to Aqua Mundo, so pack accordingly and have your swim bag handy.
Center Parcs is car-free. They let you drive your vehicle to your cottage to drop off luggage, and then you have to park in the parking lot assigned for the duration of your stay. When it's time to go, the gates open and you can drive back in to pick up your stuff.
Personal opinion: it's worth looking at a map before booking and (possibly) paying a little extra to pick a specific cottage. Speaking from experience, it can be a long walk from the parking lot and/or Aqua Mundo to your cottage, which is only amplified by whiney children. Just saying…
Where is Center Parcs De Haan
The Center Parcs De Haan is located on the coast of Belgium near the town of De Haan.
It's also only about 30 minutes by car* from Bruges, one of Belgium's quaint canal towns. *You can take the train and then that's only about 15 minutes away, but you'll have to walk or drive to the train station.
As you can see, Center Parcs De Haan is a highly desirable location, which is the reason why we stayed at this particular location.
Getting to Center Parcs de Haan
I mentioned this above, but it's best to arrive in a vehicle. Not only do you need to have a fair amount with you, but it's slightly off the beaten path.
There is a translation nearby, but you'll want to hire a car to take you to/from the station.
Coming from…
Geilenkirchen NATO Air Base/JFC Brunssum: about 3 hrs away
Spangdahlem Air Base: about 4 hours away
Ramstein: about 5 hours away
Brussels: about 1.5 hours away
Bruges: about 30 minutes away
Ghent: about 1 hour away (all the fun things to do in Ghent)
Amsterdam: about 3 hours away
When we Stayed There
We stayed at Center Parcs De Haan in late August 2022 for a weekend (Friday—Monday). We lucked out with an absolutely gorgeous weekend with no rain, bright sunshine, and wonderful temps.
Then again, we were so close to the coast, which I'm sure helped with keeping those temperatures low.
Our Cottage at Center Parcs De Haan
There were seven of us total for our stay at Center Parcs De Haan. My in-laws were in town visiting us, so we all (four adults and three kids) stayed in a cottage fit for eight people.
We stayed in their "Comfort Cottage," and I think the size was perfect.
The main floor had a toilet room, bathroom, bedroom, living room, and kitchen. The kitchen was stocked with just about everything we needed, but I was happy I brought extra kitchen things with me—they always come in handy.
Upstairs there were three bedrooms and a bathroom. So we stayed upstairs and my in-laws took the bedroom downstairs.
The rooms are snug; there's no denying that, but all of our stuff fits in their provided wardrobe.
I also liked that the hedges around each cottage were quite tall and provided a lot of privacy. The cottage also came with an outdoor table, chairs, lounge chairs, and umbrellas to use, too.
While the cottage had been updated (it was furnished nicely and we liked the seaside decor), we had a problem with the plumbing and our toilets backing up.
We put in a maintenance request and it was fixed by the end of the day (we were out for most of that day), but the problem did start again the morning we left. Totally gross, and if we stayed longer we would've asked for a partial refund or move cottages.
This is an older place with lots of cottages to keep up with, so keep things like that in mind. You're not staying at the Ritz…sh*it can happen here…literally.
What to Bring to Center Parcs
Not sure what to bring to Center Parcs? I can help you there! Grab my Center Parcs packing list printable and check out this post to help you plan, too.
Fun Stuff for the Family
Here's what I love about Center Parcs and why it's different than any place we've ever stayed at in America: it's truly all about family here.
This particular Center Parcs was on the smaller side but still managed to have so much.
There's a large playground, a smaller playground a lake (not sure if you can utilize the lake but you can get a lake-view cottage for six people), a huge indoor playground, and activities throughout the day/evening for all ages.
There is also a petting zoo area and they had a summer party area set up with movies every night.
Extra Fun Stuff at Center Parcs De Haan
This particular Center Parcs seemed to be lacking in the extra (paid) things to do, but since we were only there for a weekend, we didn't mind.
You could pay extra for bowling and renting bikes/golf carts/scooters.
Aqua Mundo
This is my kids' favorite part of staying at Center Parcs, and we (grown-ups) kinda love it, too. Aqua Mundo is included in your stay, and it's a giant indoor/outdoor waterpark.
Here were our favorite things about this Aqua Mundo:
The inside slides. There were only two of them, but they were super fun. Actually one was a little too fun for me to handle…I went on it once and chickened out any other time. The girls (7 and 9 years old) and my husband LOVED it.
The outdoor "river". This one was SO much fun. It was like an outdoor winding river that you could go on. All five of us loved it and went on it again and again and again.
The indoor "lazy" river. There are jets pushing you along this lazy river, and it is a combination of relaxing and fun.
The waterfall. The big pool had a waterfall that was periodically turned on. The older two loved it.
This Aqua Mundo had an indoor (wave) pool, but it was on the smaller side and the kids didn't care about this one as much.
There was also a smaller indoor relaxing pool area and an indoor little kids' section. The outdoor pool was also delightful since the weather was nice.
Good to Know About Aqua Mundo
The first time you do/experience something (especially in a new country) can be a little weird, right? I had no idea what to expect for Aqua Mundo our first time, so hopefully, this will help you.
Your wristband will get you into Aqua Mundo. Once you're there, you can go into a changing room (they have family stalls; you just have to look for them or split your family up if the stall available is too small). Once in there, take off your street-clothes layer and/or get your swimsuit on.
Take your shoes off in the changing stall, too.
Carry your things (in a bag or in your hands…you do you), out of the changing stall and find an empty locker. Throw your stuff in there (we keep our swing bag out with towels, goggles, floaties, etc., and just put our shoes and clothes in the locker). Then you'll use your wristband to lock the locker.
It's wristband-sensitive, so whoever is locking it is the only person who can unlock it!
Once your stuff is secure, head into Aqua Mundo and find a table/chair(s). Honestly, we spend 98% of our time playing and only need the chair at the end as a place to towel off.
You can take floaties, toys (beach balls, etc.), and goggles into the water with you.
The Food/Shopping at Center Parcs De Haan
One great thing about Center Parcs is that you truly don't have to leave the property to have a vacation, and that includes eating. There are several restaurants (five, actually) and a grocery store. You can even pay ahead of time and get meals included when you book your stay.
Aqua Cafe (casual within Aqua Mundo)
Frites & Burgers (it's in the name! Burgers, fries, milkshakes, chicken nuggets for the kids)
Grand Cafe (sit-down restaurant with a decent menu)
Il Giardino (Italian food with pizza to go, too.
Market restaurant (all-you-can-eat buffet)
Personally, I find the restaurants to be slightly overpriced at Center Parcs, but there is the convenience factor at play if you're looking to "eat out." We've eaten at Center Parcs for dinner before but didn't this time, so I can't speak to the food here.
Typically we'll bring our own food or we'll make it a point to eat out at a local restaurant.
For this trip, we only ordered drinks one night while the kids played at one of the playgrounds. The other times we ate outside of Center Parcs.
Grocery Store on-Site
I've gotta admit that I'm thoroughly impressed with the grocery stores on Center Parcs properties. They have all the necessities (and then some!), and the prices seem pretty on par with what you'll find at a regular grocery store.
This is super handy for things you forgot to bring, spur-of-the-moment snacks you might need, or ingredients to make a complete meal.
What to do in/around De Haan
When you make your way to Bruges, here are some fun things to do there:
If you make it to Center Parcs De Haan in Belgium I'd love to hear your thoughts on it!
Other Posts You May Enjoy:
---