2022: Our Year of Travel!
Wow. Last year, 2022, ended up being much more than I could have imagined. When we knew/found out we were moving overseas we had grand plans of traveling…and that was all put to a halt for the pandoozy.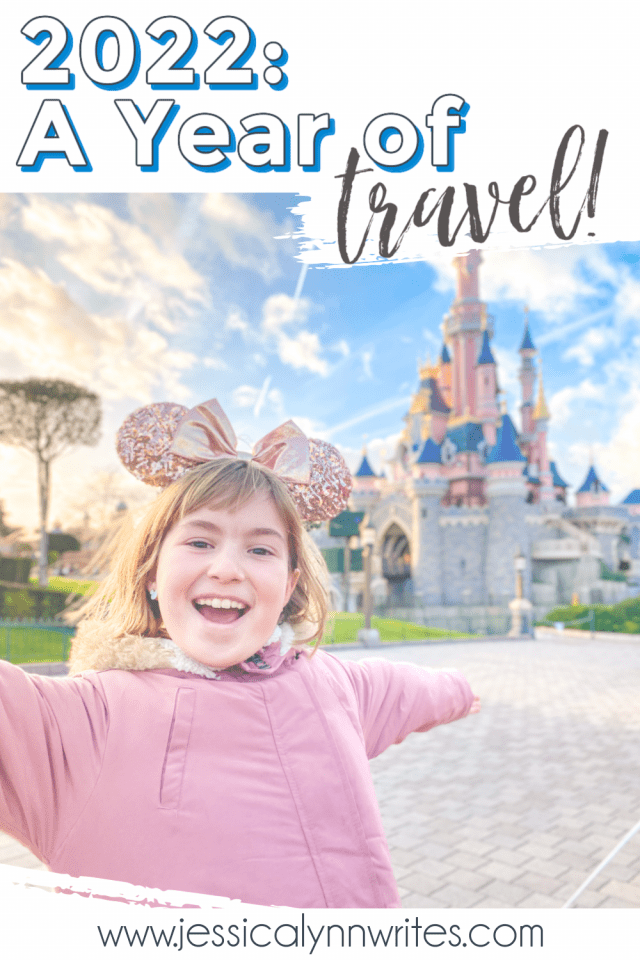 Moving to Germany in 2020 will forever be one for our history books, and while we did travel, we made a lot of hyper-local trips. During 2021 we managed to get out a little bit further during the end of spring, summer, and the beginning of fall (but never out of the tri-border region), and then we went right back into lockdowns.
Basically, as soon as the clock struck 12:01 on January 1, 2021, we hit the ground running…and never stopped. We welcomed 2022 in Austria and we closed it out by welcoming 2023 in France.
To say that I'm grateful for these experiences would be the understatement of a lifetime. Not only that, but I realize that the majority of the trips we went on were once-in-a-lifetime opportunities.
Of course, the kids don't realize that yet, but our hope is that they'll remember bits and pieces of these adventures as they get older. We're already seeing them recall earlier trips when we go to other places, and I'm so thankful that some things are sticking.
2022: Year in Review
Shockingly, we ended up going to 16 countries in 2022. SIXTEEN! I was pretty shocked when I started adding them all up. My husband went to 18, but two of those extra countries were for work. They'll count for his personal tally, but not as a family.
Ten (10!!) of them were new countries for me. Once again, I know I'm a broken record, but I'm so thankful for this opportunity!
So without further adieu, I wanted to go over what 2022 looked like for us:
January
Welcomed in 2022 from an amazing Kinderhotel in Austria
Kenny was out of town for the second half of January
I celebrated turning 38
Traveling with kids? Read more about Kinder Hotels here!
February
Kenny was (still) gone for the first half of February.
Maddie turned 7 with a small party at our house.
We celebrated 12 years of marriage…with a sick kid—no anniversary date for us.
We took our first flight out of Germany and headed to Sicily, Italy!
March
Spent a week in Italy—much needed during the dark German winters. The pandoozy measures were still taking place; we all got a deep swab as soon as we landed.
We went up an active volcano, ate tons of pizza, and had delicious wine.
Julia turned 8, but she got sick so we didn't have a party.
The whole family got sick (after two years of avoiding it, Covid finally found all of us)
March was a very long month at home; I was the last one to get it just a few days before the month ended.
April
Logan had an allergy test where they determined he is not allergic to salmon anymore. (He was diagnosed with a salmon allergy when he was a year and a half.)
Celebrated Logan's fifth birthday by getting on a plane headed to Spain!
We spent a fantastic two weeks going on a road trip around eastern and southern Spain and Portugal. See our entire itinerary here.
May
We visitors! Kenny's aunt and cousin were doing a river cruise through Europe and spent some extra time with us. We saw the tulip fields and checked out the charming town of Giethoorn, Netherlands.
Towards the end of the month, I went on a girls' trip to Porto, Portugal for a weekend. It was my first "solo" trip in a very, very long time, and it was so fun to travel with friends!
Julia ran her first 5k with her school's running club.
June
We did a day trip to Belgium and went Troll hunting!
The day before school ended for the kids we took a train up to Amsterdam and got on our cruise ship. Destination, the Baltics.
We visited so many amazing places (that I still desperately want to write about): Poland, Latvia, Lithuania, Estonia, and Sweden.
The day we returned Kenny slept for four hours and then got on another plane for a work trip to Spain.
July
I found cheap(ish) flights to Spain, so the kids and I flew out to meet Kenny for a long weekend in Sevilla.
The girls got to go to a summer camp on base—they had a blast.
Kenny participated in an insane challenge: the Nijmegen March, a grueling four-day, 25-mile-a-day march. The kids and I stayed at an awesome Center Parcs near there, so while he marched, we played.
August
School started for the kids
Another set of visitors came in: grandparents! We went to Belgium for the weekend and explored Bruges. And yet again, stayed at a fun Center Parcs.
September
School sports and activities kicked up this month so we were busy during the week.
I took the girls to Paris for the first time. It was a girls' trip and it was AMAZING. We couldn't have asked for a better weekend! We made macarons, climbed the tower, and we sailed little boats.
October
We went to our very first Air Force ball! It was a lot of fun to celebrate with friends.
Took another epic road trip during the kids' fall break. We went to Austria, Hungary, Slovakia, the Czech Republic, and Poland. See our entire itinerary here.
Two days after we got back my friend flew over to visit! I met her in Paris, she hung out with us at home, we explored our local area, and then we spent a day in Amsterdam.
November
We celebrated Kenny's birthday!
My mom came out to visit for almost three weeks!!
Celebrated Thanksgiving early at home and on base.
The day after Thanksgiving we drove to Belgium to hop on a flight to Finland!
We spent a weekend in Lapland, and it was so, so, so incredible. Blog posts to come soon.
December
Went on another girl's trip. This time to the Champagne region of France for an incredibly fun weekend in Epernay.
I checked out a handful of Christmas markets this season: Bonn, Monsschau, and Düsseldorf, Germany; Mons, Belgium; Paris, France)
We closed out 2022 by going back to France. We stayed just outside of Paris at a fantastic Center Parcs near Disneyland Paris. We visited Versailles, Paris, and Disney, and then hung out at Center Parc's awesome water park the rest of the time. We just got back, so I'm still working on pictures from this trip.
And…that's a wrap on 2022. It sounds and looks exhausting, and while our trips were intense, they were all really great, and I don't regret doing as much as we did.
Here's a look at all the countries we visited:
🚗 Austria
✈️ Italy
✈️ Spain
🚗 Portugal
🚗 Netherlands
🚗 Belgium
🚂 France
🛳 Poland
🛳 Latvia
🛳 Lithuania
🛳 Estonia
🛳 Sweden
🚗 Hungary
🚗 Czech Republic
🚗 Slovakia
✈️ Finland
My only regret is that I didn't blog more this year. It's completely understandable—I'm a one-woman show on this blog after all and we clearly traveled a lot, but I hope I can carve out more time to share more from these trips.
We had several really big and intensive trips and posting those itineraries takes a lot of time.
My goal is to share more about our actual experiences from our travels. I shared a lot of snippets of them on Instagram, so I'll be moving those over here and into actual posts, too.
What's in Store for 2023
We don't have all of our trips planned out yet, but we do know some of them, and I'm excited.
Here's what's on the agenda as of right now:
February: Morocco
April: Scotland
June: road trip down to Austria and into Italy, then a cruise to Croatia, Greece, and a road trip back home through France
While I don't expect to visit quite as many new countries in 2023, I know whatever we do and wherever we go will be an adventure.
Your turn! I'd love to hear where you went in 2022 and what plans you have for 2023. Tell me in the comments 🙂