Lisbon Day Trip: See the Oldest Cork Tree in the World
So there we were, driving from Lisbon down to the Algarve. Two of our kids were passed out in the backseat—they fell asleep minutes after we left the city—and I was researching where to stop for lunch. ⁠Spotting a cork tree, was literally the furthest thing from my mind. But that's the joy of road trips: the unexpected discoveries.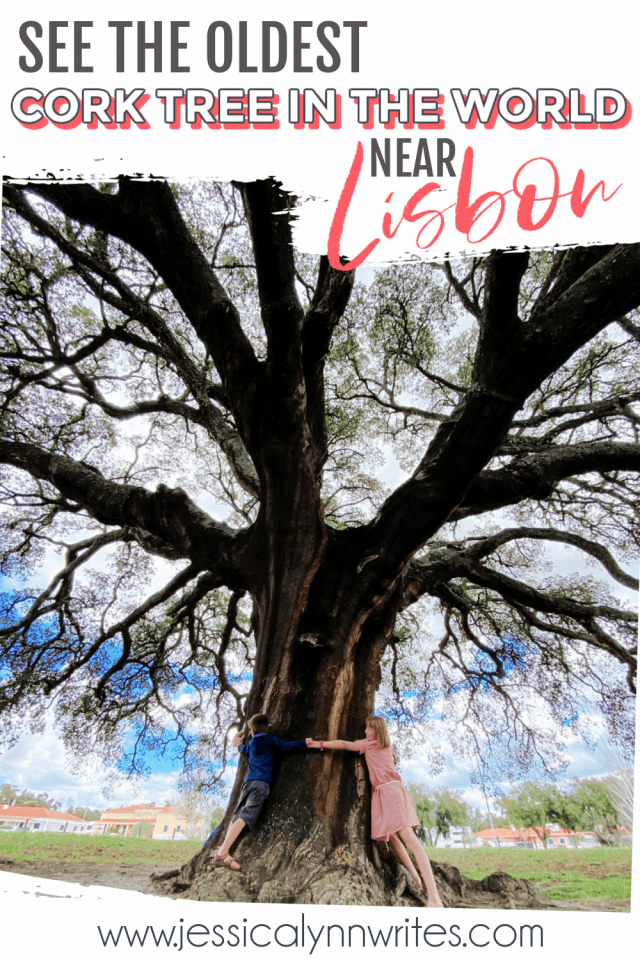 About thirty minutes outside of Lisbon I noticed the trees around us looked a little funky: they almost looked "shaved" halfway down their trunks.⁠
I didn't think much of it and went back to scouting out a place for lunch along the coast.
And then it clicked. A trickle of info I read when preparing for this trip came back to me all of a sudden: we were driving through Portugal's Alentejo region, aka "Cork Country."⁠
Welcome to Cork Country
I immediately ditched lunch plans and started reading about cork trees. It turns out that Cork trees are harvested every nine years and each tree produces around 100 pounds of cork from each stripping.
That's when I came across an article about The Whistler Tree—aka, the oldest-producing cork tree in the world. The Whistler Tree was planted in 1783 and has been going strong ever since.
Seriously, there's even a Guinness Book of World Records entry for it and everything. During its last harvest recorded in 2009, The Whistler Tree produced 825 kg (1,818 pounds) of raw cork.
Friends. That's enough cork to seal up 100,000 wine bottles. For perspective, the average cork tree yields enough cork for 4,000 bottles.
"How cool," I thought to myself, "I wonder if we could actually find that tree out here."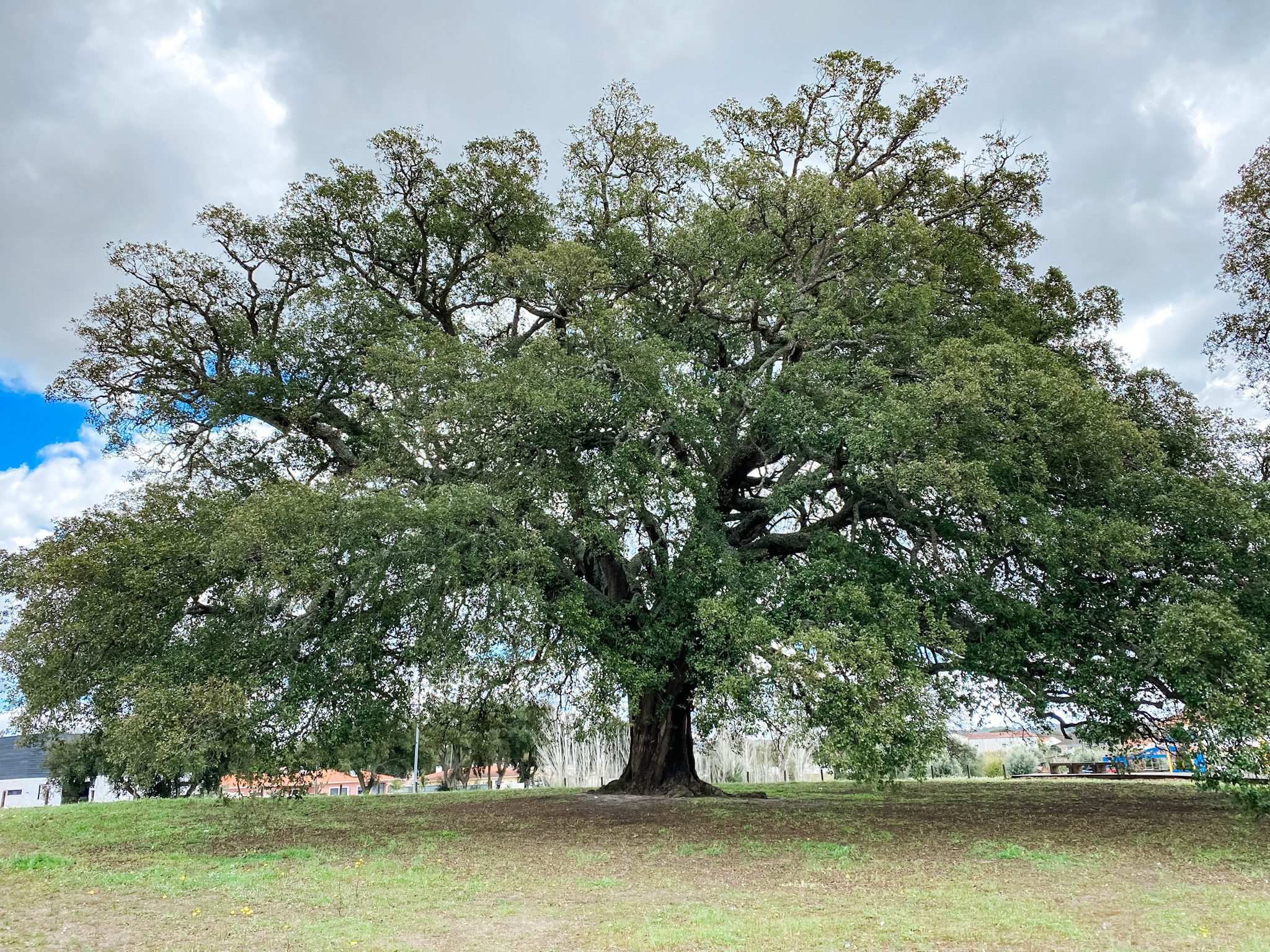 Finding the Oldest Cork Tree
Then I did as any good navigator with a data plan does on a road trip: I googled the Whistler Tree to see where it was located.
And then I let out a little yelp. ⁠(Emphasis on "little," because there were still two sleeping kids in the back seat.)
The tree was LITERALLY 3 minutes ahead of us on the left. ⁠
In fact, it took so long to pull up the dang directions (we were kinda in the middle of nowhere) that we actually had to make a U-turn and circle back to it.⁠
The timing was absolutely perfect, and I was shocked that we randomly stumbled on this incredible find. ⁠
We got out of the car (plus an extra kid who woke up from my excitement), and the four of us walked up to check out the magnificent tree.
There were no ropes, no signs, and no other people around. It was just us and this giant cork tree living its best life.
After a few photos, we hopped back in the car and continued on our way. Oh, and our middle kid slept through the entire thing. Classic.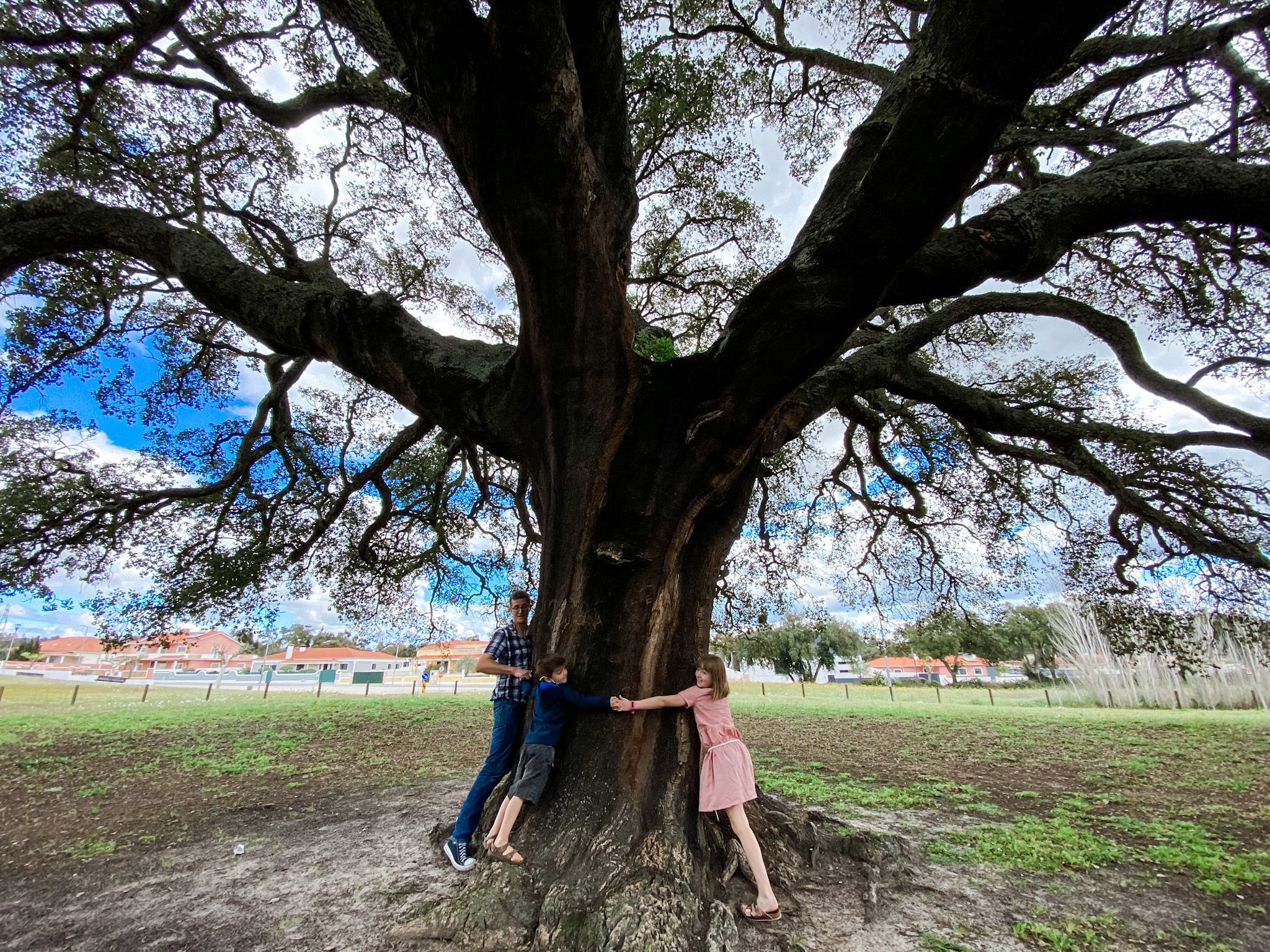 This was just another small part of our trip to Spain and Portugal that reminded us why we love road trips so much. (See our other fun detour during the same trip here.)
Why We Love Road Trips
The unexpected destinations and things you can see simply can't be beaten. Not only that, but I definitely haven't looked at cork the same way ever since we drove through the Alentejo area.
If you find yourself in Portugal with extra time on your hands, I highly encourage you to take a day trip from Lisbon to check out the cork trees. I wish I had some personal photos to show you (I was too busy geeking out and reading about the trees to take pictures of them), but they were really, really neat.
---
SHARE THIS ON PINTEREST
---
Other Portugal Posts You Might Enjoy⁠