The Absolute Best Places to See Tulip Fields in the Netherlands
I'm pretty certain that there's no better joy in the springtime than seeing rows and rows and rows and rows of brightly-colored tulip fields in Holland. If you're looking for the absolute best places to see tulips in the Netherlands, this is the guide for you.
Not only will I tell you about the most popular places to see some of the Netherlands' tulip fields, but I'll share some amazing off-the-beaten-path areas where you can see some of the most stunning tulip fields in Holland. And, of course, I'll share tips along the way, too.
Quick Tips For Your Holland Tulip Field Adventure
Finding and seeing tulip fields in the Netherlands with your own eyes is unbelievably breathtaking. But there are a few things you need to know and be aware of.
A Couple of more things to note…
PRO TIP: Bring cash with you when you visit fields. You'll often see little tulip stands or you-pick 'em fields to buy tulips.
Side note: If we find tulips already cut/pulled and on the ground, we do let our kids pick those up. So if you see photos of them holding tulips, it's because they're already on the ground. Before they pick one up they also have to ask us and show it to us on the floor. We make it a really big point to explain to them why we don't pick the fresh ones or step where we're not supposed to step.
The Best Time to See Tulip Fields in the Netherlands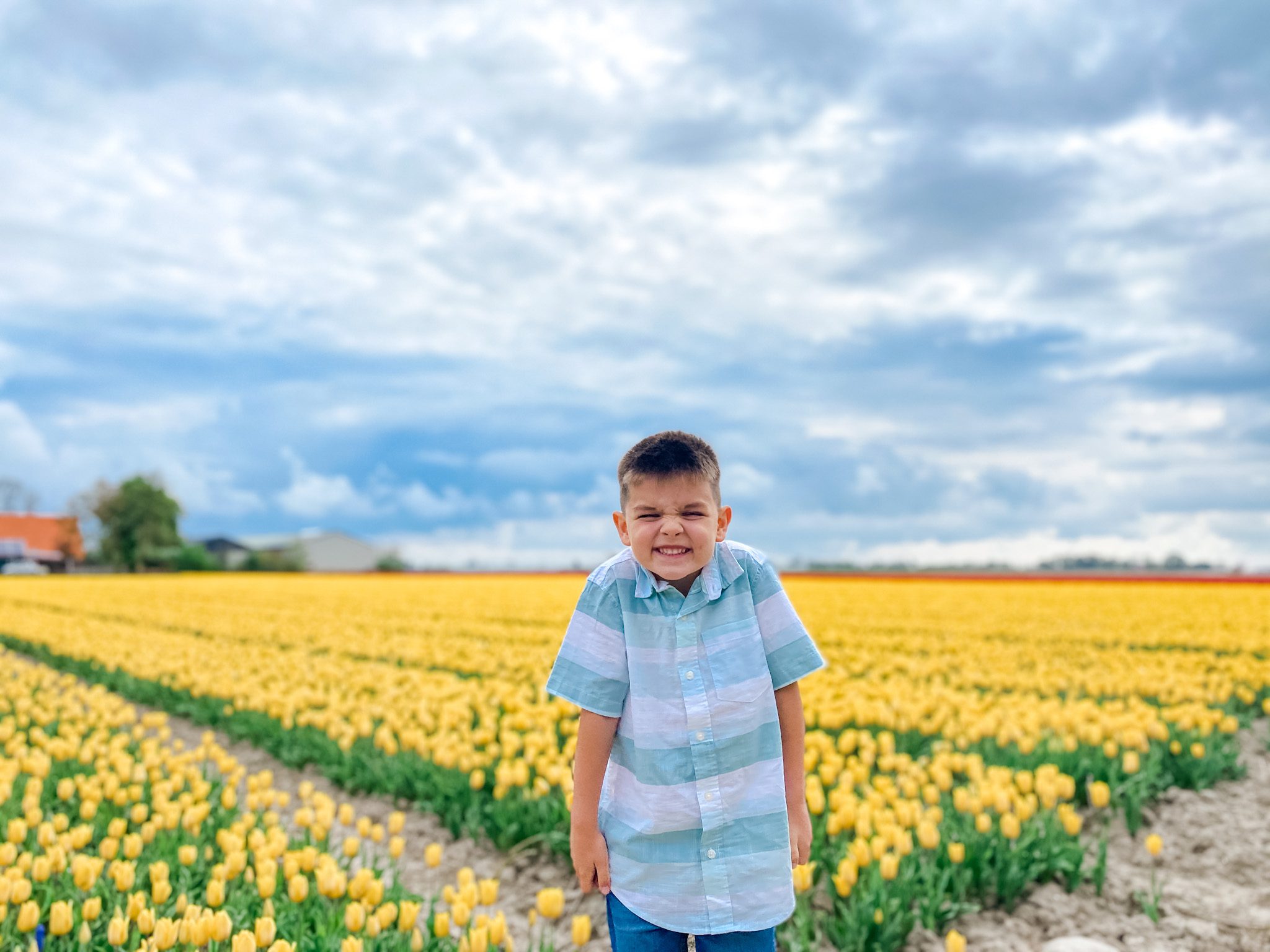 I wish there was an exact date to share with the best time for the Netherlands' tulip season. but a lot of it is dependent on the weather.
However, typically tulips in the Netherlands start blooming in mid-April.
Every year that we've been out to see them, they've started being harvested by the first weekend in May. There will still be fields up, but my recommendation to see Dutch tulip fields is to plan for the last two weekends in April.
But the window for the tulip season, aka when they're in bloom with all their amazing colors, is short; it's only about two-three weeks long.
If you want an up-to-date look at the Netherlands' tulip season and when the flowers are blooming, keep an eye on this Instagram page for a flower forecast, updated often between March and May.
When to See the Tulip Fields in the Netherlands
Like most attractions, I highly suggest going out to the tulip fields during the week. You'll find the roads and fields much busier on weekends.
If you can manage it, sunset is the best time for photos. If you go for some beautiful sunrise shots, keep in mind that it's still early spring and that means the sky can often look gray in the mornings.
PRO TIP: The Netherlands celebrates King's Day on April 27, right smack in the middle of the Netherlands' peak tulip season. This is a day off for the entire nation, and there are often parties happening everywhere, so places might either be closed or packed. I'd personally stay clear of the popular places on this day.
Where to Find Tulip Fields in the Netherlands
Okay, this is why you came here, right? To find out where to see tulip fields in the Netherlands?
My first, and biggest recommendation is to get in a car and drive. I know that's not always an option if you flew or trained in the Netherlands, but a car (or bike) is the best way to see them!
While Keukenhof (mentioned below) is the most famous place to see them, it will be packed there and you'll need a ticket to enter. If you want a more authentic—and free—look at tulip fields in Holland, then you'll want to get out of town.
Here are some amazing places where you can see some Dutch tulip fields around the Netherlands:
Goeree-Overflakkee
This was the first place we saw tulips in the wild during the first year we lived here, and it was amazing. Literal rows and rows of tulip fields in every color and in every direction.
Goeree-Overflakkee is a small island in Southwest Holland, and it's easy to navigate. You can get from one side to the other in 20 minutes. You'll find dozens of tulip fields on this island!
I wrote a full blog post about finding Dutch tulip fields during our adventure on Goeree-Overflakkee. Check it out here.
How to Get There:
Take a road trip and drive to Goeree-Overflakkee. It's about an hour and a half south of Amsterdam, and you can easily spend an entire day on the island.
You-Pick-'Em Shop:
Get yourself over to Bloemenliefde to pick and buy your own tulips.
Address: Hazersweg 56, 3253 XG Ouddorp.
Where to Stay:
The Tulip Route (AKA Tulpenroute) in Flevoland
This was a super fun trip that we did in conjunction with a weekend staying in the picturesque town of Giethoorn, aka the Venice of the Netherlands, and we combined it with eating at the awesome Hansel & Gretel Pancake House nearby.
Flevoland is a province of the Netherlands situated to the north/northeast of Amsterdam, and they embrace visitors by putting together an actual tulip route that starts in the town of Noordoostpolder.
From here, you can drive or bike (see rental bike info here) to see dozens of different breathtaking tulip fields in the Netherlands.
The dates for the tulpenroute for the 2023 tulip season are from April 21—May 7. This means that there will be an actual route (with small signs on the road) for you to follow that will take you from tulip field to tulip field.
Note: This site had a Google map of the tulpenroute from Noordoostpolder, which is what we used and followed. There is also a paid version (you can find info here) that will give you a map to other tulpenroutes in Dronten, Lelystad, and Zeewolde. We have not paid for or done these routes, so I can't vouch for them. If you try one, let me know how it goes!
The cool thing about going to the Flevoland area for their tulpenroute is that they have activities along the route. You'll find specific selfie spots, food and drinks for sale, and even music events.
How to Get There:
Take a road trip and drive to Noordoostpolder. It's about an hour's drive northeast of Amsterdam or just 30 minutes from Giethoorn.
You-Pick-'Em Shop:
De "Boerenshop" was a super fun stop to pick our own tulips, and the price was fantastic, too.
Address: Steenwijkerweg 26, 8316 RK Marknesse, Netherlands
Where to Stay:
The Bulb Area (AKA Bollenstreek)
Bollenstreek is the most famous area for seeing tulip fields in the Netherlands, but that also means that it's the most populated since everyone comes here.
The popular towns/areas within Bollenstreek for tulips are Lisse, Noordwijkerhout, De Zilk, Voorhout, Hillegom, and of course, Keukenhof. I found this handy flower map of all popular places.
If you're looking for fun/unique ways to see the tulip fields in the area, how about a boat ride, windmill visit, and lunch in a tulip field? Or if you want to move around more, take a guided bike tour of the tulip fields.
There are also several super fun-looking fields and tours in the area that welcome you to take pictures and get up close and personal (within reason) with the tulips; some of them even have props out for you to use. Check them out here:
If you know of any more fun places like this, let me know so I can include them!
How to Get There:
Since this is the closest spot to Amsterdam, you have lots of options for transportation. I'd suggest biking, hiring a guide, or using public transportation. If you choose to drive, get to the area early!
You-Pick-'Em:
Check out Annemieke's Pluktuin for fresh tulips that you can pick!
Address: Hillegom, Haarlemmerstraat 15a
Where to Stay:
See below for places in the area.
Keukenhof Gardens
While the Keukenhof Gardens might be the most well-known place to see tulips in the Netherlands, it's known as the Garden of Europe, what people might not realize is that it's more like a huge manicured garden. Keukenhof plants around 7 million flower bulbs annually and it's 80,000 acres big.
You will need tickets to enter, and there are paths that take you around Keukenhof. You will also see flowers besides tulips—these are smaller patches of flowers, not the rows of fields (the fields in the photo are not technically within Keukenhof). There are also multiple restaurants, activities for kids, bike rentals, tours, and even boat rides. As far as activities go at Keukenhof, you can definitely spend an entire day here.
If you only have a short time during your trip to the Netherlands to see tulips, then this could be your one-stop shop.
*Full disclosure: I haven't actually been to Keukenhof yet (I know, I know). We've enjoyed seeing tulip fields "in the wild" so much that we haven't felt the need to visit. But I have plans to visit this year, so I'll update this with more accurate, first-hand info ASAP!
How to Get There:
You can get to Keukenhof Gardens via bike, car, or public transportation. You can even go on a tour of Keukenhof like this one out of Amsterdam. I highly recommend checking their website before buying your entrance tickets and after you decide on your mode of transportation. They offer combo tickets that include transportation and entrance, and/or you can buy your parking pass online with your ticket, too.
You-Pick-'Em Shop:
There are shops within Keukenhof where you can buy flowers and bulbs. While not a "you pick 'em" site, you can still get beautiful blossoms.
Where to Stay:
Tulip Fields in Zeeland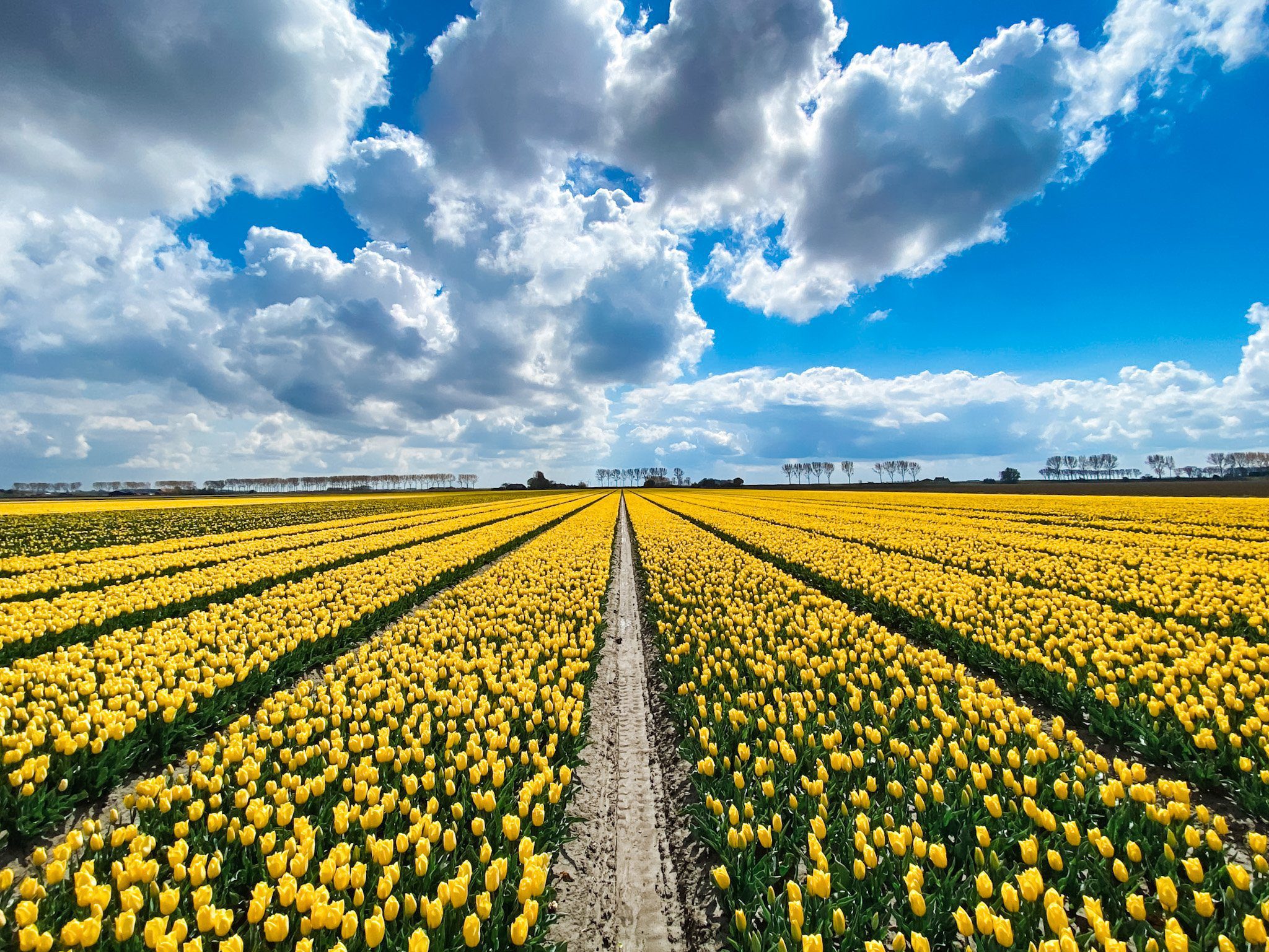 Much like its neighbor to its north, Goeree-Overflakkee, you're going to find tulip fields scattered all around these islands. Zeeland borders Belgium, so it's in the southwest corner of the Netherlands, making it a great spot to visit Germany or Belgium.
And the good news is since this is further from Amsterdam, the fields will be less crowded and a great way to see tulip fields in Holland "in the wild."
How to Get There:
Take your car! It's about a two-hour drive from Amsterdam, an hour and a half from Brussels, and around an hour from Ghent and Antwerp.
You-Pick-'Em Shop:
There are several flower pluktuins in Zeeland. Check out Pluktuin la Fleur
Address: Find the one closest to you here.
Where to Stay:
Tulip Fields in Northern Netherlands
If you find yourself in Noord-Holland (specifically, the little nook just north of Amsterdam), you'll be in tulip field heaven.
You'll see tulip fields in, around, and north of the Alkmaar area, so have your camera ready and your eyes peeled for some beautiful sights.
How to Get There:
Take a drive! Drive less than an hour north from Amsterdam and you'll start seeing tulip fields, if not before then.
You-Pick-'Em Shop:
Grab a bucket and scissors (provided) at Pluktuin Bakkum, and get yourself a (literal) bunch of tulips!
Address: Limmerweg 2, 1901 MR Castricum
Where to Stay:
Tulip Festivals in/around Amsterdam
With Amsterdam being the most well-known city in the Netherlands, it makes sense that there are tulip-related activities happening near there.
Here are some you might be interested in:
National Tulip Day
Happening on January 20, 2024 (the third Saturday in January)
Pick cut tulips for free in front of the Museumplein
more info here
Tulip Festival Amsterdam
From 23 March until 14 May 2023
Flowers will be in bloom all around Amsterdam
more info here
Flower Parade (Bloemencorso Bollenstreek)
From 19 to 23 April 2023
America may have the famous Rose Bowl Parade, but when you're in the Netherlands, they have a 42km flower parade route!
more info here
The Corso of Zundert.
First Sunday in September
So, this isn't about tulips (sorry!), but it's really cool and needs to be on the list. This is the biggest flower parade in the world.
more info here
Amsterdam Flower Museum
Open all year long (closed for King's Day and Christmas Day)
Learn all about tulips in the Netherlands
more info here
PRO TIP: If you're flying out of a Dutch airport you can pick up tulip bulbs to take home with you. These have already been cleared by customs, so if you want to bring some back with you, this is a great option.
Where to Stay:
Tell me About Your Experience with Tulip Fields in the Netherlands!
I hope this guide helps you plan your trip to see the tulips in Holland; it's truly a spectacular sight and something I wish everyone can experience with their own eyes.
Will this be your first trip out to see tulips in Holland or have you seen them before? Do you have any places you love? Let me know so I can add them to this guide! I'd also love to know if this resource helped you, so feel free to leave a comment.
---
SHARE THIS ON PINTEREST
---