Everything You Need to Know About Taking A Tuk-Tuk Tour in Lisbon
Going on a tuk-tuk tour in Lisbon was an absolute highlight of our entire trip, so much so that it makes me giddy just thinking about it again, and I recommend the experience to practically everyone I meet.⁠
Our family of five visited Lisbon during a spring break 2-week road trip around Spain and Portugal. We were in the city for three days, but we spent one of those days in Sintra. (By the way: I highly recommend a day trip there).
While I wish we stayed in Lisbon longer, two days gave us a fantastic taste of the city. And honestly, I think we fell in love all thanks to our tuk-tuk tour of Lisbon.
Quick Tips For Your Lisbon Tuk-Tuk Tour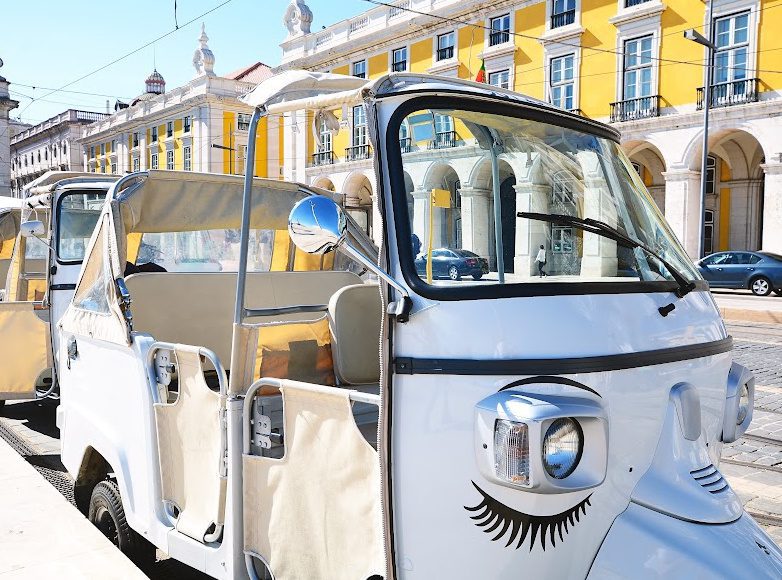 If you're looking for even more to do in Lisbon with kids, check out this post I wrote with tons of things to do in the city with a family. Plus, along with our tuk-tuk tour around Lisbon, another highlight for us was going to a tile-painting class.
What is a Tuk-Tuk?
I didn't know what a tuk-tuk was before I started researching our time in Lisbon, but now I'm obsessed and want to take one everywhere we go!
Not only are they cute—I think they look like little Vespas, but with an open-aired "car" attached to them in the middle—but they are pretty sturdy vehicles.
These rickshaws run on three wheels, and back in the day, they used to be pulled by a person. Now they're electric and can seat anywhere from 2-6/8 people depending on what size you get.
While most tuk-tuks are considered "open-air" because they don't have windows, they do have a roof and rain shields that can come down in case of inclement weather. The one we went on also provided blankets.
Why You Need to Take a Tuk-Tuk Tour in Lisbon
Why did we love a tuk-tuk tour in Lisbon so much? ⁠Oh, let me count the ways.
🛺 First
Lisbon is FULL of hills (think San Francisco-type hills), and as active as my kids are, they wouldn't have lasted 30 minutes. Okay, okay, I wouldn't have lasted 30 minutes. Our little tuk-tuk in Lisbon was like the Little Engine That Could, and it chugged up those hills like a freaking boss.⁠
🛺 Second:
We are huge fans of hop-on/hop-off buses when we're in a new city because I like that it doubles as your transportation and tour guide. But streets in Lisbon can get pretty darn narrow (and I already mentioned their hills). If we did a HoHo bus tour we would have missed out on all the cool stuff.
The fun part of being in the little motorized vehicle was cruising along those streets and being right where the action was. Not only that, but a tuk-tuk tour in Lisbon is basically like a mini HoHo bus.
🛺 Third:
You'll get to see all the top sights with a guide to explain it all to you, so it's an excellent overview of the city. ⁠On a HoHo bus, you get the audio-guide tour—if the seat you're sitting in has an outlet that works, of course—but this way you get insight from a local who loves their city.
🛺 Fourth:
A tuk-tuk tour of Lisbon was the perfect way to get a taste of the city which left me longing to see and experience even more. Seriously, I'm dying to get back there now. ⁠The sights, sounds, and just the feel of Lisboa are electrifying, and when you're in the tuk tuk you're right up there with all the action.
I could truly go on and on. My only complaint is that I wish we had our tuk-tuk for longer. We did a 2.5/3 hour tuk-tuk tour around Lisbon and I 100% wished we had it for at least half or a full day (I don't even know if that's possible). It was exhilarating.
The Best Tuk-Tuk Tours in Lisbon
You don't even want to know how many hours I spent—or how many tabs I had open on my laptop—before our trip looking and comparing different tuk-tuk tours in Lisbon. It was tiptoeing on the edge of being ridiculous.
So to save you the headache of trying to pick one, these are the best tuk-tuk tours in Lisbon—according to reviews. I did all the leg work, so now all you have to do is pick which one fits your time frame, budget, and age requirements.
Pro tip: If you're traveling to Lisbon with young kids, double-check the age requirements. I did my best to include them below, but a second glance wouldn't hurt!
The Best 1 or 2-Hour Tuk-Tuk Tours in Lisbon
If you're short on time and just want to ride a tuk-tuk to say that you've done it or to give your legs a rest, these are the ones for you:
The Best Half-Day Tuk-Tuk Tours in Lisbon
This is the option we picked, and it was excellent for a complete overview of Lisbon by tuk-tuk.
The Best Full-Day Tuk-Tuk Tours in Lisbon
This is what I wish we did. We didn't have time for it with our schedule, but I wished we had more time on our tuk-tuk in Lisbon when we were there, so I can only imagine that a full day would be perfect.
The Best "Themed" Tuk-Tuk Tours in Lisbon
If/when I go back to visit Lisbon I will most likely look into going on one of these, just to add a little variety to our stay. They sound so fun!
Enjoy Your Lisbon Tuk-Tuk Tour
Also, as I was trying to find pictures from our Lisbon tuk-tuk adventure to share, I realized that most of them aren't "picture perfect." They're all slightly off-center, someone is cut out of the frame, and it's definitely not set up the way I would've done it. I spent my time marveling at the city instead of trying to get perfect pictures (even when we stopped and got out). Sorry, but also not sorry; I was enjoying the moment.
That's what travel is all about anyway—actually *experiencing* a place, right? So just trust me on this and book yourself a tuk-tuk tour the next time you're in Lisbon!⁠
If you go on a tuk-tuk tour in Lisbon, I'd love to hear about it!
⁠
---
Save THIS ON PINTEREST