Our Fantastic Impromptu Family Trip to Tuscany
Spoiler alert: we weren't actually supposed to go on a family trip to Tuscany; we were supposed to bask in Africa's sunshine during a week-long trip to Morocco.
But sometimes plans change, and we've learned over the years that you've gotta roll with those changes. Thankfully, spending one week in Tuscany for a family holiday is a pretty excellent backup plan.
I'll share what happened with Morocco in another post because this one is about our impromptu family trip to Tuscany.
The bright side to not having much time to plan a family holiday to Tuscany is that you don't spend all your time and energy researching every last detail.
I'm hoping to put together an actual itinerary with all the things we did and all the details because all things considered, this family trip to Tuscany with our kids was actually pretty fantastic.
It would be so great to replicate it when the weather is nicer.
When we visited Tuscany
We visited Tuscany at the end of February 2023 with our three kids (ages 9, 8, and 6 years old at the time).
We had a short flight on RyanAir from Eindhoven, Netherlands, straight into Pisa, Italy, and then rented a car when we arrived.
Italy is fantastic any time of the year—you can never go wrong with visiting that gorgeous country. However, if I could pick any time to visit I'd probably skip the winter months.
The bright side to going on a family holiday in Tuscany during the winter months is that there are way fewer people! The streets were practically empty.
Our Family Accommodations in Tuscany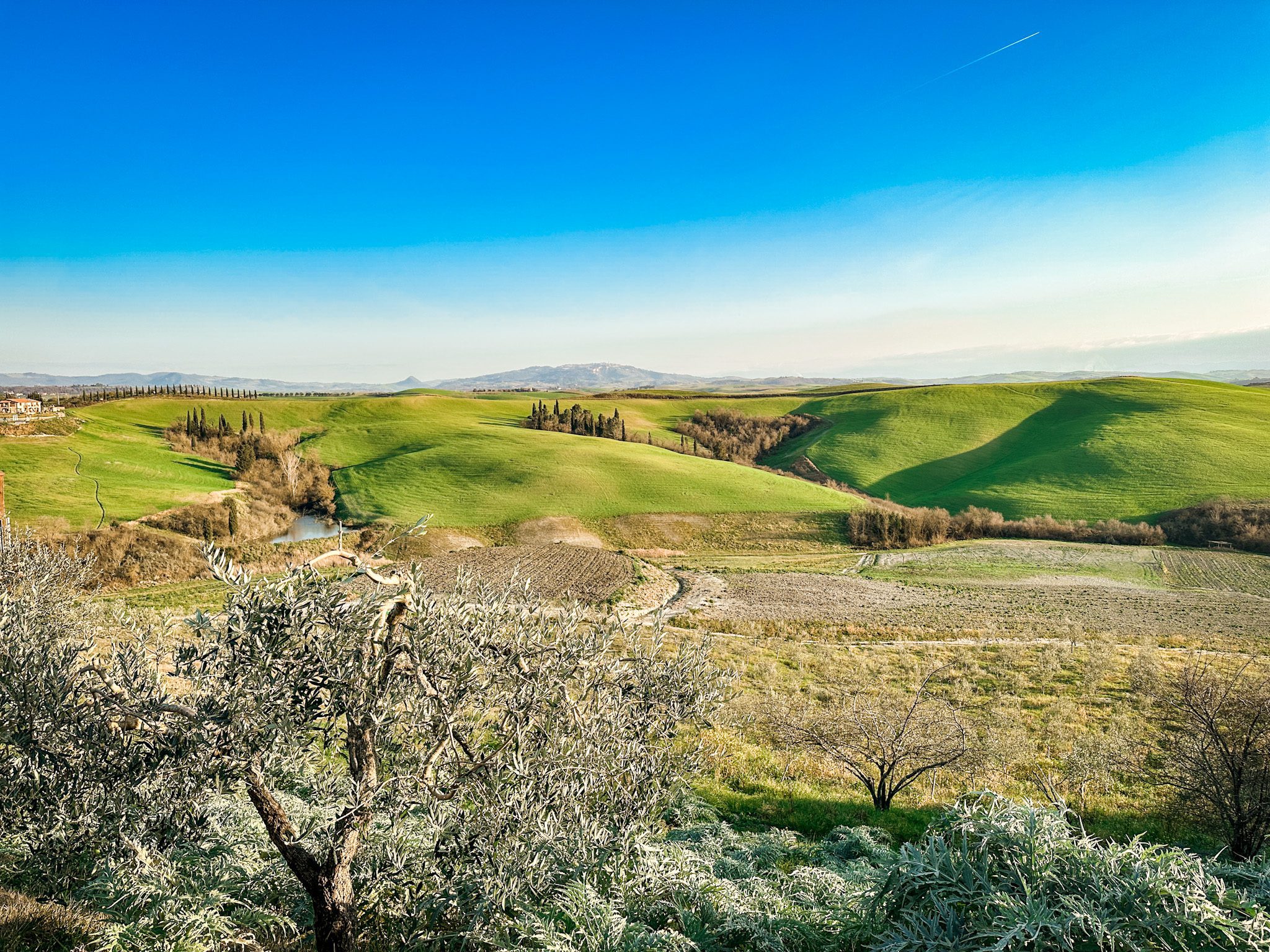 I ended up booking pretty much the first place I found—Agriturismo Diacceroni—a great family-friendly Agriturismo in the heart of Tuscany, about an hour southeast of Pisa.
And that was that. Other families who've visited Tuscany recommended it, so I didn't over-research and second-guess my decision, and it ended up being just what we needed.
We stayed in their two-bedroom apartment but probably should have sprung for the three bedrooms just to have a little more room for our family.
My only complaint (okay, there are two of them) is that the pillows could've been better, and the wifi never connected well. I could've (should've) asked for more pillows, and the internet and lack of TV ended up being fine; we read books instead of watching TV at night.
Their pool was closed (big bummer), but that feature would be amazing if you're in Tuscany with kids during the warm weather months.
Instead, my kids played at their ping-pong table and a little playground. They still had a great time.
They also have a restaurant, farm animals (you can ride horses), cooking classes, and other fun really fun experiences for families on holiday in Tuscany.
We said multiple times that we'd love to go back in late spring.
What we Did in Tuscany with Kids
Thankfully, my husband and I have both been to Tuscany on holiday before (about a decade earlier; before we had kids), so there wasn't a lot of pressure to see everything, and have to do it all.
This trip was relaxed and chill, which was nice to not have any expectations. And the nice thing is that we still did a lot of fun things around Tuscany with the kids.
Our Tuscany Family Activities
Here's a quick look at what we did in and around Tuscany for a week:
🔍 Explored Pisa, Florence, Cinque Terre, and Volterra. (We wanted to go to Sienna and Lucca, too, but ended up cutting them for relaxing and taking it easy instead of driving around more.)⁠
🥩 Dined at fancy restaurants (one planned-ish, one was not)⁠.
Trattoria Dall 'Oste in Florence
Il Cavalier Restaurant at Castello di Gabbiano
🍷 Drank cheap, delicious table wine⁠
🍝 Took a pasta-making class⁠ at our Agriturismo
🍕 Ate lots of pizza and heaps of pasta⁠
🛵 Went to a Vespa museum near Pisa (in Pontedera). If you know me, you know this was a HUGE highlight! Plan on eating at this restaurant before/after you check out the Vespas. It was fantastic.
🍷 Had a spur-of-the-moment wine tasting⁠ at Castello di Gabbiano. Fun fact: places in Tuscany don't open until March for the season, so we were a bit early. Thankfully someone saw us and graciously gave us a wine tasting. It worked in their favor since we had several bottles shipped to us; we love their wine!
🥾 Climbed the leaning tower⁠ in Pisa (get your tickets here) and the Duomo in Florence. We wished we also climbed the Arnolfo Tower at Palazzo Vecchio (the views are supposed to be fantastic).
🍑 Saw David's butt⁠
🍦 Enjoyed gelato every day⁠
🚂 Rode the train all over ⁠
🌊 Checked out Cinque Terre in the off-season. (Having been there twice before, in the summertime, I do not recommend going in the off-season. Almost every place was closed until the "tourist season begins in late March/April. There was also construction everywhere. Plus, the Cinque Terre Express train doesn't run as frequently.)
🪨 Glanced at where Carrera marble comes from⁠ on our train to Cinque Terre.
🚙💨 Drove through the windy Tuscan hills⁠
Find Even More to do in Tuscany:
Overall Thoughts on our Family Trip to Tuscany
With the exception of not going to some of the other more popular towns like Lucca or Siena, we had a really fantastic time as a family in Tuscany.
I think one week in Tuscany is pretty perfect; it's enough time to see popular places and also enjoy the surrounding area.
We ate all the food, drank all the wine, saw stunning sites, walked thousands of steps, and had a chance to relax and soak in the beauty around us.
I'm eager to share a full itinerary with all the details, so hopefully, that will come soon. In the meantime, feel free to comment and ask any questions about our trip!
Have you been on a family holiday to Tuscany yet?
---
SHARE THIS ON PINTEREST