Our Port Stop in Klaipėda, Lithuania
If you're taking a Baltic cruise and find yourself with a port stop in Klaipėda, Lithuania, then this post is for you. Klaipėda is a charming and beautiful seaside port with some of the nicest people, delicious food, and an easy-to-navigate layout of the town.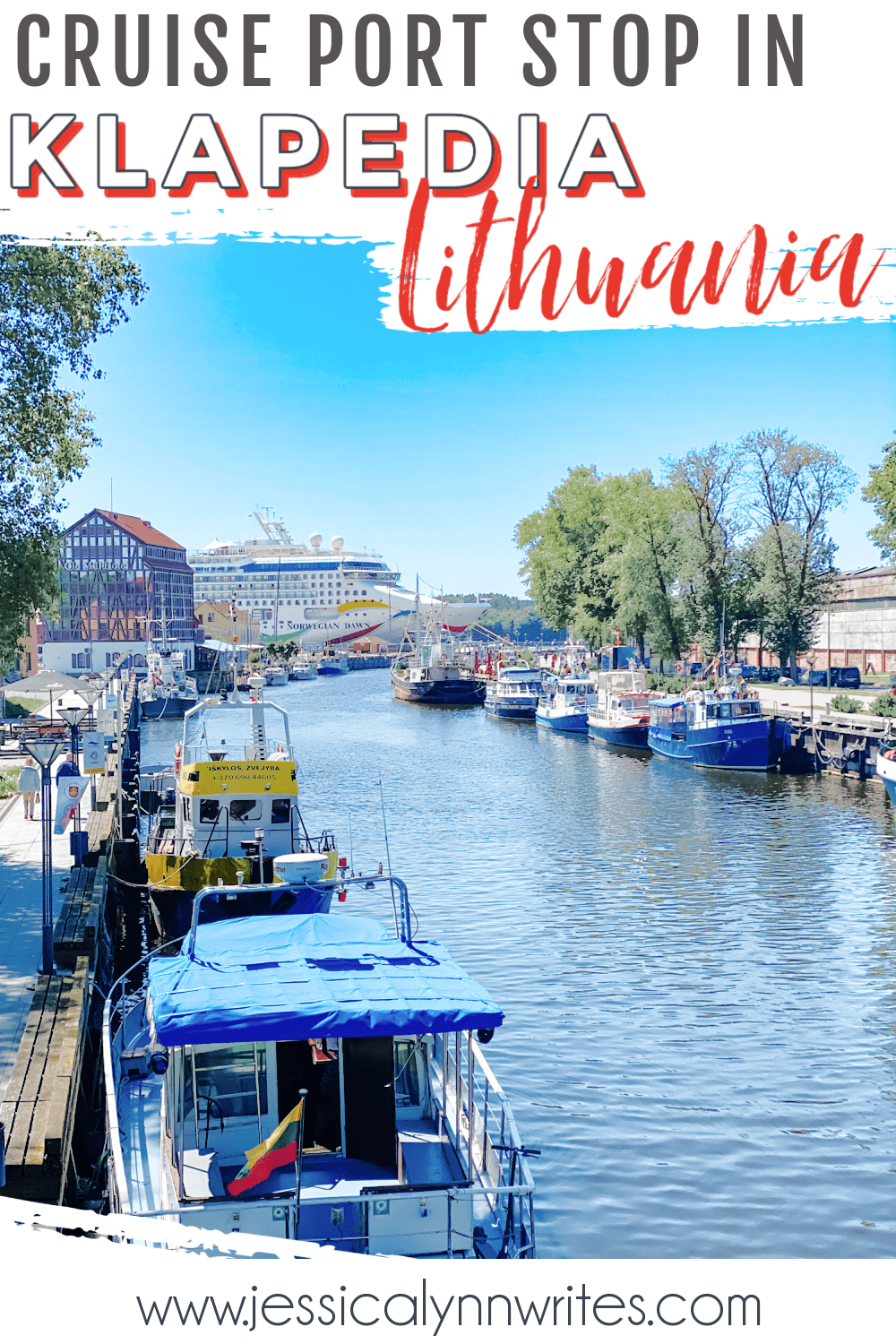 Not only did we get to spend some time in Klaipėda, but we also explored Palanga, where we basically saw the birthplace of amber—it was amazing and a highlight of our trip.
Where is Klaipėda, Lithuania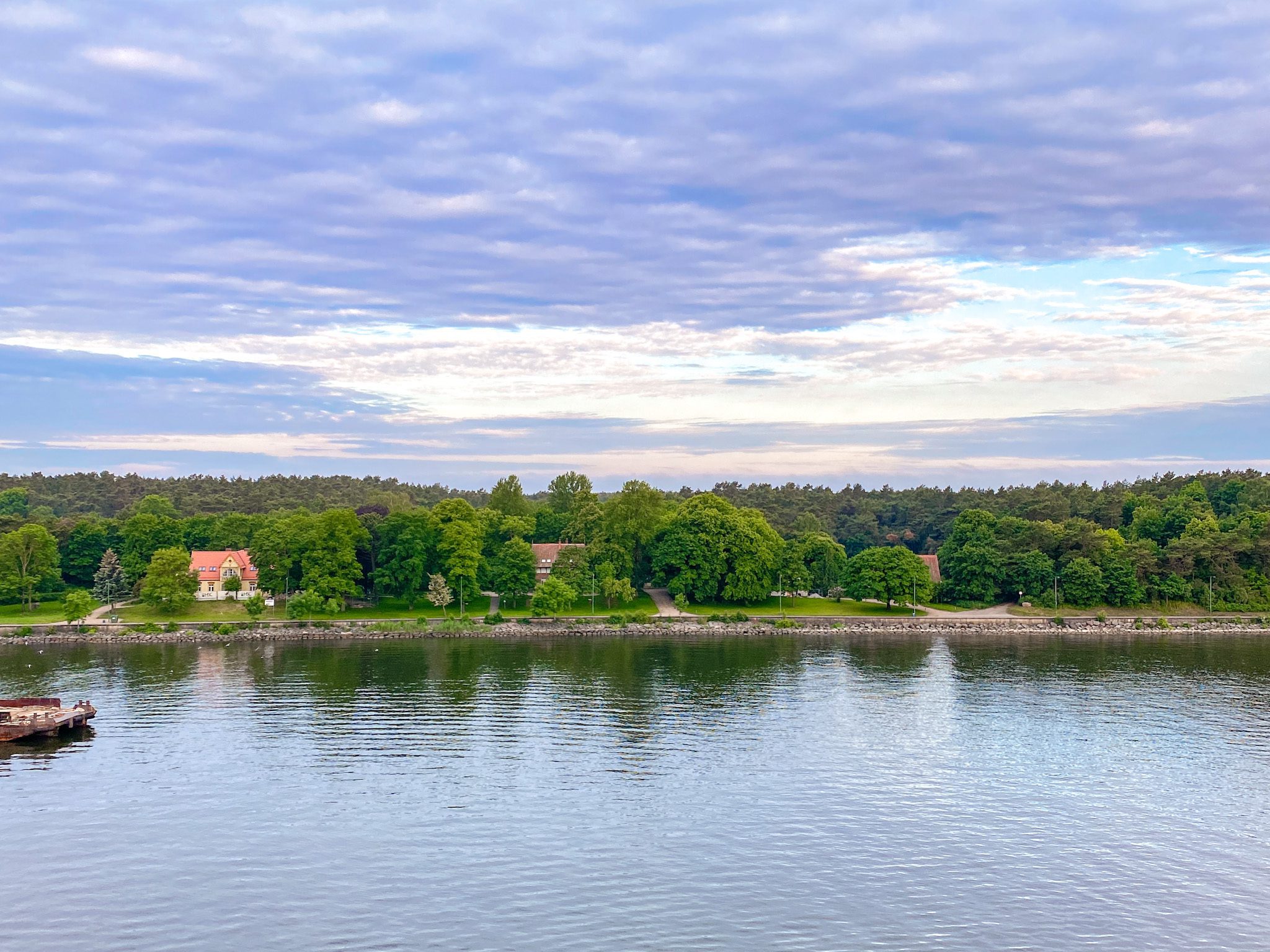 Before our cruise to the Baltics, I honestly had no idea where Lithuania even was on a map. Now I know that Lithuania is sandwiched between Latvia to the north, and a tiny bit of Russia to the south, with Poland and Belarus touching it as well.
Klaipėda (and Lithuania in general) is also really famous and popular for amber. We were familiar with it already from visiting Gdansk, but it seemed to be even more popular in Klaipėda. Thankfully we got to see a lot of it during our time in town.
We arrived at our port in Klaipėda at 7 am and had to be back on the ship by 3 pm because it was leaving again at 4 pm. So we basically had the entire morning and part of the afternoon to explore the area.
How to Get to Klaipėda
We arrived in Klaipėda by cruise ship, but if you'd like to spend a weekend or longer in the area, you can get there via the Palanga International Airport. However, there aren't many flights in and out of there unless you're flying from Oslo, Norway; London-Stansted; or Dublin, Ireland.
You can, however, get there via a ferry, and there's one that leaves from Germany out of Kiel.
See more info about taking the ferry here.
If you're driving to Klaipėda from Vilnius, Lithuania's capital city, it's about a little more than a three-hour drive, so maybe a weekend trip if you combine it with going to Palanga as well.
What We Did During Our Port Stop in Klaipėda
I fell in love with Lithuania pretty much the moment we stepped off our ship. A local group was performing for everyone at our port stop in Klaipeda, and I can't tell you how welcoming it was to hear them.
Klaipėda tourism? Well done!
Shortly after we passed the performing group we spotted a row of buses, and one of them had our names on the list.
When we're on a cruise we don't typically do excursions through the cruise line. They are more expensive, especially when you multiply them by five, including the kids.
We were actually going to leave the kids on the ship for this one (a perk some cruise lines offer through the kids' club), but since our kid's club was closed we took them along with us.
I ended up booking the Klaipėda Charm and Palanga tour through the Norwegian Cruise Line, and, thankfully, we enjoyed it.
NOTE: Our excursion was booked through our cruise line, but this one looks very similar to book on our own.
iv data-gyg-widget="auto" data-gyg-partner-id="XJ2BDM6″>
A Bus Ride to Palanga
I actually really liked taking the tour because we got to relax on the bus ride to our first stop. After being on a ship and then walking in the other two cities, it was nice to relax for a little bit.
Our tour guide was great, but we honestly zoned out a little bit. I'm pretty sure the kids napped on the bus, and I was probably pretty close to falling asleep, too.
Exploring Palanga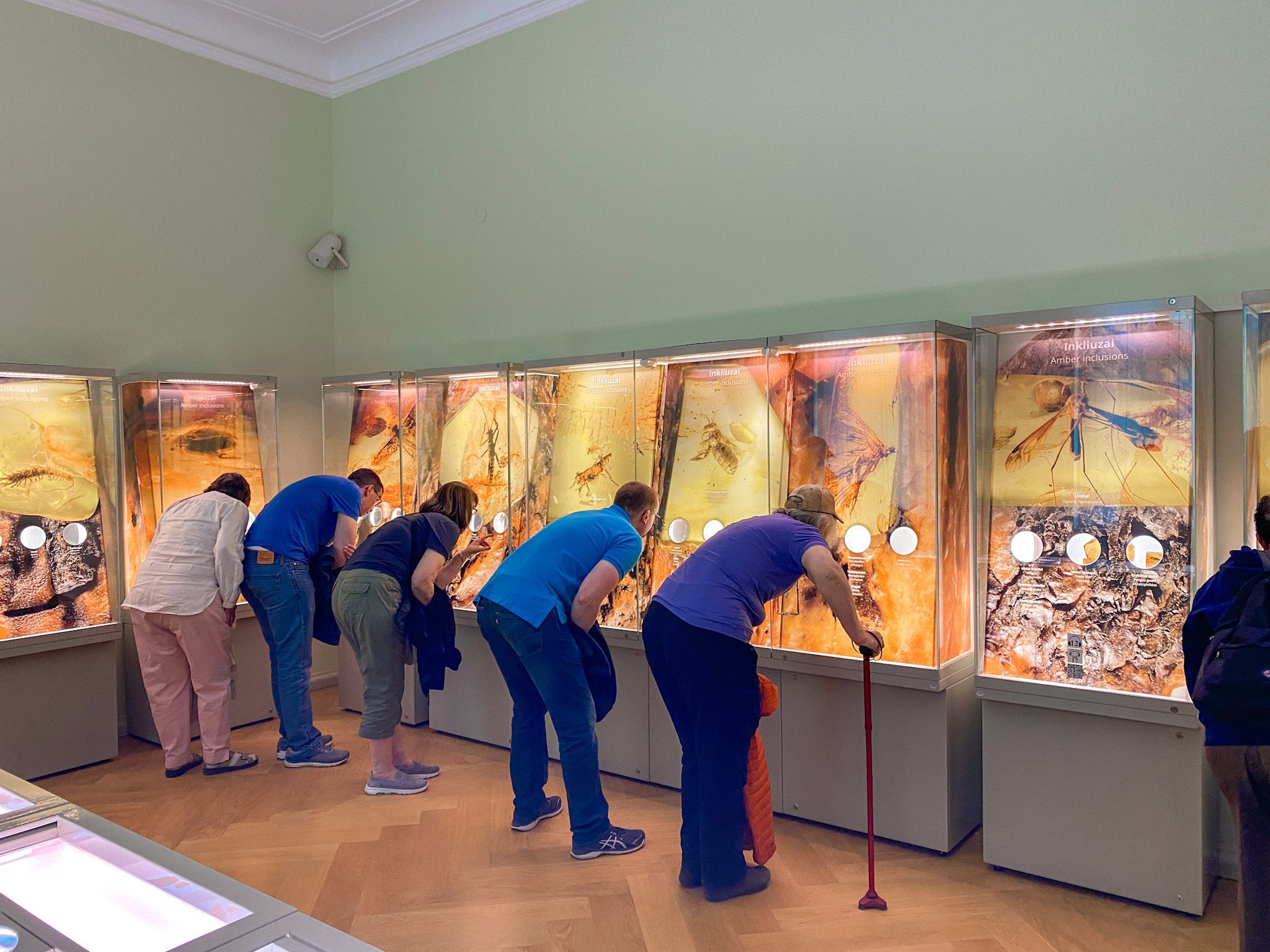 Remember when all of the museums were closed in Gdansk because we were there on a public holiday? We were going to check out their amber museum but ended up not being able to.
Thankfully, we ended up seeing all kinds of amazing amber during our time in Lithuania. It was a true highlight of our entire trip.
Amber, in case you don't know (because I certainly didn't) is essentially resin from fossilized pine sap, and 60 million years ago there was a pine forest in the (present-day) Baltic Sea.
Sap dripped onto the forest floor and eventually fossilized. Due to the motion of the ocean (and millions of years of evolution), amber is still being found washed up on the Baltic shores.
The Palanga Amber Museum
Our Klaipėda excursion actually started by taking us to the resort town of Palanga, which is home to a 19th-century mansion that doubles as the largest amber museum in the Baltics.
Not only that, but this amber museum was amazing. The amber they had on display was literally millions of years old (50 million years, actually…give or take). We're talking, like, from the Jurrasic era.
I was noticeably freaking out that, "Oh my gosh, THIS is how they can make dinosaurs again!" (Tell me you're a product of the 90s without telling me you were born in the 90s.)
In all seriousness, it was truly amazing to see.
Besides geeking out over all of the insects they have trapped inside this ridiculously old amber (yes, there were mosquitos), but also the entire process for amber: where it's found; its origins, how it's processed and turned into jewelry.
It was all extraordinarily neat to see.
Palanga's Basanavicius Promenade
After visiting the Palanga Amber Museum, we visited Palanga's promenade for a little bit. (Emphasis on "for a little bit.")
Supposedly there was enough time to linger and walk to the pier, but there wasn't enough time. Insert eye roll here.
Those people heading to the pier were walking at a very brisk pace that our crew with little legs couldn't keep up with. We were also there fairly early, before places opened, which was a bummer because I would have loved to see inside some of the little shops and have a taste for some Lithuanian snacks.
While we managed to get ice cream (there is always ice cream open), all the other cafes and shops were closed.
I liked the "free time" we had, I just wish the atmosphere was a little more lively and awake.
Book this 3-hour tour of Palanga. It looks awesome!
Strolling through Klaipėda's Old Town
Another part of our excursion in Klaipėda was around the Old Town. We took the bus back to Klaipėda and joined our tour guide on a mini-walking tour of the area.
If you know us, you know we love walking tours, so this was enjoyable.
Our tour ended at a cafe where we each got a free glass of cold delicious beer (juice for the kids). Since we were there we decided to stay and have lunch.
After that, we wandered around town a little bit more before heading back to the ship.
Doing a cruise port stop in Klaipėda on your own? Book this walking tour of the old town of Klaipėda here.
A Great Day at the Klaipėda Port Stop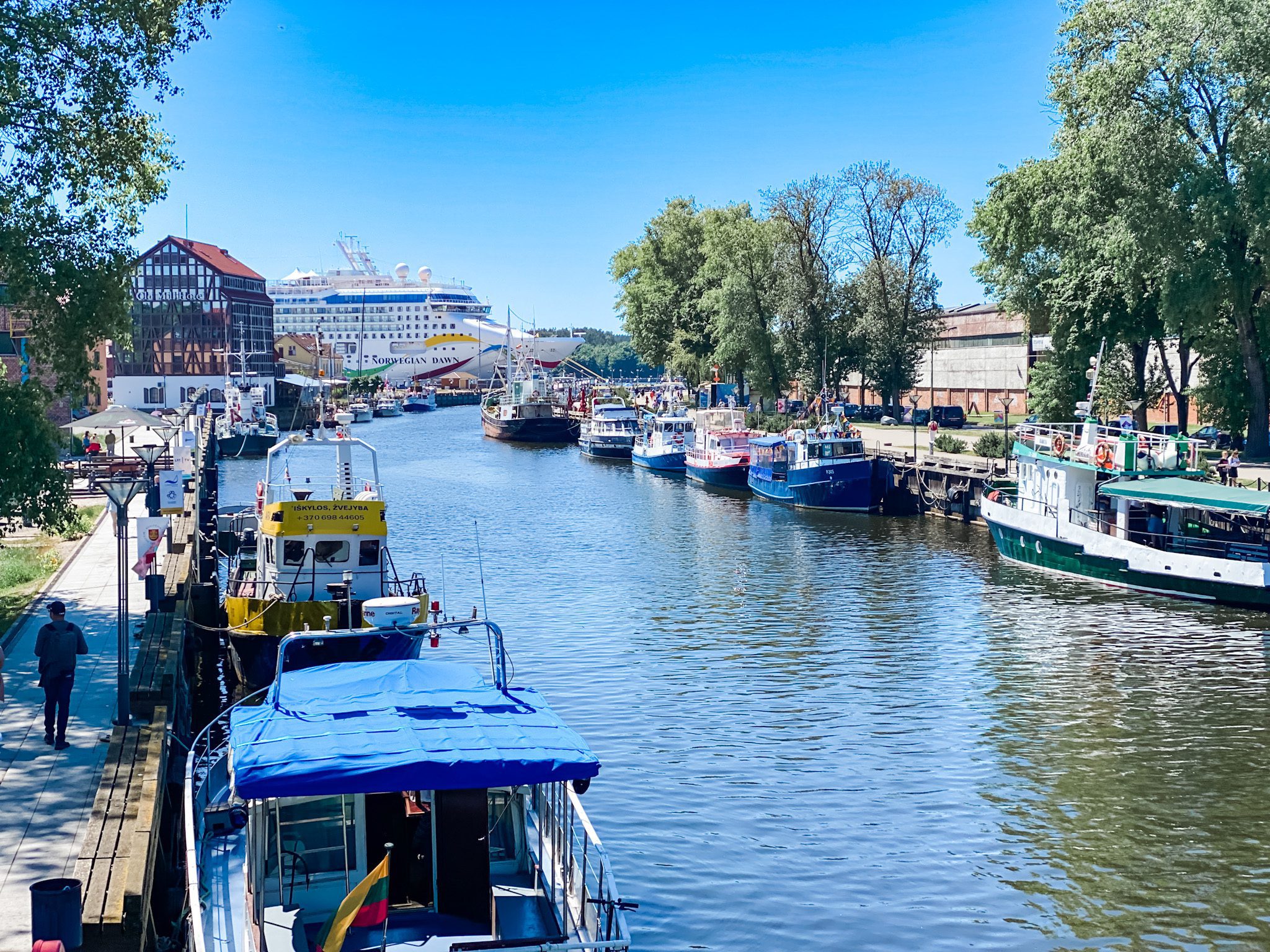 All in all, our port stop at Klaipėda was really great and enjoyable. I like that we ventured out of town and saw some mesmerizing pieces of amber and that we still had time to enjoy exploring Klaipėda.
Our Baltic Cruise Ports
Here's a look at the other places our Baltic cruise sailed to, just in case you need ideas for other places around the Baltics to visit.
Kiel (Hamburg), Germany — read the post
Gdynia (Gdansk), Poland — read the post
Klaipėda, Lithuania — that's this post!
Riga, Latvia — coming soon!
Tallinn, Estonia — coming soon!
Stockholm, Sweden — coming soon!
Have you had a port stop in Klaipėda?
If you've been to Klaipėda I'd love to hear about your experience there! Did you have a chance to visit Palanga, too?
---
---