Exploring Finland in the Winter: Top Things to do in Rovaniemi WIth Kids
If you're visiting Finland with your family during the winter you're in for a gigantic treat. Not only is it absolutely stunning everywhere you look, but everyone is incredibly friendly, and there there are soooooo many things to do in Rovaniemi with kids.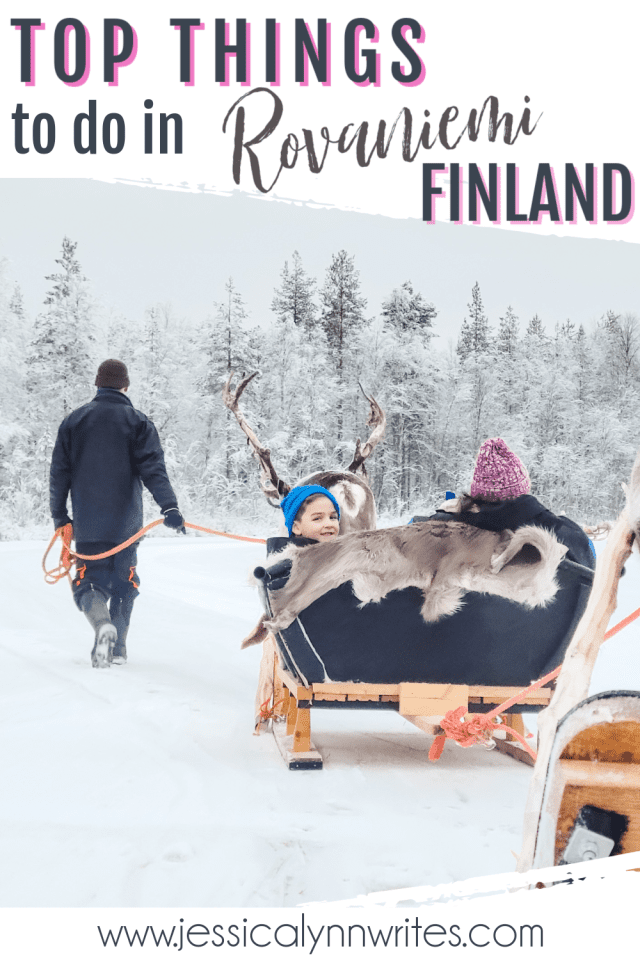 I'm not going to lie to you: before our trip to Lapland, I was completely overwhelmed.
Not only is traveling to the Arctic during the winter out of my comfort zone but finding awesome things to do with the kids in Rovaniemi was really hard. Not because there wasn't enough to do, but because there were too many things.
Narrowing it all down during our two-day stay in Finland was harder than expected because we wanted to do all the things.
Thankfully, I planned it out just right and our trip to Rovaniemi with the kids (and my mom) turned out better than I could have imagined. But I did have to weed through a lot of activities. I'd find several similar activities and things to do in Rovaniemi and had difficulty narrowing them down.
So in case, you're in a similar boat sleigh (because, when in Finland and all), I narrowed down the top and best things to do in Rovaniemi with kids during the winter.
Things to do in Rovaniemi: Outdoor Activities
While enjoying Finland from the inside of a cozy home sounds like a pretty great way to stay warm, you didn't plan a trip to Lapland with the kids just to stay indoors.
Bundle up and take the family outside with these cool outdoor activities in Rovaniemi that your kids will love.
Here are even more fun things to do in Rovaniemi with kids:
Your Lapland Packing List
Not sure what to pack for your trip to Rovaniemi, and even more flustered over what to pack for your kids? Have no fear; I've got you covered!
☞ Here's a comprehensive winter Lapland packing guide.
Things to do in Rovaniemi: Indoor Activities
Who says everything you do in Rovaniemi with kids has to be outside? As far as things to do in Lapland go, some of the coolest activities are actually indoors. Bonus points for you since you'll get to stay warm and dry!
Here are more fun things to do indoors around Rovaniemi:
Things to do in Rovaniemi: Out-of-Town Activities
While you can definitely find plenty of things to do in Rovaniemi to fill your trip, there are several really fun things that are slightly out of town.
The best part is that even though these are out of town, most options below provide transportation with their price. However, they're also easily accessible by car. Just plan for extra time during your day since you'll have to get there and back.
Have more time to fill? Check out these fun family adventures just outside of Rovaniemi:
Things to do in Rovaniemi: The Northern Lights
I can't wrap this post up without talking about the star of Lapland aka the northern lights.
Seeing the northern lights is dependent on the weather and a bunch of scientific mumbo jumbo (not making light of it…it's just a lot of science that goes over my head) for perfect conditions. It's also about being in the right place at the right time, and usually, you need to be away from city lights (light pollution).
Yes, you can book an expensive tour, but then you're at the whim of that particular day/time of the tour. Some of them will give you money back if the lights don't appear and some will reschedule you for another day, if possible. But you might be out of luck.
Also, if you're attempting to do this with kids just know that they will potentially be out very late.
The benefit of booking a tour, on the other hand, is that these aurora hunters know what they're doing. Some of them will drive hours to let you see the lights.
You can also try to see them on your own. Rent a car and book accommodation outside of the city, download the apps (see below), cross your fingers, and hope for the best!
Apps You Need for Aurora Hunting
Get the "Aurora" and the "Aurora Forecast" apps and when you're actually in Rovaniemi, turn your alerts on. They'll alert you when the settings outside are right for the lights to appear. If it's a clear night, you may just be in the right place at the right time!
These are some of the aurora tours I personally had saved after a lot of research in case we decided to go that route:
Where to Stay in Rovaniemi
We stayed at Holiday Home Villa Vihtori and it was perfect for the six of us (my mom traveled with us for our family trip to Lapland). The pictures online do this place way more justice than mine do. (Fun fact: taking pictures in negative-degree weather is really cold and hard, and the freezing temps actually drain your battery faster.)
Other great options for accommodation in Rovaniemi with your family:
When to Visit Lapland with Kids
While we decided that the Lapland area would be amazing any time of the year, we found winter to be downright stunning. We visited Rovaniemi at the end of November and only had a weekend to stay in Lapland. See our itinerary here.
I wish we had more time, but we made it work and got a fantastic taste of Finland and the area. With the exception of wishing we did some of the awesome things I mentioned above, I'm thrilled with all that we got to see and do.
I hope you have an excellent time visiting Lapland and the Rovaniemi area with your family. If you do any of these awesome excursions I'd love to hear about it! Happy Finland planning!

---
SHARE THIS ON PINTEREST!
---