10+ Best Day Trips From Lisbon (Including Hidden Gems!)
Lisbon is the type of city you fall in love with at first sight. It's gorgeous, it's affordable, and the weather is fantastic – what's not to love? But getting out of the city and seeing more of Portugal, that's where it's at, and these day trips from Lisbon will fill your wanderlust soul.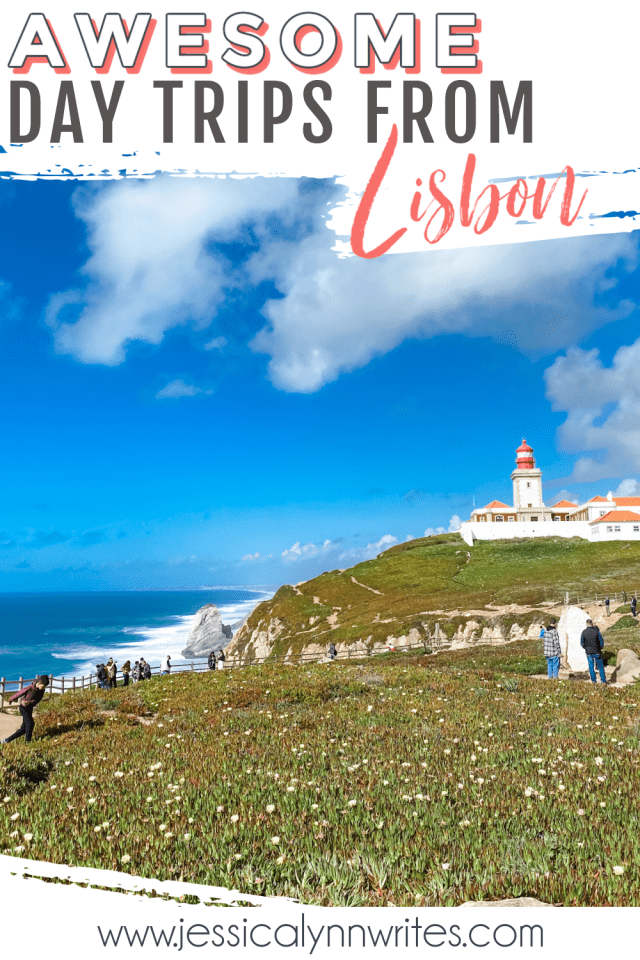 From the vibrant energy of the capital city to the serene countryside and breathtaking coastlines, Portugal offers a diverse array of attractions and experiences for families.
There are so many things to see and do in Lisbon with a family, like going on a tuk-tuk ride around the city, but once you've had your fill of the city it's time to break out into Lisbon's surrounding area to explore even more!
So pack your bags, gather the family, and gear up to discover this captivating country with some of the best day trips from Lisbon.
Let's go!
Quick helpful links
🎫 Looking for bus and train tickets?
For that purpose I suggest Trainline
🧳 Looking for adventures?
Viator offers plenty of options for tours and excursions
Day Trip from Lisbon: Sintra
If you only have time to make one day trip from Lisbon, our top pick is Sintra. Not only is it beautiful, but it's family-friendly, too.
Most people visiting Lisbon day trip to Sintra because it's so close and easy to get to and there's so much to see.
There's no doubt you'll have seen the vibrant red and yellow facade of the Pena Palace during your trip research, and that palace lures tourists to Sintra like there's no tomorrow. Your kids will think it's like straight out of an actual fairy tale.
But Sintra is more than just the Pena Palace. Sintra's also home to the National Palace, the Quinta da Regaleira, the Castle of the Moors, and Monserrate Palace all scattered across the hillsides of Sintra.
While you can do it on your own, keep in mind that Sintra is on a hill, and while things are close, they're also huge and spread out. It may be exhausting for little legs (and grown-ups listening to those with little legs complain).
I suggest taking a guided tour to Sintra from Lisbon. This awesome tour takes in the Pena Palace, Quinta da Regaleira, and Monserrate Palace and gets outstanding reviews.
If you're feeling even more ambitious, this full-day tour visits Sintra as well as another day trip location on this list, the beachside town of Cascais!
Day trip from Lisbon: Cascais
Heading to the resort town of Cascais is another popular day trip from Lisbon and it's one of the easiest!
You can catch a direct train from Lisbon to Cascais for just a few Euros since it's so close to the city. Most visitors, especially with families day-tripping from Lisbon, head straight to the beach, but there are plenty of other things to see and do in Cascais.
Start by wandering along the cobbles of the old town of Cascais and exploring the waterfront to admire the colorful fishermen's cottages. Then, take the path along the Marina de Cascais up to the Santa Marta Lighthouse to snap some photos. Walk along the coast (Boca do Inferno) and you can see gigantic waves crash onto the mainland—a stunning sight to see, especially if you can't make it to Nazare (see below).
If you have time left drive up to Cabo do Roca, which takes around 45 minutes. Cabo do Roca is the westernmost point of mainland Europe, and the views over the ocean are spectacular from here! Our kids loved being at the "edge of the world."
Day Trip from Lisbon: Nazare
Nazare is famous the world over for its insane giant waves! In fact, the world record for the biggest wave ever surfed is continuously broken here. It's currently held by German surfer Sebastian Steudtner, who surfed a whopping 86-foot wave in 2020!
To see the big waves in action, you need to visit Nazare from October to March. However, you can visit the famous Nazare lighthouse, overlooking the beach where the huge waves break, year-round.
At the lighthouse, check out the small museum (entry: €1) that explains why the waves here are so massive. It also includes the surfboards and jetskis the surfers use to surf these waves!
Nazare is an excellent town to enjoy some top-rated seafood and spend time on the beach. If you're visiting with kids, head to São Martinho do Porto Beach for some calmer waves; it's the perfect place to relax and have fun.
🌊 Wonders of Nazaré
See the place where the world record for the biggest-ever surfed wave was broken and explore the most charming medieval town of Óbidos.
Book the tour
Getting to Nazare
Getting to Nazare from Lisbon via car is only an hour and a half, and the bus takes around 1 hour and 50 minutes, with tickets costing around €11 each way.
Day Trip from Lisbon: Arrábida Natural Park
This coastal paradise is only about 40 minutes from the center of Lisbon, and perfect for families. Kids will love this day trip from Lisbon.
The 108-acre park is one of 30 naturally protected areas in Portugal, so you can expect stunning natural beauty and plenty of gorgeous flowers.
Arrábida is one of the best day trips from Lisbon if you're looking to get off the beaten path and spend a day in paradise.
Besides lounging on the beach, it's a great spot for dolphin-watching, snorkeling, hiking, kayaking, and even wine-tasting.
Day Trip From Lisbon: The Whistler Tree
Did you know that the oldest-producing cork tree in the world, the Whistler Tree, is just thirty minutes away from Lisbon?
Portugal's Alentejo region, aka "Cork Country" is home to the world's leading producer of cork.
Take a stroll down the road in this beautiful scenic drive and see the iconic stripping of the cork bark from these trees. Read more about it in this post.
Day trip from Lisbon: Evora
After you stop to see the Whistler Tree, keep going to Evora. This town in the Alentejo region of Portugal has a charming center and a laid-back atmosphere. Evora's a great place to get away from the hustle and bustle of Lisbon and explore inland Portugal.
The main tourist attraction in Evora is the ruins of the 1st-century Roman Temple in town. It definitely isn't what you'd expect to find in Portugal, but it's totally fascinating.
Speaking of fascinating, you're definitely going to see The Chapel of Bones at the Church of St. Francis. Yes, bones. The walls of the church's chapel are lined with human bones and skulls! Talk about a destination worthy of a day trip from Lisbon!
Evora is less than an hour and a half from your main hub, making it a perfect day trip from Lisbon.
Day Trip From Lisbon: Fátima
If you're a religious family, Fátima is a small town in central Portugal that's home to a popular Catholic pilgrimage site: the Sanctuary of Fátima.
It's a popular pilgrimage site in Portugal thanks to the miracle of Fátima. It's a sacred, must-visit site for many people, so, even though you'll only need an hour or so here, it's deserving of a spot on this list. You can easily combine a trip to Fatima with another Lisbon day trip destination!
Day Trip from Lisbon: Peniche
If your family can't get enough of the water, you've gotta head to Peniche. At just an hour-ish car ride away from Lisbon, Peniche caters to every type of surfer, whether you're a seasoned pro or a total newbie.
The best part is that there are lots of classes available so you can learn to surf in Peniche. Or, if you already know what you're doing, hire a board and wetsuit and head down to the beach.
If you're not into actually surfing, you can watch the pros do their thing over on Supertubos beach or simply relax on Baleal, Areia, or Peralta beaches.
Even if you don't want to surf, there are a ton of fun things to do in Peniche during your day trip from Lisbon. You've gotta check out the Berlengas Archipelago.
Day Trip from Lisbon: Tomar
Looking for a day trip from Lisbon that's a little off the beaten path? A visit to the ancient town of Tomar could be for you.
This town is a well-kept secret because so few people who travel to Portugal know about it. It's not the place you head to for an exhausting, jam-packed day trip, but if you're a fan of stunning, ancient buildings or want to know more about Portuguese history, Tomar is a great option.
Once you arrive, take a Knight's Templar tour around Tomar.
Start off your visit with a relaxing stroll through the Mata Nacional dos Sete Montes (National Wood of Seven Hills). It's a very relaxing area with beautifully manicured gardens, tonnes of olive trees, and numerous vantage points overlooking the town. From here, be sure to visit the Convent of Christ and Castelo de Tomar, a UNESCO World Heritage Site and an all-around beautiful place to visit.
Driving to Tomar takes around 80 minutes, with the bus taking 1 hour and 45 minutes and the train taking 2 hours and 5 minutes. Both the bus and the train cost around €10 each way.
Day Trip From Lisbon: Cheleiros and Bucelas Wine Regions
When it comes to Portuguese wine, most people think only of the Douro Valley up north, but there are actually wine regions you can visit from Lisbon.
This day trip is only really accessible via a guided tour since you definitely don't want to be drinking and driving, and sorry kids, but this one's for adults.
This day tour includes a visit to two wineries, sampling nine wines in total, and a knowledgeable private guide to explain the history of winemaking in the region and the facts behind the wines made here.
Day Trip From Lisbon: Porto
I have to mention Porto because it's often listed as a day trip option from Lisbon, which is why it made its way to the bottom of this list.
While it's technically possible to go to Porto from Lisbon in one day, keep in mind that you'll spend most of your time on a train, bus, or car. The fastest way to get between the two cities is the express train, which still takes 2 hours and 40 minutes each way and costs over €60 for a return ticket, a coach will take 3 hrs (but only €20 one way), or you can drive. That means you'll be spending at least 5 hours out of your day on public transport!
But if sipping on some port and exploring the town is important to you, it's technically doable.
Make the most of your time in Porto by taking a tour like a hop-on hop-off bus trip, strolling along the Ribeira (a pretty street by the river), enjoying a live fado show, walking across the iconic Dom Luis I bridge, and going to the top of the Clerigos Tower for the best views in Porto.
The Lello Bookshop is one of the most popular places to visit in all of Portugal, but you'll have to queue for at least one hour—so get there early if this is on your list! If you're exploring the city in one day you'll be pressed for time, but it's one of Portugal's top landmarks for a reason!!
---
If you get the opportunity to explore Portugal with day trips from Lisbon, I highly recommend doing so. There are so many things to see and do.
---
SHARE THIS ON PINTEREST!
---