Best Travel Bags for Europe: Our Top Picks for Families
If you're looking for the best backpacks and travel bags for Europe when traveling with a family, you've come to the right place.
We're a family of five (two parents with three kids ages 10, 8, and 6 at the time of writing this), and we've been Team Backpack almost since the first moment we stepped foot in Europe.
In fact, I highly encourage pretty much everyone I meet to ditch the suitcases and swap for backpacks.
Finding a great travel backpack for Europe can be challenging, though, and you may go through several before you find something that works for you and your family. (Been there, done that and I have the receipts to prove it.)
But the joy of finding something that works will make traveling in Europe with a family so much easier.
Why Traveling in Europe with a Backpack is Awesome
(don't mind the little carry-on in the first picture. We went back to America for 2 weeks and brought things back with us. Sometimes a suitcase is necessary…like when it's holding stuff from Target and Trader Joe's.)
We're big ol' fans of traveling with a backpack around Europe for several reasons:
Our hands are free to keep up with our kids as we navigate train stations and airports.
We don't have to lug suitcases up flights of stairs since a lot of European accommodations don't have elevators
It helps us pack lighter and more efficiently, like for a weekend trip to Finland
They fit better in smaller European cars
You can cram all sorts of things into the pockets
I was a backpack convert after a rough experience in Paris back in 2005 that involved climbing way too many stairs with my over-packed suitcase. It was miserable and the day after I got home I ditched my suitcase and bought a durable backpack to travel around Europe.
But I know it's hard when it comes to finding the best backpack for Europe.
There are so many to choose from and they all come in different sizes, so hopefully this post will help give you an idea of what kind of travel bag you want for traipsing around Europe.
How to Pick Your Best Travel Bag for Europe
Before you run out to buy one or start clicking around online, think about what you want in a travel bag for Europe and your family.
Here are some questions to consider:
Do you really need a heavy-duty hiking pack or will something a little simpler suffice?
Are you looking for something that will hold a lot of stuff or something just for a weekend away while traveling around Europe?
Does it need to have a locking feature?
Do your kids need to carry all of their things or just a little bit of stuff?
How big of a bag do you want?
Would you like lots of pockets or just a main compartment?
Do you want a bag that cinches at the top to close (meaning you stuff it all inside) or one that opens up, like a suitcase, so you can see everything in there?
I realize what I'm about to say may sound like crazy talk in this day and age, but if it's possible, venture out and actually try some backpacks on. Not all backpacks feel the same when you actually have them on.
We've been to stores with walls full of travel backpacks great for European travel and inevitably walked out because none of them fit well for either of us, or they didn't fulfill what we were looking for.
Our Favorite Travel Bags for Europe
Obviously, the following is our own opinion of the best travel bags for Europe, meaning that these are the ones our family of five actually uses for traveling.
We've taken these bags around Europe on everything from day trips and weekend getaways (like when I took the girls to Paris), to two-week road trips and flights around Europe.
Have we tried all of the travel bags out there? Of course not. But these are the ones we've dubbed as our favorites and the best travel bags for families traveling around Europe.
Best Travel Bags for Europe: Anti-Theft Day Bags
Exploring European cities is all fun and games until you get pickpocketed. Yikes, right?
Full disclaimer: I'm not saying you for sure won't get something stolen if you have one of these anti-theft travel bags, but it may at least make it harder for the person to get what they want.
If you need the best anti-theft day bag for traveling around Europe, these are for you.
Here are the main reasons I like these bags:
There's steel in the straps making it harder (impossible?) for a thief to slash and then run off with your bag.
There are multiple ways to lock (clasp) the zipper which means one extra step the baddies would have to take before breaking into your bag.
RFID Blocking capabilities for each bag.
They look nice enough to use every day.
They come in several colors and different sizes to fit whatever need you have.
I actually own all four (yes, four) of these anti-theft bags below. These travel bags are seriously perfect for traveling around Europe.
I often have a really hard time deciding which one to take with me, because I love them all.
Our Favorite Travel Backpacks for Europe: For Grown-ups
My husband and I both tried on so many bags before settling on the two we bought. Some of them had so many hooks and straps and pockets that I'm certain we could've lost a child in one of them.
We also decided we really like the type of backpack that opens up all the way—it makes it easier to pack. We've had the top-fill kind of larger bag before, and the cinch-close top just doesn't work for us.
The following bags also fit our packing cubes really well, which is a plus when we go for longer trips, like our ten-day trip around Eastern Europe.
My personal favorite is this 40-liter backpack from REI (currently unavailable online and I really hope they bring it back soon). The size is perfect for me. At 40 liters, it's not too big and the slim design means it's not too bulky, either.
While this bag does not fit under an airplane seat, it does fit as a carry-on (yes, even on a RyanAir flight).
My husband loved mine so much that he got the same one (almost; he changed the size and color).
His is this REI Co-op Ruckpack 60+ Recycled Travel Pack in black, and it includes a smaller 20-liter day pack that clips onto the front, too.
Before you scoff at him for ordering a women's bag, he has a smaller frame and this one fits him well. Plus he knew he liked the style after trying and using mine, so it worked!
The literal only thing that's different between the two is the fit:
For the men's 60-liter:
For the women's 60-liter:
Since his is the biggest out of all of our backpacks for traveling around Europe, he often has the space to bring back extra souvenirs or any excess items we have during a trip.
One thing to note: the 60-liter backpack does need to be checked in for flights. It's the only one on this list that can't be considered a carry-on.
Favorite Adult Travel Bags for Europe Runner-Ups:
Even though we don't have these, these are top-rated in the travel bag realm, so they could be worth a try:
Great Travel Bags in the 40-liter range:
Great Travel Bags in the 60-liter range:
Our Favorite Travel Backpacks For Kids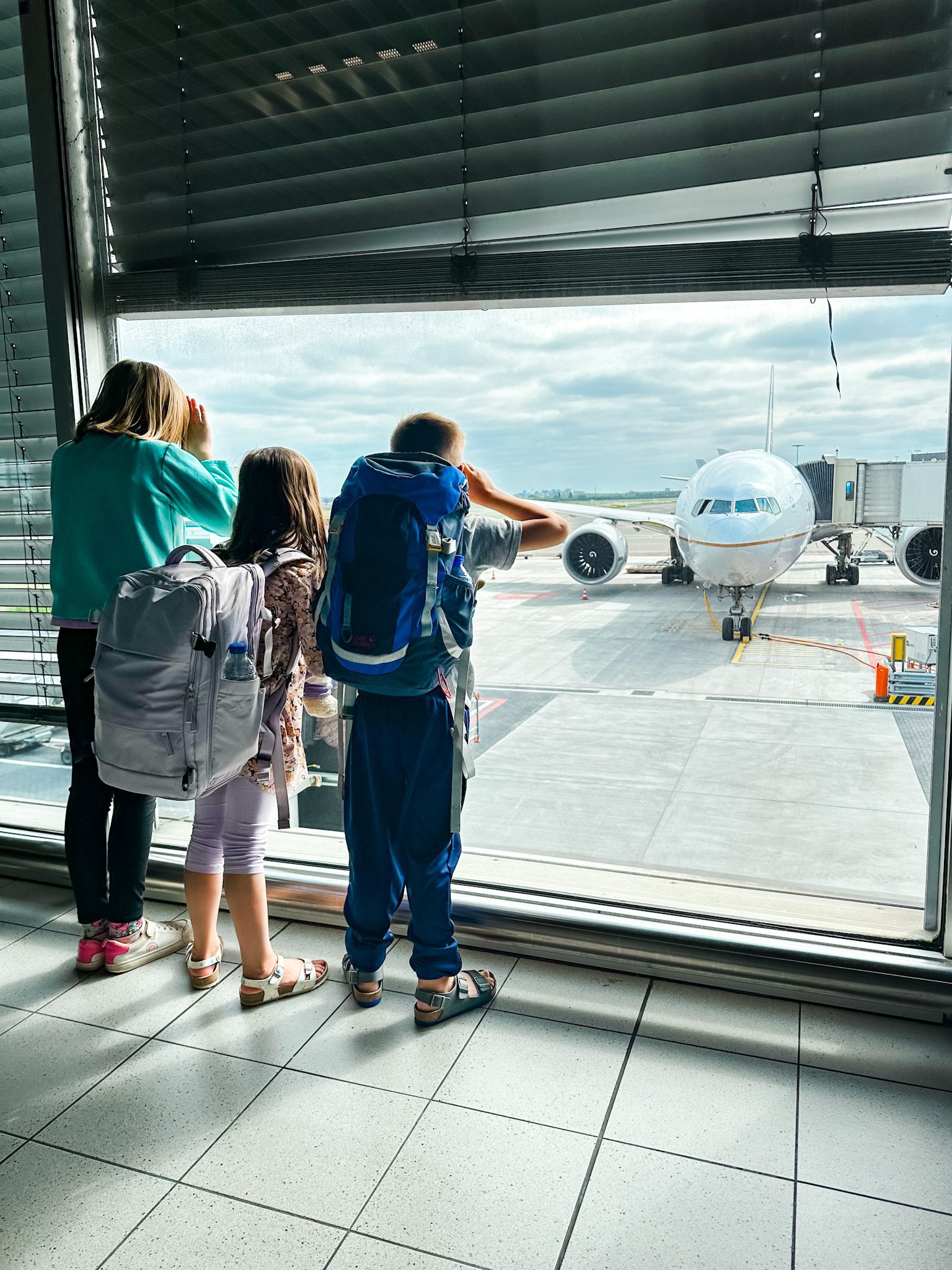 If you have really young kids, you (as the parent) may want a bigger pack so you can help carry their things.
In the beginning, when we were getting our toes wet in finding the right backpack for them, we used their "regular" school backpacks for travel with the kids.
Starting them out with a full-on hiking backpack around Europe or having them carry all of their things for a trip doesn't benefit anyone. We wanted to ease them into the idea of carrying their stuff.
If a bag is too heavy for your child you'll hear more complaining than it's worth.
When ours were just starting with getting the kids to travel with their backpacks we'd let them carry their stuffies and activities in their bag.
Now that they're older they carry their clothes in them, too.
*I won't lie: using their school backpacks was annoying because we were constantly on the go so we were always cleaning them out. Getting dedicated backpacks for everyone made packing much easier.
Here are our favorite travel backpacks for kids:
Since the girls used their school backpacks early on, we didn't have a chance to get that cute one above. But if we were just starting out again now I'd totally get it. Having a backpack that they'd like would be half the battle of having them actually wear it!
As for the "older girl" backpack, not only do both of my girls (currently ages 8 and 10) love the bag above, but I owned it before they did because it's great for an adult weekend trip. In fact, I got the same travel bag for my mom, too.
Even though it only holds 17 liters, the main compartment is big and roomy inside, and there are tons of other storage capabilities. My kids like putting their activities in the front zipper pockets and any books they're taking go in the back pocket.
Not only that, but it's water resistant, has compression straps to cinch the pack down, fits under the seat on an airplane, and the typical price is under $40 (but it's on sale a lot, too)!
Truth be told: we don't have the "older boy" backpack yet. Our son is still rocking the "younger boy" pack. But when it's time for him to get a new one, we'll most likely go for the 25-liter REI bag in the photo above.

But back to the younger boy backpack that we have and love: This little pack is a great starter travel backpack for kids. It only holds 10 liters but I'm always shocked by how much fits inside.
We saw this one in person and my son (5 years old at the time) asked to have it. Knowing that he liked it and picked it out made him want to use it even more. In fact, we had to convince him that it was just for trips; he wanted to take it with him everywhere we went.
I'd love to hear about your backpack journey. Are you just starting out? Do you have one you love? Tell me all about it!